Marcel The Shell Is Back (Kinda), But This Time As A Summer Strawberry For J. Crew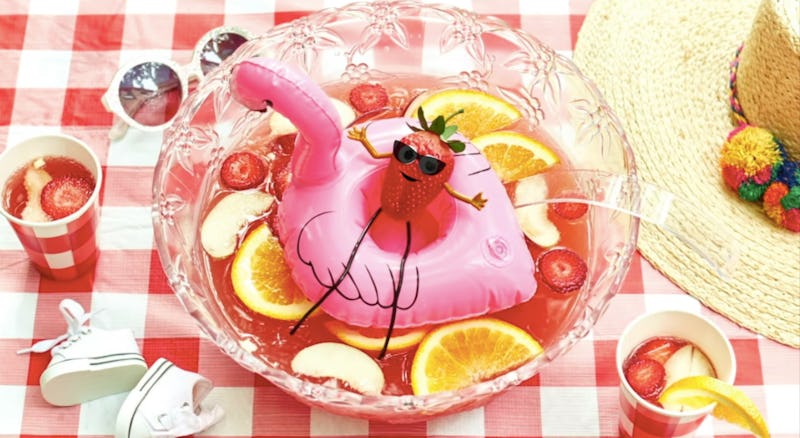 Do you remember Marcel the Shell with Shoes On? For those of you who don't, he was the hilariously quirky shell that was created and voiced by comedian Jenny Slate and starred in a YouTube video that went viral in 2010. (Of course you remember!) Well, he isn't back, but Jenny Slate is with another adorable and funny character and this time, it's because she has teamed up with J. Crew on the launch of their #summerbyjcrew campaign. World, meet Sandy the Summer Strawberry, your new favorite YouTube star.
Sandy the Summer Strawberry is just as eccentric as Marcel the Shell, but a lot more fun-loving. The sassy strawberry is all about experiencing the pure, unadulterated magic of summer and looks forward to partaking in all of our favorite summer activities, from swimming to basking in the sun (and getting ripe)!
In the opening scene of the video, Sandy the Summer Strawberry hops out of a bowl of fellow strawberries and announces her love of the season. "I love summer so much, I say to myself, 'Well, we're all free to have fun now,'" she proclaims. Like Marcel, Sandy the Summer Strawberry wears shoes and a has a face, but she also dons a pair of chic black sunglasses to protect her eyes and believes in skin protection — in one scene, Sandy can even be seen laying out next to a bottle of sunscreen.
She then goes on to declare her love of people wearing shorts and showing off their legs, her fear of being stepped on, and how she prefers to relax over more tiring summer activities like biking. It's equal parts weird and wonderful, but Sandy the Summer Strawberry will definitely make you lol.
Of course, Sandy is not the only thing J. Crew is launching for summer. Their entire #summerbyjcrew collection is now available to shop and it involves a lot of light, breezy dresses, brightly colored swimsuits, and playful accessories like watermelon clutches and bead and tassel earrings. Oh, and if you use code SHOPSUMMER at checkout, you'll receive 30 percent off your entire purchase. Thanks for the new summer wardrobe, Sandy!
J. Crew will also be hosting three events across the country to celebrate the new collection. The first one is on July 1 at Casa Del Mar in Santa Monica (11 a.m. to 4 p.m.); the second is on July 14 at Campus Martius Park in Detroit (11 a.m. to 4 p.m.); and the last is on July 21 at Republic Square Park in Austin (11 a.m. to 4 p.m.). According to a brand representative, fans can expect games, treats, and other fun surprises.
According to J. Crew's website, this is only the first episode of Sandy the Summer Strawberry's series, so if you can't get enough of the summer-loving fruit, stay tuned for more lol-worthy videos.