Snooki Won't Do 'Jersey Shore Family Vacation' Season 2 Unless The Show Makes This MAJOR Change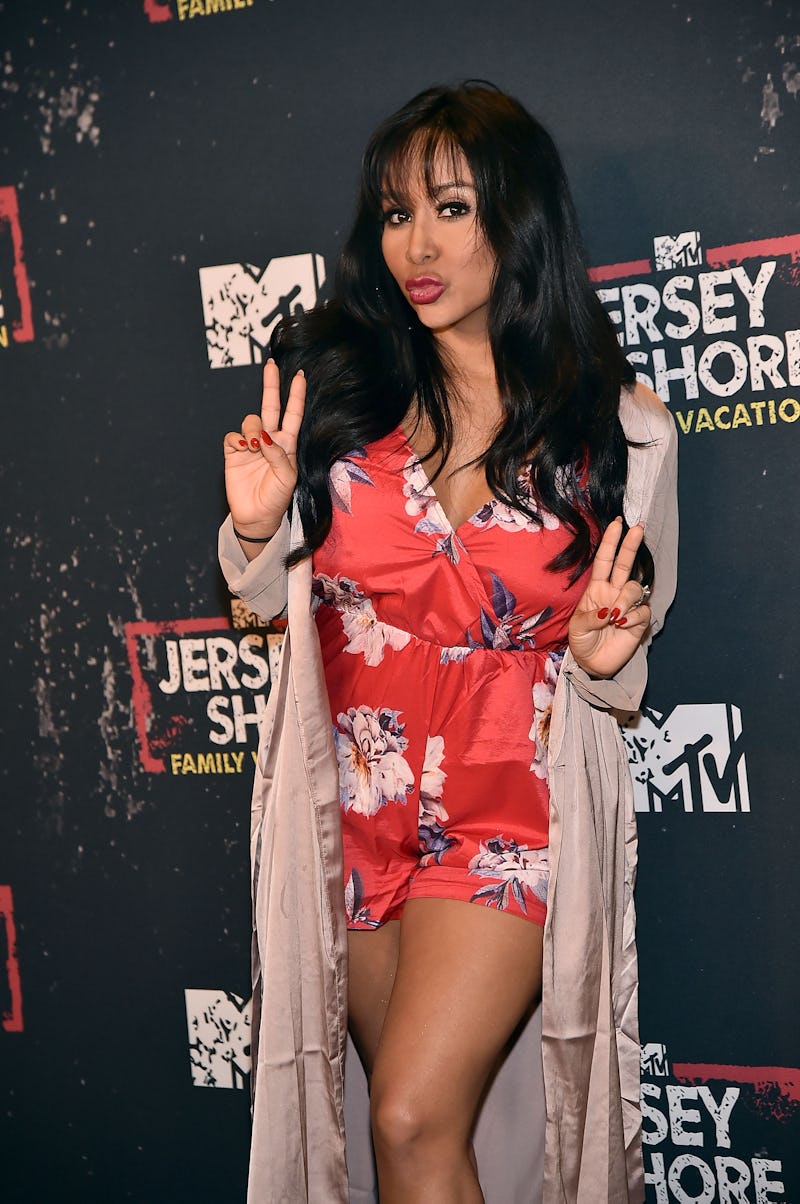 Theo Wargo/Getty Images Entertainment/Getty Images
Just a few days after they partied with Spencer Pratt in Los Angeles, the stars of the Jersey Shore reboot got together for the NYC Family Vacation premiere. And at the event, an important question arose: Will Snooki return for Jersey Shore Family Vacation Season 2? When Nicole "Snooki" Polizzi spoke to E! News at Wednesday, April 4's celebration, she said she'd be down to come back for Season 2. However, she'd only agree to do the show if the format changed in a big way.
Back in January, Snooki, Jenni "JWoww" Farley, Mike "The Situation" Sorrentino, Vinny Gaudagnino, Ronnie Ortiz-Magro, Deena Cortese, and Paul "DJ Pauly D" DelVecchio all went to Miami to film the Jersey Shore Family Vacation reunion series. About a month after they started shooting the reboot, and over a month before the Family Vacation Season 1 premiere was slated to air, MTV went and gave it a second season. While Season 2 is guaranteed, Snooki's involvement is not. She told E! News,
"Season 2, I would love to be home with my children. I don't want to be away from them again. That was the worst mom guilt I've had in my entire life … I would [go back on the show], but I want it to be a different format. Supposedly, it's going to be like a Housewives format where we film three days a week and we go about our life, and are not sequestered in a house for a month without seeing my family. So if it's like that again, I'm pulling out of Season 2. Being a mother comes first. Hopefully, they'll work with me with that."
And if she decides to part ways with the series before the next season of Family Vacation? Take it away, Snooks.
Once upon a time, Snooki wouldn't think twice about putting her life on hold for several weeks so she could film Jersey Shore episodes, but uh, things aren't exactly as they were back in 2010. For starters, the Jersey Shore star and her husband, Jionni LaValle, have a 3-year-old daughter and a 5-year-old son. And there may be even more changes on the horizon: At the NYC premiere, Snooki revealed to Us Weekly that she and Jionni want to try for another kid this summer.
When the magazine asked her about how much has changed since the series' original run, Snooki said,
"[The show is] definitely different because I have two kids now. So I kind of have that mom guilt of leaving. … I have responsibilities now. The whole time I was thinking, 'What are my kids doing?' The hardest part was being a mom and trying to enjoy it — knowing that my kids were fine, but the mom guilt was serious."
And as People reported, Snooki talked about her "mom guilt" at last week's Los Angeles premiere, too. According to the magazine, she said,
"Obviously, I was excited to be with the roomies and have fun and go out and rage, because I never rage anymore, I'm a 24/7 mom. But I missed [my kids] the night I got there. 'Cause I co-sleep with my kids, so not sleeping with them, I had mom guilt 24/7."
Snooki wants to spend time with her immediate family and her Jersey Shore family while she films next season, and you know what? That's totally understandable. Furthermore, it's totally doable.
The cast could make the trek out to a rental house over in Seaside Heights every weekend, à la Summer House. They could take turns hosting each other at their homes every weekend. Or they could always just camp in Snooki's backyard. That'd be fantastic TV. Whatever it takes to ensure Snooki does not go pouf from the Family Vacation Season 2 roster.