Jessica Capshaw's Last 'Grey's Anatomy' Set Photo Is Full Of Clues About Arizona's Goodbye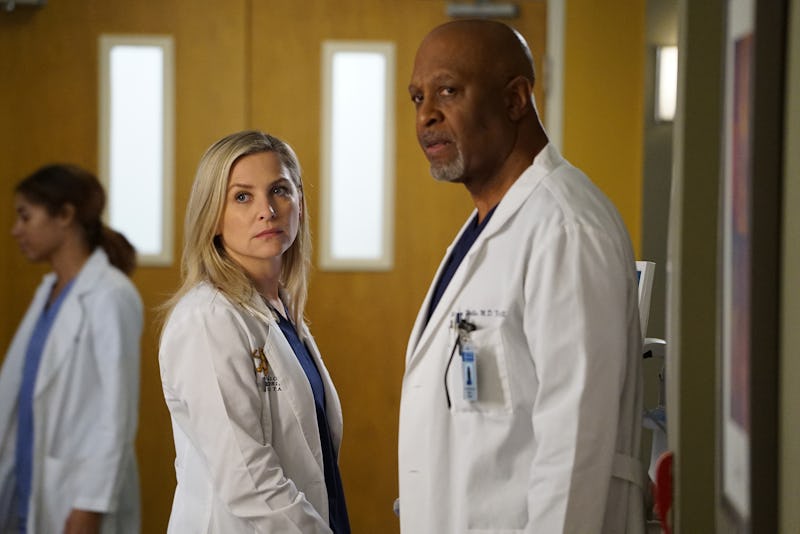 ABC/Eric McCandless
Ever since Grey's Anatomy fans first caught wind of Jessica Capshaw's imminent departure from the show, the internet has been buzzing with questions. So far, Shondaland has remained pretty hush-hush as to the details of her character's forthcoming exit. But this photo from Jessica Capshaw's last day on Grey's Anatomy gives a hint about her character's farewell, and it seems to involve fellow Grey's veteran Justin Chambers (aka Alex Karev, the longtime friend and colleague of Capshaw's Dr. Robbins).
Although the ins and outs of Capshaw's upcoming departure are still a bit murky (in classic Shondaland fashion, the series is keeping a tight lid on some critical specifics, like, which episode will be Arizona's last?), a newly released tweet by fellow Grey's actor Debbie Allen confirms, at least, that the day fans have been dreading for the better part of the last month is rapidly approaching. That dreaded day being, of course, when Dr. Robbins leaves her long-held post as Grey-Sloan Memorial's quirkiest, most beloved pediatric surgeon — for good. Because, while her character might not have staged her Grey's departure just yet, it looks like Capshaw, the actor, already has.
In her tweet, Allen shared a photo from the day that Capshaw filmed her last scene, and it's beyond bittersweet.
Thanks to a selfie-style photo (and potentially revealing caption to boot) that Allen tweeted Monday morning, April 16, it appears Capshaw has already seen her final stint on the Grey's Anatomy set. Accompanying a distinctly endearing snapshot — which sees Capshaw, Chambers, and Allen huddled together, smiling sweetly like a gang of old friends — the actor penned a message that might possibly double as a "hint," of sorts, regarding Dr. Robbins' final episode.
"On @GreysABC set with @JessicaCapshaw and @JChambersOnline. This was Jessica's last scene," Allen's tweet reads, finishing with a kiss emoji to seal the deal. (Who else feels personally victimized by the trio's happy grins? Arizona is leaving, for goodness' sake!)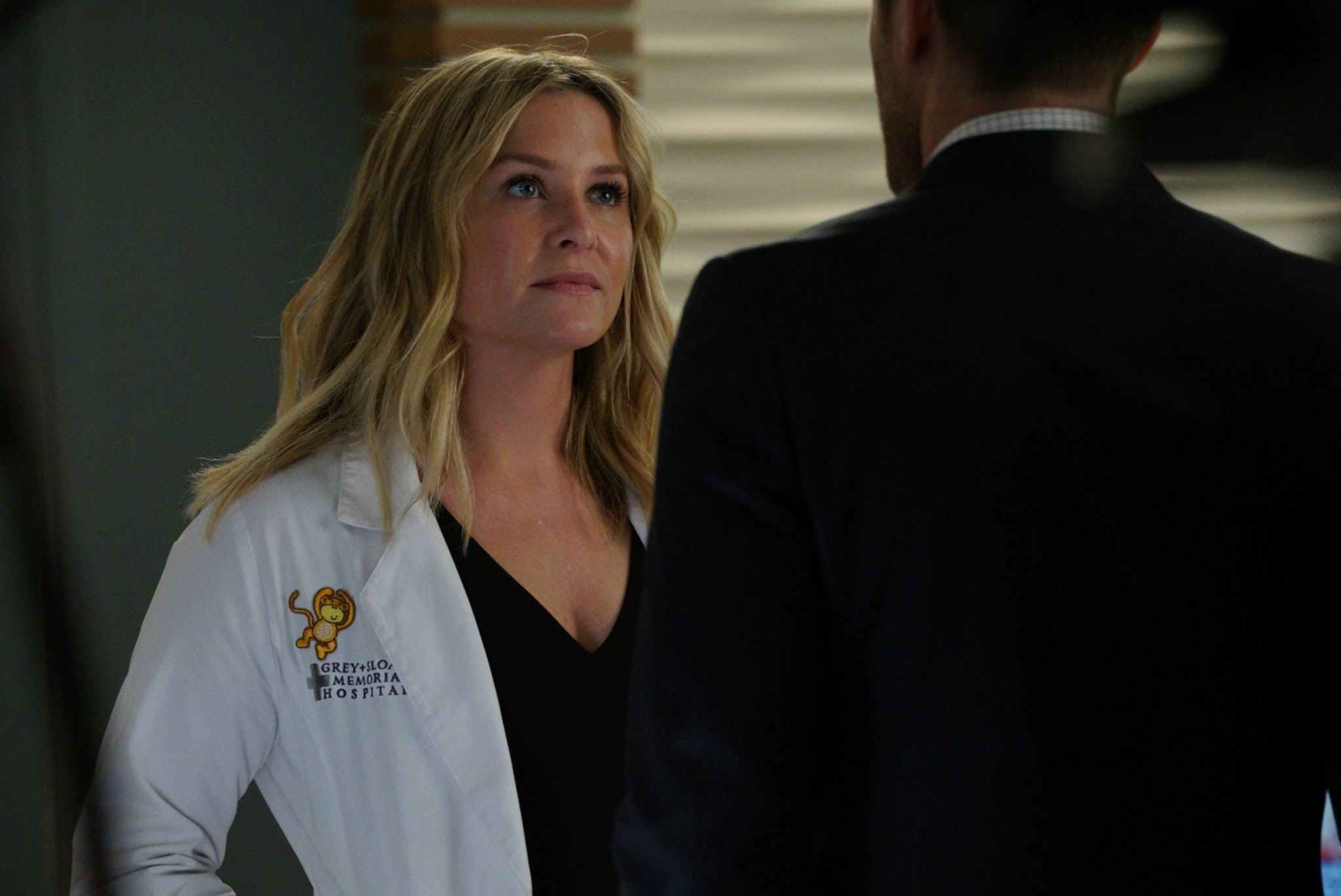 Besides the inevitable sadness that comes with the concrete knowledge that, yes, Capshaw's departure is actually happening, Allen's tweet might have also gifted fans with a tidbit of info regarding Dr. Robbins' final storyline. Because, given Chambers' presence in the aforementioned selfie from her last day on set, assuming that means Karev is somehow involved in Robbins' departure doesn't seem too far-fetched. After all, Karev and Robbins have forged quite a beautiful onscreen friendship over the years, so it would certainly make sense to see him by her side during her character's final appearance.
Unsurprisingly, the comments section of Allen's tweet is riddled with bittersweet farewells to Capshaw's long-cherished character, who — as any levelheaded Grey's aficionado is bound to agree — has proven herself to be a truly heartwarming addition to the series since her debut almost 10 years ago, in 2009. And, in this case, "bittersweet" mostly just means "super sad and nostalgic." That being said, a handful of woeful Grey's fans took the opportunity to employ some well-placed crying GIFS, courtesy of Dr. Robbins herself.
Suffice to say, Capshaw herself similarly waxed Robbins-levels of nostalgic back in March, after Deadline first broke the news that she — as well as veteran Grey's co-star, Sarah Drew — wouldn't be returning to the show next season. In responding to the news of her character's upcoming exit, Capshaw turned to Twitter to share a sort of "farewell tribute" to a character who has obviously meant a whole lot to her. Because, as it turns out, she seems to be almost as prone to ever-poignant monologues as Dr. Robbins.
"For the past ten years I have had the rare privilege of not only playing Arizona Robbins but also being madly in love with playing her," Capshaw began, penning the lengthy tweet. Then, she segued into the reasons why playing a character like Robbins has proven to be so special to her. Capshaw continued, writing,
"Arizona Robbins is kind, intelligent, funny, insightful, bold, playful, fierce and really good at her job. She was one of the first members of the LGBTQ community to be represented in a seres regular role on network television. Her impact on the world is permanent and forever. Forever."
Judging by the overwhelming response to the news of Dr. Robbins' upcoming departure from Grey's, it seems safe to say that Capshaw's comments about her character's indelible impact are pretty spot-on. Whether her character's final episode will involve the likes of Alex, at this point, is still up in the air. And, if history is any indication, the reigning masterminds over at Shondaland have probably cooked up a farewell storyline that nobody will see coming.