'Grey's Anatomy' Is Doing An Alex Karev Flashback Episode & This Star Could Play His Dad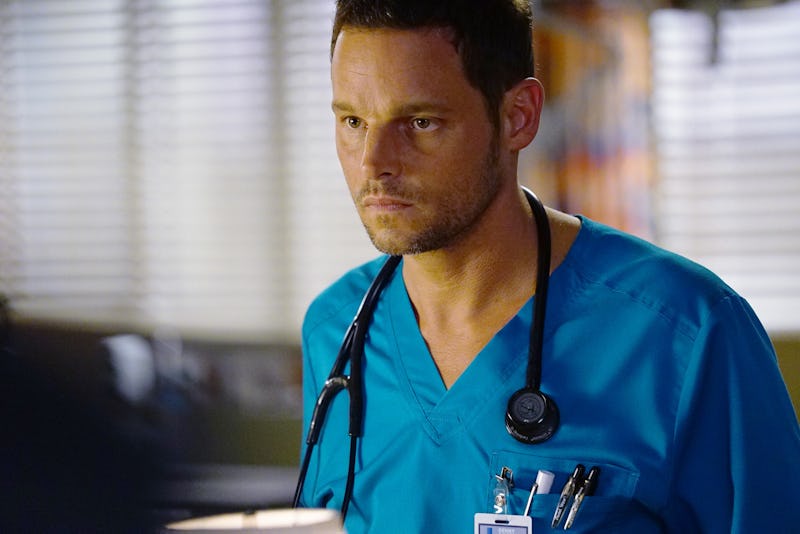 Richard Cartwright/ABC
The revolving door of Grey Sloan Memorial Hospital keeps on spinning, as Martin Henderson's Dr. Nathan Riggs checked out earlier this season… only for an exciting new addition to be announced mere months later. Who will Scott Speedman play on Grey's Anatomy? The Felicity alum (who has also appeared in movies like Underworld and The Strangers, and currently be seen on TNT's Animal Kingdom) was announced to be joining the sizable cast of the ABC medical drama on Feb. 6, although details on his role are being kept well under wraps by the network.
According to The Hollywood Reporter, Speedman's mysterious character "will appear in one episode, for now." And while there are no specifics provided on who Speedman will be playing, fans are likely to latch onto that "for now" to hope that his role will get beefed up. It wouldn't be the first time someone guest starred on one season of a show only to get promoted to series regular the next. And if his Animal Kingdom character, Baz — who was mortally wounded by a gunshot in the Season 2 finale — really is dead, then the actor's schedule is about to clear up in a major way.
So who could Speedman be portraying on Grey's? Let's examine the possibilities:
1. Meredith's New Love Interest
Of course, the first theory that might pop into most fan's minds, given Riggs' departure, is that Speedman will be joining the cast as a potential new love interest for the show's leading lady, Meredith Grey. He certainly would be a change of pace for the surgeon; it would be nice to see her paired up with someone with fair hair and a youthful energy, rather than yet another dark-and swoopy-haired Derek clone. That being said, Ellen Pompeo's vocal dissatisfaction in her recent Hollywood Reporter exposé over how quickly they paired her character up with another man after Derek's death probably puts the kibosh on this idea.
2. A New (Gay) Surgeon
Grey's has long been a champion for diversity on primetime television, featuring out LGBT characters like Callie Torres, Arizona Robbins, Erica Hahn, Carina DeLuca, and Penny Blake. But it's hard to believe that, after 14 years and 28 series regulars, the show has yet to have a gay man as a main character. (There was bartender Joe in the early seasons and the occasional patient like Season 4's swoony soldiers.) Is it too much to ask for that Speedman will turn out to be joining the cast full-time as Grey Sloan's first proud gay male surgeon?
3. Henry Burton's Brother
Were you Team Ben or Team Noel? Whichever 'ship you rooted for during the Felicity days, you'll now have the opportunity to have seen both of that show's leading men on Grey's Anatomy, since Speedman's co-star Scott Foley previously recurred on the ABC procedural as Henry Burton, the patient-turned-husband of Dr. Teddy Altman. It's a shame that Henry already died, because it would have been great to see Grey's stage a mini Felicity reunion by putting Speedman and Foley in a scene together. But they could still give fans a reunion in spirit if they cast Speedman as Henry's handsome brother, whom Teddy feels conflicted about having feelings for. (It was previously reported that Kim Raver would be returning as Teddy later in Season 14, so this is technically possible!)
4. A Doctor Named Ben Covington
If Grey's isn't going to stage a meta Felicity reunion, maybe it can create an explicit connection to the beloved late-'90s show. Just have Speedman show up at Grey Sloan one day as hot new paramedic Ben Covington, recently moved to Seattle from New York City after a devastating breakup with his girlfriend, Felicity. (His fault, he cheated.) The sensitive bad boy could be paired up with just about any of the hospital's eligible ladies: Amelia, who's newly single; April, in the midst of her crisis of faith; Maggie, who desperately needs someone other than her own stepbrother (Jackson) to hook up with. This could even allow Keri Russell to film a high-profile guest spot on the show once The Americans finishes filming its final season over on FX!
5. Alex's Father
If Speedman showing up as his Felicity character is the least likely scenario here, then I'd put my money down that this is the most likely. "But wait," you might be thinking. "We already met Alex's father, played by Dexter's James Remar, in Season 10. He died!" But before you check me for signs of a stroke, hear me out. A couple of months ago, it was announced that Ellen Pompeo would be directing a Karev-centric episode of Grey's this season, featuring flashbacks to the doctor's troubled teenage past with his mentally ill mother and his drug addict father. And with Speedman's appearance possibly being limited to a single hour, this kind of buzzy role in a one-off flashback episode could be just the ticket.
It's still unknown exactly when Speedman will appear on the show, much less who he'll be playing. TVLine reports that the Karev-centric episode will likely air in March or April, so — if that theory turns out to be the correct one — fans could be seeing the Felicity alum back on their screen within the next month.