JetBlue Is Offering One-Way Plane Tickets For Under $20 Right Now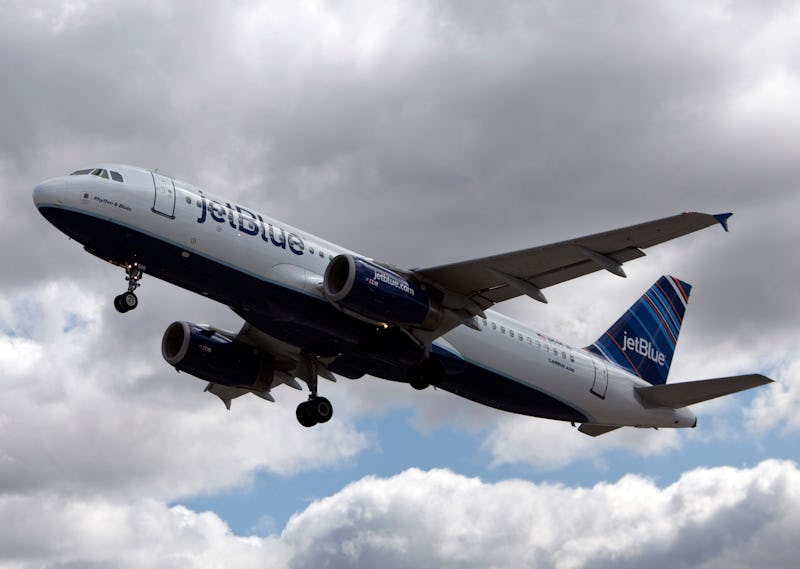 Allison Joyce/Getty Images News/Getty Images
Lately, it feels like it's almost impossible to get affordable airline tickets. It seems like, no matter where you go, everything is very expensive, and then you have to pay fees on top of the original price for just about any little thing you might want to do: choose a seat, check a bag, even have snacks, in some cases. It's overwhelming, and it's not great for your bank account either. That's why we all love when airlines throw crazy sales — and jetBlue is doing that right now, so you need to pay attention if you plan on flying within the next few weeks. jetBlue's flash sale includes one way tickets for as low as $20, which is cheaper than what some train tickets cost! But make sure you jump on these really quickly, because they're only going to be available until 11:59 p.m. on Oct. 25.
Of course, like any other huge sale like this one, there's a catch: these prices are for very specific flights, and most are only for the month of November, which a few in the month of October. So if you're looking for a ticket to a specific city within the next few weeks, you might want to look at what they're offering to see if that city is on there — you could get a ridiculously inexpensive flight. But if you're looking to book a vacation after November and you want more departure and arrival options, then you're probably not going to be very impressed with this sale. Oh, and these dates aren't really accommodating if you're traveling close to Thanksgiving, which isn't surprising, considering that's probably one of the most expensive times of the year to fly.
You can check out all of the deals on the jetBlue site, and some are better than others, of course. Some of the best deals include a $20 flight from Boston to Philadelphia on Oct. 31 at 6:51 a.m., a $20 flight from Boston to New York on Nov. 6 at 10:51 p.m., and a $20 flight from Washington to Charleston, South Carolina on Nov. 13 at 6:38 p.m. There are also a bunch of flights at $30, $40, and $60. But really, even if you end up spending $60 instead of $20, it's still an incredible deal. It's better than spending a few hundred!
Most of the flights are along the East Coast, but there are a few that aren't. For $60, you could fly from New York to Aruba on Nov. 27 at night - that's a pretty amazing deal for a trip to Aruba! The most expensive is a $90 flight from New York to Santiago, Dominican Republic on Nov. 18, but even that is super cheap. You can go from Tampa, Florida to San Juan, Puerto Rico for $60 on Nov. 16 if you're interested in doing something tropical before the holiday.
It's always great to see airlines do these kinds of flight deals, as they are incredibly helpful to people who travel often, or people who want to travel somewhere to visit a loved one, but can't afford a regular ticket. It's nice to see that, once in a while, travel can be a little bit more accessible than usual.