Yes, Jill From 'RHONY' Is Dating Again, But She Clarified What Exactly That Means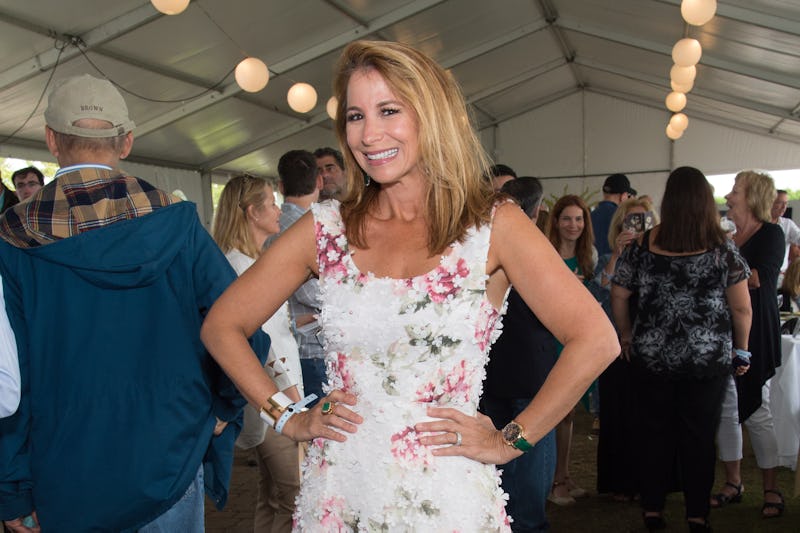 Mark Sagliocco/Getty Images Entertainment/Getty Images
This news will make some Real Housewives of New York City fans happy. Jill Zarin confirmed she's dating again after losing her husband, Bobby Zarin, from cancer in January. While chatting with Extra on July 28 at her sixth annual Hamptons luncheon, Jill opened up about how she is dating someone specific. But, before anyone starts throwing criticism her way, Jill said she hasn't found "new love" just yet, but it's more along the lines of "new like."
After Extra asked for confirmation about whether or not she's dating, Jill declared, "Yeah, of course, it's time. It's time." She continued, "We started out as friends and then, you know, one thing leads to another in life. But, that's what Bobby wanted for me. He was very adamant about it."
Extra also asked Jill how she's doing after Bobby's death. She said, "Good, really good. You know, we were very well prepared for Bobby and what was going on." She continued, "You know, life goes on and Bobby would want me to be happy. That's what I'm trying to do. I'm trying to fulfill what he wanted for me."
On July 6, E! News reported Jill is dating clothing company executive Gary Brody, after the two were spotted at Wimbledon together. So it's unclear if that's show she's referring to in her interview with Extra.
On July 7, the Bravolebrity released a statement about she and Brody to People. "I don't typically comment on tabloid stories but I felt it was important to set the record straight and let you all know I haven't been dating anyone for six months." Her statement continued, "I just started accepting a few dinner dates after much thought and support from my close friends and family. I felt Bobby would want me to start to live again."
Jill discussed Brody further with Us Weekly on July 9. "Gary very much respects the grieving process I am going through and has been an incredible friend to talk to," she said. "He only wants the best for me and my daughter."
Soon after the dating rumors made headlines, Jill faced criticism for her decision. Many people thought she was jumping into dating way too fast after losing Bobby, the man she was married to for 18 years. It may be hard for people to understand how Jill could be dating after losing the love of her life, but, unless you're in her shoes, you have no idea what the former reality star is feeling or thinking. It's also important to note that this is her life, so the 54-year-old can do whatever she wants. Oh, and it's also nobody's business.
People may also forget that the former Housewife has been preparing for Bobby's death for a long time. Bobby didn't die unexpectedly, which probably makes the dating process easier for Jill. There's a chance she started the grieving process at the time of Bobby's diagnosis or when things started to look grim for him. So, her grief and where she's currently at in her life may be different compared to someone else's. That's OK, because everyone deals with loss differently.
All Jill is trying to do is move on and be happy — like Bobby wanted her to. "I ask everyone who I've introduced him to if he would approve and they all say Bobby would approve," Jill told Extra. "But, I trust my daughter's instinct the most." According to Jill, her daughter, Ally Shapiro, "likes" the man she's seeing.
All that said, Jill shouldn't have to defend herself. Just because she's dating doesn't mean Jill's not thinking of Bobby on a daily basis or that her love for him has disappeared.