J.K. Rowling Is Planning Her First Kids' Book Since Harry Potter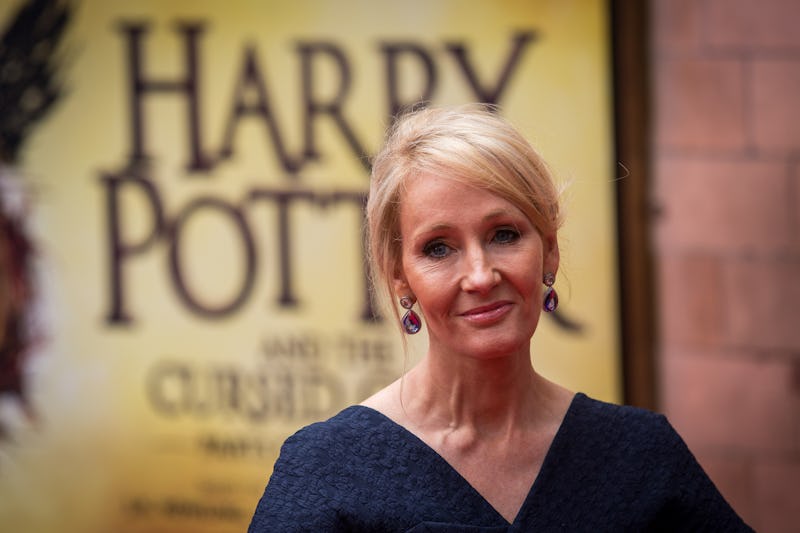 Rob Stothard/Getty Images Entertainment/Getty Images
Like any author of a bestselling children's book series, J.K. Rowling has a lot on her plate, collaborating with other writers to pen scripts for Harry Potter and the Cursed Child and the Fantastic Beasts and Where to Find Them film series. Now, Potterheads have just learned that J.K. Rowling is writing a children's book that isn't Harry Potter-related, and everyone has questions for the U.K. author.
The news that J.K. Rowling is writing a children's book comes directly from the writer's website, which has an "Answers" section for all her fans' burning questions. Under the heading "What are you writing right now?," Rowling writes:
"I've just finished the fourth Galbraith novel, Lethal White, and I'm now writing the screenplay for Fantastic Beasts 3. After that I'll be writing another book for children. I've been playing with the (non-Harry Potter/wizarding world) story for about six years, so it's about time I get it down on paper."
If J.K. Rowling has been working on this children's book for six years, then she first started playing with the story around the time that she published her first novel for adults, The Casual Vacancy. Mentioned in the post on her website, Lethal White will be Rowling's fifth novel for adults.
As of this writing, all Rowling has said regarding her forthcoming children's book is that it is not related to Harry Potter or the wizarding world. Regardless, the book will be Rowling's first non-Harry Potter title for children, which is kind of a big deal. The author has continued to publish Potter-related stories alongside her novels for adults, but she hasn't put out anything in the wizarding world since Fantastic Beasts and Where to Find Them: The Original Screenplay hit store shelves in late 2016.
Speaking of which, don't miss the fact that Rowling's post mentions her work on the Fantastic Beasts and Where to Find Them 3 screenplay. The second film in the Harry Potter prequel franchise, Fantastic Beasts: The Crimes of Grindelwald, is slated for theatrical release in November of this year. The Fantastic Beasts series is expected to comprise five films in all, which will track the adventures of Newt Scamander from 1926 to 1945. Fantastic Beasts and Where to Find Them 3 won't be released until 2020, and does not yet have an official title. You can expect it to take place sometime after 1927, when the events of The Crimes of Grindelwald begin.