J.K. Rowling Shared A Fan's Christmas Story & It'll Make You Happier Than A Cheering Charm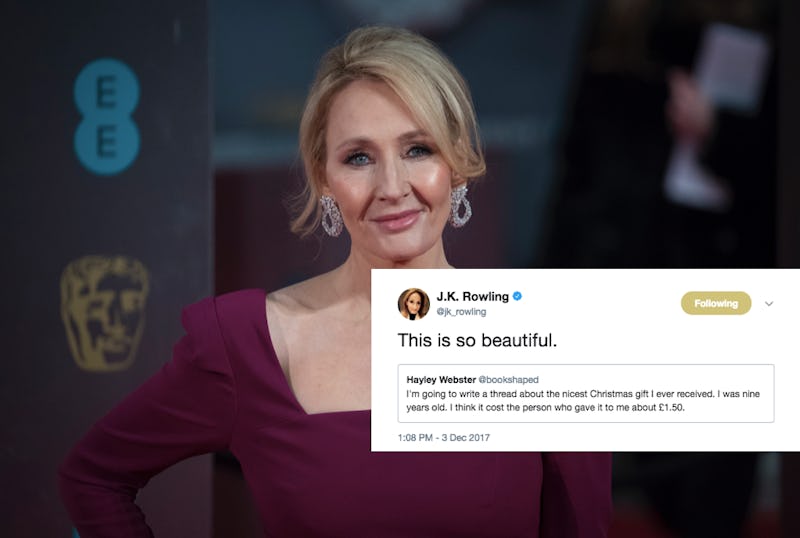 John Phillips/Getty Images Entertainment/Getty Images
If you don't like feel-good stories about the holidays, this is not the article for you. On her Twitter account, Harry Potter author J.K. Rowling shared a heartwarming story about the best Christmas gift one Potterhead ever received, and just reading it will make your little Grinchy heart grow three sizes today.
Rowling did not tell her followers about the best Christmas gift she ever received. Rather, she re-tweeted a story from a fan, Twitter user @bookshaped, A.K.A. Hayley Webster, who told about a not-so-very-happy Christmas that turned out to have a wonderful surprise in store. Webster is the author of a young adult novel, Jar Baby, as well as the forthcoming children's book Meet the Twitches, published under the name Hayley Scott, which will be available from Usborne in early 2018.
The then-nine-year-old Webster was living with her younger sister and father during the holiday season in question. Their parents had recently split up, and, being "Not In A Good Place," had started seeing other people. Although this arrangement will probably spark a lot of pearl-clutching in contemporary readers, it turned out to have a silver lining for Webster, who wrote about the kindness of her father's girlfriend in a Sunday Twitter thread.
Webster's story proves that you do not have to spend a lot of money in order to make someone's holiday season a little merrier and brighter. She says that the gift she received that Christmas probably only "cost . . . about £1.50." For those of us in the U.S., that comes to about $1.78, which means that pretty much anyone, even a broke college student, can afford to give someone a thoughtful and meaningful holiday present.
I know how it feels to be financially challenged, but want to give your friends and family the world. If you need it, consider this your annual reminder that there is no good reason why holiday gifts should break the bank, that the amount of money you spend on someone is not indicative of their worth or yours, and that the people who matter — especially children — will never care how much money their presents cost you.
Check out Hayley Webster's story below, including her reaction to getting a re-tweet from none other than the Head Witch In Charge, J.K. Rowling, herself, and then make sure to share the story of your favorite holiday gift with me on Twitter!
And, just in case you're wondering, here's "We're Walking in the Air."
Happy holidays, everyone!