J.K. Rowling Apparently Re-Wrote This Chapter In Harry Potter Over & Over Again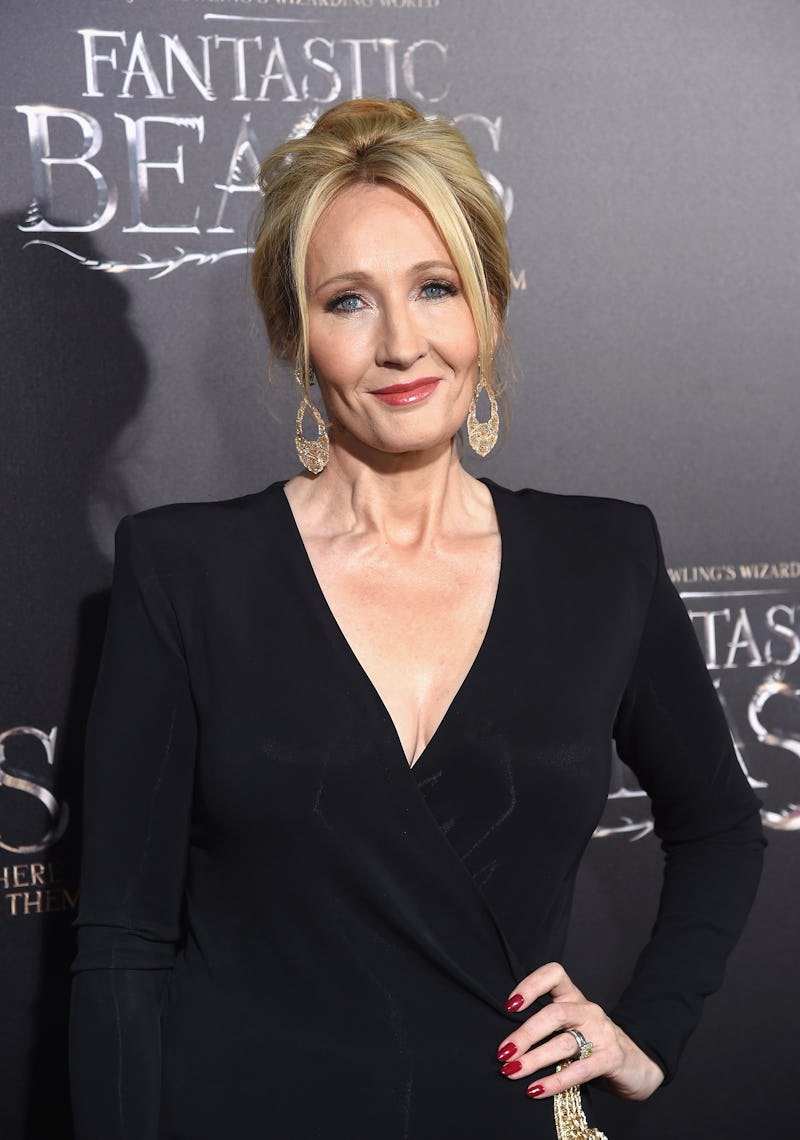 Jamie McCarthy/Getty Images Entertainment/Getty Images
It's hard to imagine that your favorite authors ever struggle with something as basic as writer's block, but last week on Twitter, J.K. Rowling revealed that even the most successful writers struggle to create the perfect chapter. According to the Harry Potter author, there was one part of her iconic book series that "almost finished" her, but luckily for fans, she learned how to push through, and is encouraging other writers to do the same thing.
By now, Potterheads are used to turning to J.K. Rowling's Twitter page for everything from the behind-the-scenes Harry Potter stories to tips for aspiring writers struggling to come up with their own book ideas. She frequently uses her social media account to inform, explain, and inspire her followers, which is why it shouldn't come as a big surprise that when a fan posed a question about her writing process, the Harry Potter author happily responded.
In a funny and incredibly relatable tweet on May 24, Rowling opened up to her followers about her own writing struggles, saying "Upon rereading, the best I can say about today's writing is that I got my second best Tetris score." It would appear that even the creator of the Harry Potter universe struggles with writer's block every now and again, and fans couldn't have been happier about it. For many, seeing the famed author admit to being stumped made their own struggles feel more manageable. Several Twitter users, including author Sarah Dessen, chimed in to say as much:
After explaining their own struggle with writer's block, one Twitter user responded to Rowling's tweet to ask the iconic author how exactly she got passed it. In her thoughtful response, the Rowling explained that feeling stuck when writing was completely normal, and it had in fact happened to Rowling herself when writing chapter nine in Harry Potter and the Goblet of Fire.
In the chapter in question, Harry, Hermione, and the Weasleys have arrived at the Quidditch World Cup with the Diggorys. It is there that the Death Eaters launch a strange attack that leaves Harry lost and discombobulated in a sea of chaos and confusion. Apparently, much like her young wizard protagonist, Rowling struggled to make sense of the chaotic scene, saying in a tweet that "Chapter 9, Goblet of Fire nearly finished me." According to the author, she rewrote it "more times than I can now remember." Still, she assured her fan that, like Rowling herself eventually did, "You'll get there."
As always, Rowling knew exactly what to say to a fan who turned to her for thoughtful advice. She didn't sugarcoat the writing process, but she did reassure the aspiring author that things get easier if you're willing to put in the work, and that is the kind of advice every young writer needs to hear.
When another fan chimed in to say that Rowling's "flawlessly" written series inspires him to keep going, Rowling humbly replied with another piece of helpful advice. "Certainly not flawlessly, but I did it," Rowling wrote in a tweet. "Never wait in expectation of perfection or you'll wait forever. Do the best you can with what you've got and be one of those who dared rather than those who merely dream."
When she wrote the Harry Potter books, Rowling touched an entire generation with hope, inspiration, and magic. The iconic fantasy series may be over, but its author continues its legacy on Twitter every day, where she dispenses the kind of thoughtful advice that just might inspire the next great writer to start their very own series.