J.K. Rowling Just Revealed How She Plans Her Books & There's An Actual Color-Coding System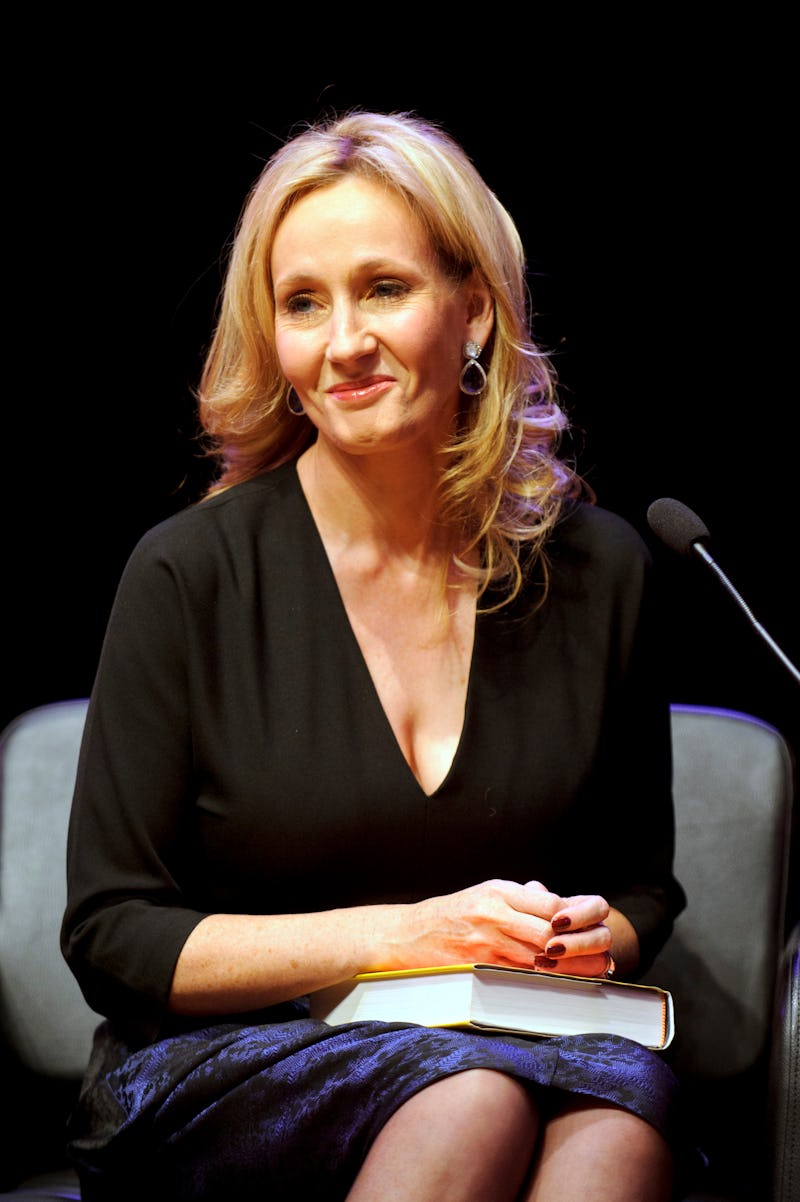 Ben A. Pruchnie/Getty Images Entertainment/Getty Images
Throughout the years, J.K. Rowling has delighted fans on social media by sharing Harry Potter lore, thoughtful writing advice, and personal stories meant to inspire readers all over the world to pick up a pen and start a story of their own. While she usually makes it look easy, today, the Harry Potter creator revealed just how much work she actually has to put into each of her books — that is, before she starts writing them. As it turns out, Rowling's writing plan involves a color-coding system. Apparently, this is the first step to becoming as successful as the first female novelist billionaire someday.
While answering questions on Tuesday about her upcoming Cormoran Strike novel, Lethal White, Rowling began an unexpected conversation about her writing process and what it takes to plan her books. For her current project, the fourth installment of the crime fiction series she writes under the pseudonym Robert Galbraith, Rowling said she implements a helpful color-coding system: on a table of suspects, notes in blue ink are representative of clues, while red ones symbolize "red herrings" meant to mislead readers.
After talking about the way she lays out her plots and keeps track of its details, Rolwing went on to share the nitty-gritty of her writing techniques: mainly, what program — or pen — she uses to plan her novels. A shameless Potterhead and aspiring novelist myself, I was personally thrilled to see that the author of the best-selling book series in history uses the same drafting tools I do: pen, paper, and Microsoft Word. I only hope it means that, like Rowling, I too will become a beloved author and household name someday.
When a fan asked her about failure, feeling discouraged, or making bad choices in a writing career, Rowling was quick to reassure them that there is always a chance to start over. Like so many novelists, aspiring and seasoned, she also admitted just how scary it is that "there is always a black page waiting."
Rowling went on to reveal more about her technique for visual planning. But, she explained, even the most thought out plans can change. According to her tweet, Rowling had the idea for Lethal White in 2013, but the details of the plot have "undergone huge revisions since then." Using a visual planning tool seems to help the author keep things straight.
The international bestselling author even addressed every writer's greatest fear: failure. "All (writers) have failed to match our dreams of perfection," she tweeted, quoting author William Faulkner. "That's why he keeps on working, trying again. he believes each time this time he will do it, bring it off. Of course he won't, which is why this condition is healthy."
This impromptu Twitter Q&A certainly isn't the first time Rowling has shared writing advice with fans. In the past, she has advised young writers to learn to say no to things that interfere with their writing days, to write what they know, and, of course, to read as much as possible.
It is no secret that Rowling has been happy to impart her wisdom on hungry fans who want to know what it takes to be an author. In fact, much of her Twitter feed — at least, the part that isn't devoted to shutting down haters, criticizing sexist politicians, and defending feminist icons like Serena Williams — can be seen as an unofficial guide to writing form the Harry Potter author.
But despite her frequent advice, Rowling insists there is no secret to success. Instead, she just wants to encourage aspiring authors to keep writing, whether or not anyone would read or see their work.