J.K. Simmons Is Joining 'Veronica Mars' In Such A Perfect Role For The Oscar Winner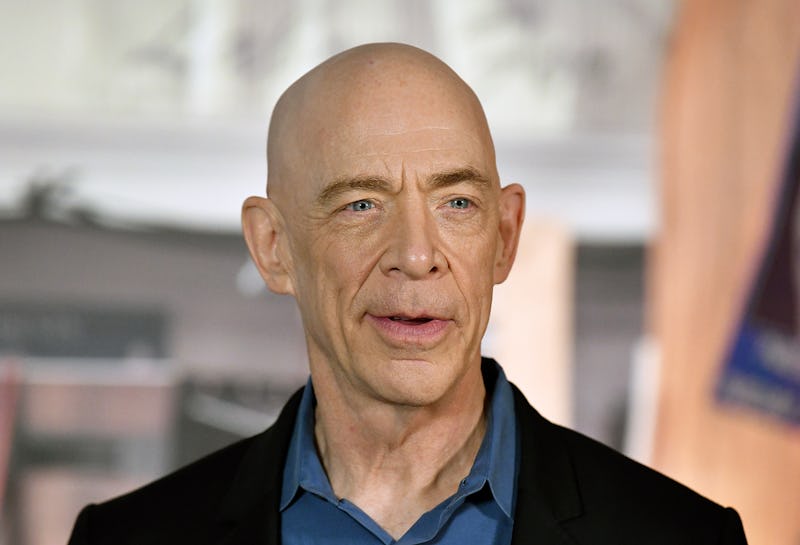 Slaven Vlasic/Getty Images Entertainment/Getty Images
J.K. Simmons is officially on the list of actors who are set to guest star in the upcoming Veronica Mars revival. Apparently, J.K. Simmons' Veronica Mars character, Clyde Prickett, is an ex-con who works for Richard "Big Dick" Casablancas, according to The Hollywood Reporter.
Between Clyde and Richard, THR describes Simmons' character as "the smarter and more dangerous of the two." That sounds about right for the actor, whose gruff voice lends his characters an air of authority, even if not everyone he's played is a felon. Still, it's pretty easy to imagine Simmons slipping into the role of a so-called "fixer," as THR puts it — he's definitely someone you don't want to mess with.
As THR reports, the show has shared some more details about Clyde's 10 years in prison, too. Apparently, he was sentenced for racketeering, and he entered Richard's graces by helping him in jail during their sentences' overlap. Considering the fact that it's been more than 10 years since Veronica Mars' 2007 finale, a lot has changed in Neptune, California. So it makes sense that Richard would want to expand his professional circles (and it makes even more sense that those circles wouldn't necessarily be filled with the most trustworthy people).
And for fans who are eagerly awaiting the Veronica Mars revival, the good news is that Simmons is just one of the new actors who will appear in the upcoming fourth season. Patton Oswalt will play Penn Epner, a pizza deliveryman who also has a passion for posting on true crime websites.
Plus, Kirby Howell-Baptiste will be joining the Veronica Mars revival as Nicole, a woman who owns a nightclub in Neptune. That should be exciting for fans who followed Veronica Mars star Kristen Bell to The Good Place, where Howell-Baptiste also guest-starred as Australian neuroscientist Simone.
Aside from the Veronica Mars newcomers, some familiar faces, like New Girl's Max Greenfield, are coming back to Neptune, too. Greenfield will revive his role as Deputy Leo, back to solve more mysteries. Of course, other stars including Bell and Jason Dohring, who played Logan, will also be in the Hulu miniseries, which will air sometime next year.
Veronica Mars creator Rob Thomas has also shared that the Hulu series will follow "one big case." He also hinted that the new episodes will be way different from the 2014 Veronica Mars movie, in which Veronica, now a lawyer in New York, helped Logan when he was accused of murder. Thomas tweeted in September,
"I will say this: the movie was nostalgic. The Hulu limited series isn't going to be. Hardcore So-Cal noir. One big case. Eight episodes to tell the story. This is a detective show."
It sounds like the focus won't necessarily be on Veronica's love life in the new show, though plenty of fans are probably hoping to see her and Logan back together. Whatever happens, though, it's just exciting to know that the gang is back in action, with new crimes to solve. The cast may be a lot older than they were when Veronica Mars first aired, but the fandom is still alive and well. And this casting news will probably have fans even more excited about the upcoming revival.