Marshmallows, Get Ready For A 'Good Place' Reunion When 'Veronica Mars' Hits Hulu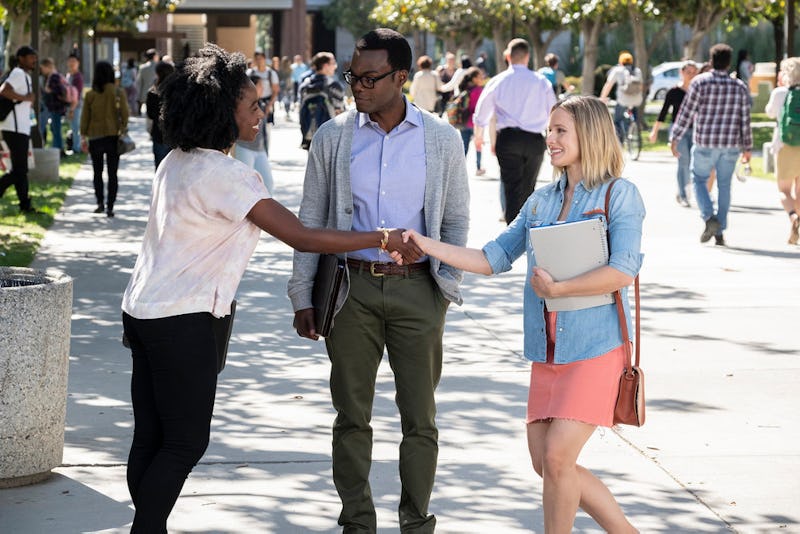 Justin Lubin/NBC
As if Marshmallows needed another reason to get excited for the Veronica Mars revival, they just forking got one. According to Deadline, fans will get a Good Place reunion on Veronica Mars when the revival starts streaming next year on Hulu. Clearly, this isn't the bad place — or at least the new Veronica Mars revival isn't.
When Kristen Bell returns to Neptune as Veronica Mars next year, she'll be joined by Kirby Howell-Baptiste, who played Simone in Season 3 of The Good Place. In the NBC sitcom, Howell-Baptise starred as a neuroscientist who dated Chidi Anagonye and was a good friend and role model to Eleanor (Bell) as she tried to figure out how to be a good person. For Veronica Mars, however, the actor will be trading in her science degree for something a bit more daring.
Deadline reported that Howell-Baptiste, who also appeared on the BBC's Killing Eve, will play the recurring role of Nicole, the owner of a Neptune nightclub where spring breakers love to hang out. The problem is, it's also the spot where many of them have been found dead and Veronica's convinced the killer is stalking the club in hopes of finding their next victim.
Along with her Veronica Mars role, Howell-Baptiste will also reprise her role of Sasha Baxter in Barry Season 2. And she recently shot the pilot for the new Freeform workplace comedy Girls Code, which is produced by Paul Feig and will have her playing another smarty pants, this time a MIT grad.
Howell-Baptiste isn't the only new actor joining Veronica Mars for the revival. The show will also add iZombie's Dawnn Lewis as Neptune's new police chief Marcia Langdon. Back in September, series creator Rob Thomas tweeted, "Spoiler: Neptune finally incorporated," which means that Neptune now has its own elected officials, including Chief Langdon, who appeared in the Veronica Mars book, The Thousand Dollar Tan Line.
The two women join fan favorites like David Starzykm, who played Richard Casablancas, Percy Dags III who was Veronica's best friend Wallace Fennel, Ryan Hansen reprising his role as Dick Casablancas, and Enrico Colantoni, better known as Veronica's dad, Keith Mars. Jason Dohring, who plays Logan Echolls, Veronica's on-again, off-again boyfriend, will also be back, making all those LoVers out there very happy.
So far, fans don't know much on how Howell-Baptiste's Nicole will factor in to the new revival plot. However, Thomas, who will pen the first episode of the revival, revealed on Twitter that the reboot will be a "hardcore So-Cal noir" and will follow "one big case." For all we know, Nicole could be the serial killer Veronica is looking for.
Bell recently promised that Veronica Mars will be much darker than previous seasons. "It's going to be a bigger world. It's definitely not going to be what we did on UPN or The CW," Bell told SiriusXM's Entertainment Weekly Radio in September. "So I want to brace fans for that, that it's going to be darker and bigger and more cinematic and definitely a little bit different."
That includes adding a few new faces to the mix like Howell-Baptiste. And luckily for Good Place fans, Kristen Bell's Veronica will likely be spending a lot of time with her as she tries to crack this case.