Joe Alwyn Had The Cutest Thing To Say When Asked About Dating Taylor Swift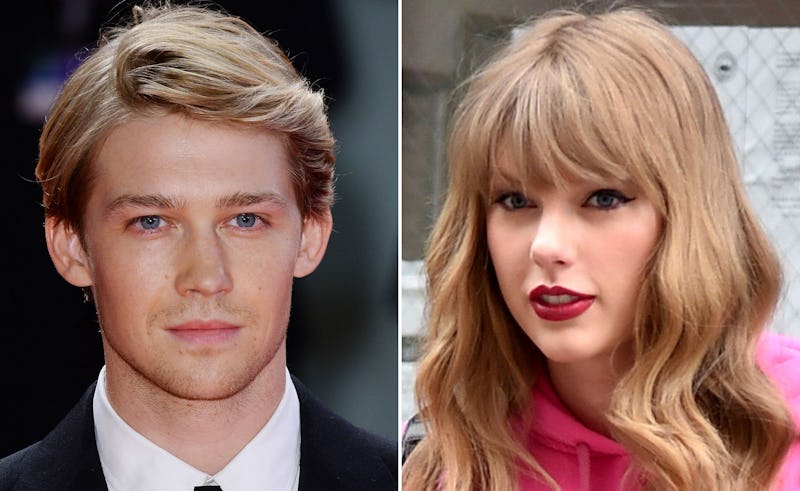 Eamonn M. McCormack/Getty Images Entertainment/Getty Images/Kristin Callahan/ACE Pictures/Shutterstock
Finding and maintaining a partner in crime, a love of your own, and like, someone you totally dig is pretty hard work. OK, now add to that being a hard-working, busy, successful actor. Gosh that sounds like a lot of work. Now, OK, add to that, your partner being one of the most well-known recording artists in the world. OK, wow, that is cray. However, Joe Alwyn and Taylor Swift are making it work, and honestly, their relationship sounds so cute.
The pair have kept schtum regarding their romance, which is obviously difficult owing to their jobs being very firmly in the public eye (as well as this, the constant media scrutiny of Swift's relationships past and present). But during a recent interview with Vogue, Alwyn, who is a British actor, opened up about his high-profile romance. Although he understands why there is so much interested in him and Swift, he explained that they both go out of their way to keep their relationship under wraps. So much so, that when the magazine brought the subject of his romance up, he very politely asked to change the subject. He said:
"I'm aware people want to know about that side of things, I think we have been successfully very private and that has now sunk in for people…but I really prefer to talk about work."
It was first reported that Alwyn and Swift were a couple back in May 2017. However, they actually started dating several months before anyone found out about it. But since news broke of their relationship, both have gone to great lengths to protect their privacy.
Clearly, keeping their romance out of the limelight must be working as the couple are so serious now that they have reportedly moved in together. According to the magazine, they live at his home in London's Crouch End. To keep the location secret, Swift apparently is driven to their paid in a "fairly nondescript blacked-out car" when leaving and arriving.
In addition, in order to ensure she "barely leaves a trace", Swift and Alwyn spend the majority of their time together either at home or within the safety of a number of private locations.
While Alwyn doesn't like to spend too much time talking about his pop icon girlfriend, one subject he is happy to discuss is his career. Cementing his place in the ubiquitous British actor" world as he stars in not one but two huge period dramas this year. He was also recently seen at the Venice Film Festival, promoting one of his upcoming films, The Favourite, a British film set in the 18th Century. But not only is he a successful actor, but he has also done very well as a model, probably best known for his campaigns with Prada.
Meanwhile, Swift has also been busy with her Reputation Tour.
The worldwide project, which was named after her studio album of the same name, has some tracks that lots of fans think are totally inspired by her romance with Alwyn. This isn't so hard to believe as recently, she revealed that her relationships often get her creative juices flowing.
In an interview for Harper's Bazaar with Pattie Boyd, rock and roll icon and former wife of George Harrison and Eric Clapton, Swift discussed how her partners do often provide inspiration for her music.
Swift said: "There are definitely moments when it's like this cloud of an idea comes and just lands in front of your face, and you reach up and grab it...there are mystical, magical moments, inexplicable moments when an idea that is fully formed just pops into your head. And that's the purest part of my job."
Looks like 2018 has been a busy and positive year for them both; personally and professionally. Let's hope the good years just keep on rolling.