Taylor Swift & Ed Sheeran Are Rooting For This Fellow Artist To Win Big At The AMAs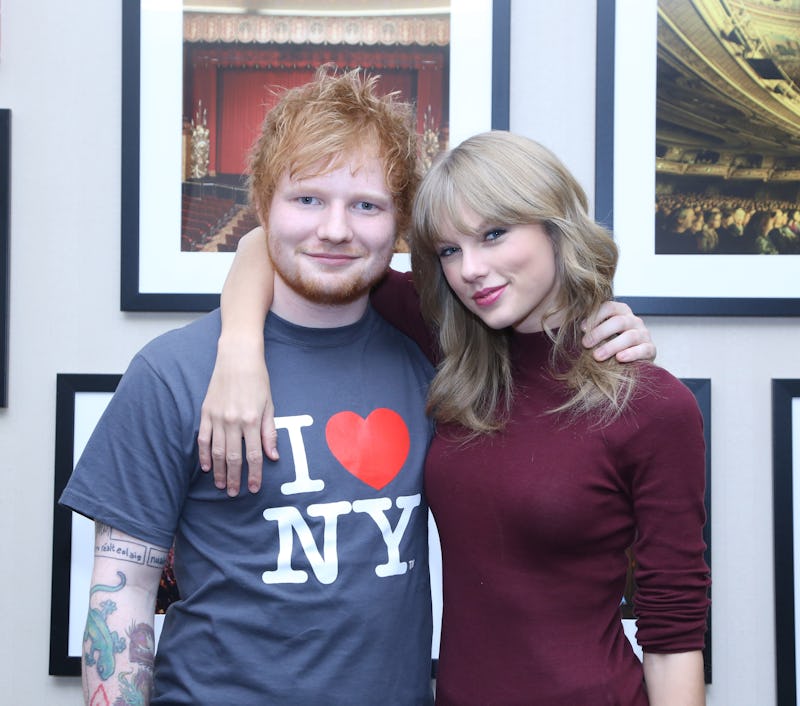 Anna Webber/Getty Images Entertainment/Getty Images
It's safe to say Taylor Swift and Ed Sheeran are in their feelings about the 2018 American Music Awards. In a new Sept. 12 video, Swift and Sheeran are responding to their 2018 AMA nominations by predicting who will win on October 9. And guess what? It isn't either of them, instead they're guessing their competitor Drake is a surefire bet to take home the gold. In fact, they're resigned to the fact that they're going to lose. But don't worry, even if they don't get the trophy, Swift and Sheeran will always have each other.
In a video that Swift posted to her Instagram her and Sheeran, who just so happened to be hanging out, chat about the nominations. Specifically, how they're both up for Favorite Pop/Rock Album against Drake. "Safe to say whoever wins the AMA for fav pop/rock album will be an artist who writes songs about love and heartbreak," she wrote in the video's caption, adding a crying laughing face emoji to let fans know she was totally joking. "YOU get to decide who it'll be."
But, honestly, it seems as if Swift and Sheeran already decided that for YOU. In the clip, Sheeran lets Swift know that the AMA nominations are out. "It's me, you, and Drake," he says. "You're gonna win," he says at the exact time as Swift, who quickly changes her mind. "Drake's gonna win," she says only to have Sheeran agree.
To be fair, it wouldn't be all that surprising if Drake did win the award since he leads this year's nominations with eight, tying him with Cardi B for the most. Both Drake and Cardi are up for Artist Of The Year, going up against both Swift and Sheeran, along with Post Malone.
Sheeran — who has six nominations, which ties him with Post Malone for the second most — will also have to compete against Drake for Favorite Male Artist and Favorite Song - Pop/Rock. While Swift, who is up for four awards, will have to beat out her bestie Sheeran for Tour Of The Year, along with the other nominees: Beyoncé & JAY-Z, U2, and Bruno Mars.
It's not the first time the two have competed against one another. Back in 2016, the two were both up for Song of the Year at the Grammys and Swift couldn't be happier when Sheeran won, jumping around in excitement for her bestie. As supportive as they are though, they both don't mind busting each other's chops. Just watch this latest video from Swift and you see that she and Sheeran are working on their fitness together. No surprise, there's some light teasing during their hike. "You OK bro?" Swift asks Sheeran only to get a middle finger salute.
Later, she has a little more fun picking on him. "It's called exercise," Swift tells Sheeran who is a couple of steps behind her on their climb. "Have you ever done cardio?" "Now and then," an out of breath Sheeran replies, only to have Swift let him know that "strumming a guitar doesn't count."
It may not count as exercise, but it sure does count for something. Hello, he got five AMA nominations, remember? It's safe to say, whether Drake beats Swift and Sheeran or not next month, these two are going to have a lot of fun at the AMAs next month. Especially, if there's no cardio involved
.