"Grocery Store Joe" May Need A New 'Bachelor' Nation Nickname Because Of This News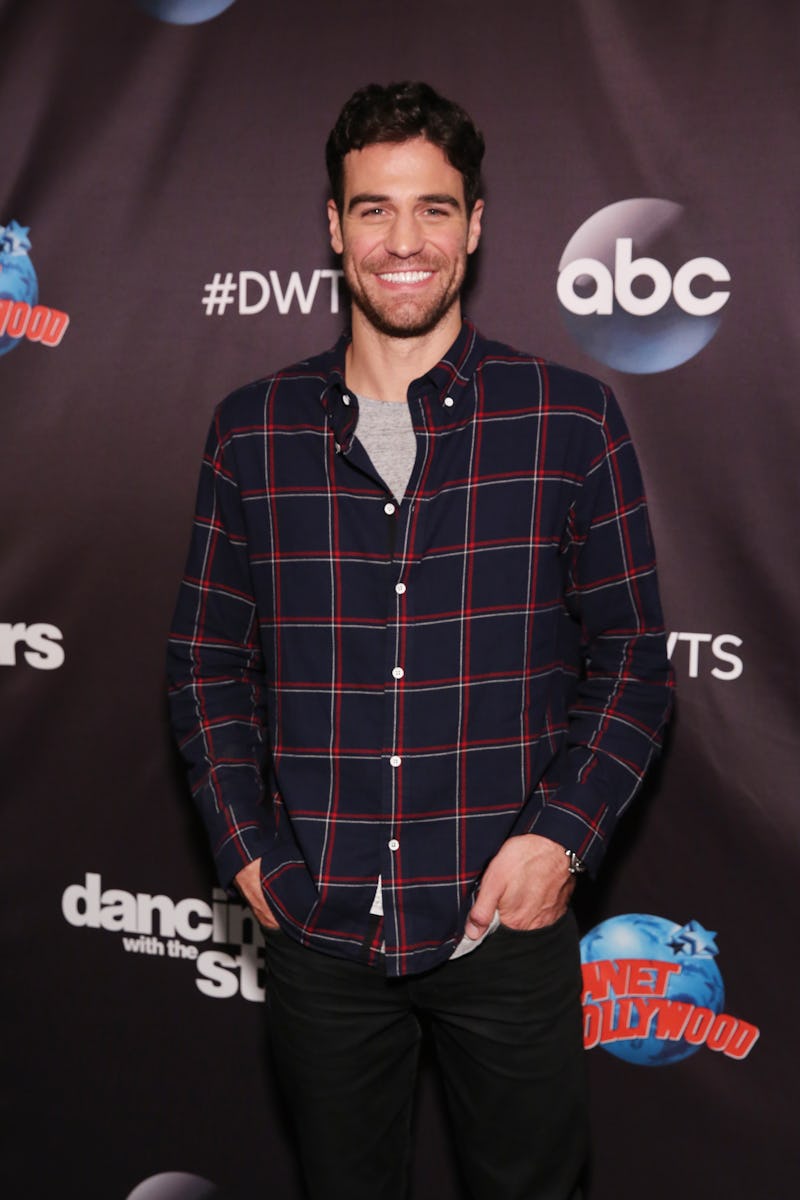 Robin Marchant/Getty Images Entertainment/Getty Images
Joe Amabile — AKA Grocery Story Joe to Bachelor Nation — may have only lasted for one episode of The Bachelorette before being eliminated by Becca Kufrin, but he became a fan favorite in a short period of time thanks to his good looks, Chicago accent and the fact that he owned a grocery store (think: unlimited snacks!). But in a new Dancing With the Stars promo video published on Wednesday, Sept. 12, Grocery Joe revealed to fans that he no longer owns a grocery store at all.
While answering a series of questions with his DWTS partner, Jenna Johnson, Joe revealed that one thing America might not know about him is "I don't own a grocery store anymore, that's true," effectively changing the entire course of history as Bachelor Nation knows it. (Bustle has reached out to Joe for further comment and clarification.)
Though Grocery Store Joe didn't offer any more information about when, exactly he stopped owning a grocery store (though he did also note that he hates tea, in case fans wanted even more Joe Trivia), his Instagram account does offer a few clues that the rest of the world can use to find out what, exactly, is the truth.
In May, Joe posted a photo of himself picking out watermelon, presumably for the grocery store, which he followed up a few months later with an Instagram Story in which he guided his followers through a selection of produce, including mangoes and peaches, and shared which of them his Chicago-area followers should pick up and which they should avoid.
And, at the top of his Instagram profile, Joe has a Story Highlight saved where he visits the produce market, and introduces followers to the various vendors he's worked with in the past. All of those posts seem to imply that Joe had his store — or, at the very least, was still hitting up all of his old produce markets and food haunts around Chicago — as late as July of this year.
However, when Becca was in Chicago in June, and the pair met up for a mini reunion around the city, there was no mention of Joe's grocery store in either of the Bachelorette stars' posts. Sure, it could have just been one of Joe's days off from the store, but why wouldn't Becca want to stop by and see the grocery store that helped make Joe world famous, and provided him with his unique moniker? Could they have skipped that hometown visit simply because Joe no longer owned the store at that point in time?
One thing that both Becca's trip to Chicago and Joe's DWTS video made clear is that Joe has a deep, intense love of watermelons. In addition to rocking a pair of watermelon swim trunks on social media (ones which he sadly did not take with him to Paradise), when Johnson asked Joe what he thought their fans should be called, he came up with a particularly fruity fan name.
"It'd probably be something to do with a grocery store," Johnson said, to which Joe proposed, "The watermelons!" (Joe has also posted plenty of Instagram stories about shopping for and eating watermelons, so clearly, he's a big fan.)
So, while it might not be possible to tell when, exactly, Joe decided to give up the grocery store — and whether it had anything to do with his newfound television and social media fame, or if it was simply a result of his recent move to Los Angeles in order to compete on DWTS and spend some more time with fellow BIP star Kendall — this promo clip does propose a new nickname for Bachelor Nation's favorite grocery guy: "Watermelon Joe."
Sure, it's not as catchy as "Grocery Store Joe," but it should still make for an excellent hashtag for Bachelor Nation to chat about his progress on the upcoming season of DWTS. Fans can catch Joe's dance floor debut (and hopefully get a few more answers to the grocery store debate) when Season 27 premieres on Monday, September 24.