Joe Biden's Response To The Bill O'Reilly Allegations Speaks Volumes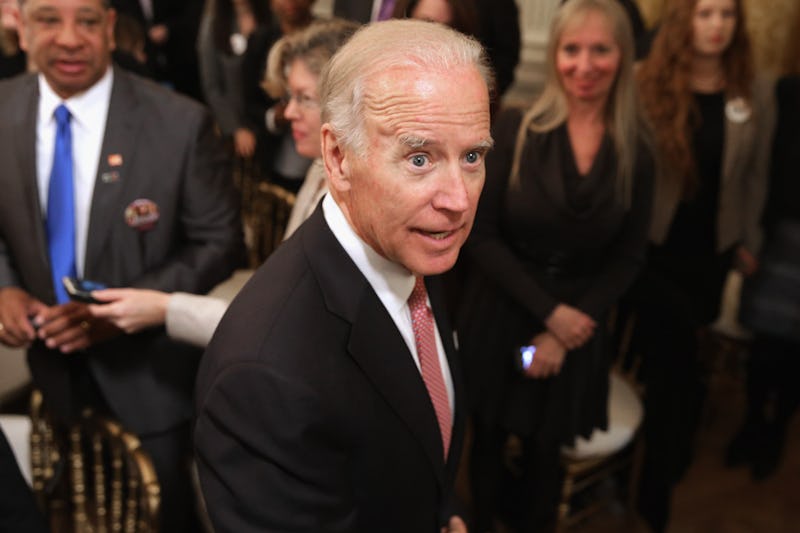 Chip Somodevilla/Getty Images News/Getty Images
Perhaps one of the starkest differences between the Trump and Obama administrations lies in how they address sexual assault. The sexual assault allegations against Donald Trump are well-known (he has firmly denied them) but have largely been shelved in favor of more recent political news stories. Still, they make former Vice President Joe Biden's anti-sexual assault campaign "It's On Us" seem all the more relevant. That difference was highlighted even more so on April 5 when Biden responded to the Bill O'Reilly allegations of sexual assault. O'Reilly has denied the allegations, claiming that his celebrity status makes him vulnerable to such things.
O'Reilly wrote on his website in denial of the allegations:
Just like other prominent and controversial people, I'm vulnerable to lawsuits from individuals who want me to pay them to avoid negative publicity. In my more than 20 years at Fox News Channel, no one has ever filed a complaint about me with the Human Resources Department, even on the anonymous hotline.
According to BuzzFeed News, Biden referred to O'Reilly (without naming him) during a call with It's On Us volunteers, and said that news of sponsors dropping O'Reilly after the revelation of sexual allegations against the Fox News host is a sign of progress:
I won't go into names, but can you imagine ... major sponsors pulling sponsorships from a major program because they don't want to be associated with the person on the program because of matters relating to this issue?
Reports that O'Reilly issued a total of $13 million to settle claims of sexual assault by at least five former Fox employees surfaced in a New York Times article on April 1, and in the wake of the allegations, advertisers have dropped the so-called "King of Cable" in droves.
Biden's response to the allegations came just after President Trump defended O'Reilly in a New York Times interview. Trump's support for O'Reilly further illustrates not only the divide between the last and current administrations, but also about how how the current views sexual assault in general. In the interview, Trump made clear the reasons for his support when saying "I think he's a person I know well. He is a good person."
He also included what he thinks O'Reilly should have done in response to the allegations:
I think he shouldn't have settled. Personally, I think he shouldn't have settled. ... Because you should have taken it all the way. I don't think Bill did anything wrong.
Biden's statement referring to O'Reilly is at the heart of the It's On Us campaign, and shows not only how the White House should have responded, but how anyone who claims to care about assault should react. As my coworker Chris Tognotti noted, Trump defended O'Reilly during Sexual Assault Awareness Month, and criticizing that defense should be done in recognition of Trump's own past statements about grabbing women by the genitals without their permission (he denies ever acting upon that statement).