Teresa Giudice's Husband Joe Is Reportedly Being Deported To Italy After Prison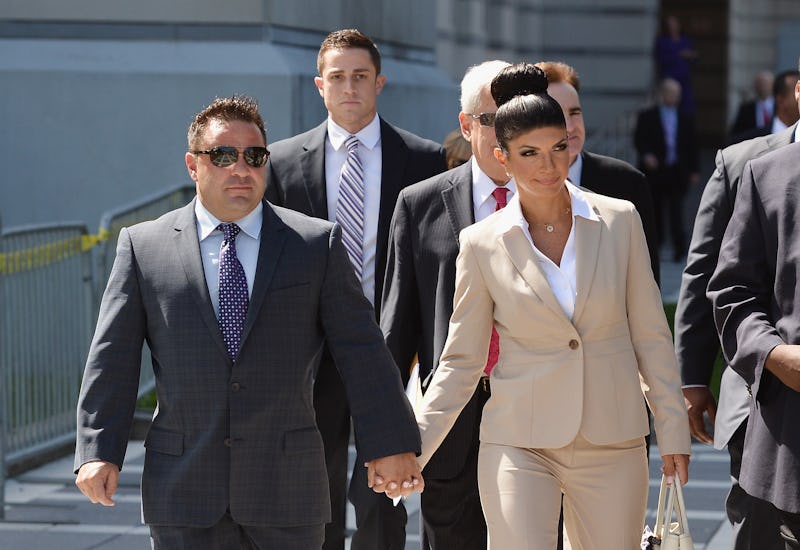 Mike Coppola/Getty Images Entertainment/Getty Images
There is some sad news for the Giudice family: Real Housewives of New Jersey star Teresa Giudice's husband Joe Giudice will be deported to Italy after his prison sentence, according to an exclusive report from RadarOnline on Wednesday, Oct. 10. People also confirmed the news of Joe's impending deportation. (Bustle reached out to Teresa's rep for comment, as well as Bravo, but did not receive an immediate response.)
According to RadarOnline, Judge John Ellington reportedly told Joe, "Based upon the law, I find you deportable and ineligible for any kind of relief." However, that is not completely final, as Joe has the opportunity to file an appeal by Nov. 9.
In June 2018, the Giudice family attorney, James J. Leonard Jr., told People that Joe's post-prison immigration status was still a pending decision. He told the publication,
"Mr. Giudice has immigration counsel who are and have been working aggressively on his behalf so that he can return home to his wife and four young daughters and we remain optimistic that that is how this will end."
Bustle reached out to Leonard Jr.'s law office for comment, but did not receive an immediate response.
As of this moment, no one from the Giudice family has spoken out about the judge's decision from immigration court, but this is bound to be a major topic of conversation, since Real Housewives of New Jersey Season 9 is set to premiere on Nov. 7. There will be plenty of interviews and press events to support the show, and unfortunately this will likely come up at some point.
This possible reality is fast approaching. Joe is set to be released from prison in March 2019, and he's expected to be transferred into ICE custody right then, as reported by E! News, which cites the Federal Bureau of Prisons as its source. E! News also reported that Teresa was not present in the courtroom during the hearing. Us Weekly reported that Joe himself actually appeared via teleconference.
The article from RadarOnline claims that Joe told the immigration court judge, "I don't understand how I can be deported on this case." He supposedly also said, "If you will, I'll tell you my side. I shouldn't even be here right now."
Joe and Teresa are the parents to four daughters — Gia, Gabriella, Milania, and Audriana — who are bound to be greatly affected if he does actually end up getting deported to Italy. RadarOnline reported that Joe told the judge, "I have to go back and tell my kids this, and they've been waiting to hear from me."
This all stems back to a long, ongoing saga that landed both Joe and Teresa in jail. In 2014, the Giudices pleaded guilty to 41 counts of fraud. Teresa served an 11-month prison sentence in 2015. Joe began his own 41-month prison sentence in March 2016.
Clearly this couple has been through a lot. Nevertheless, their family attorney James Leonard Jr., insisted that Joe and Teresa will not divorce when he spoke to Page Six on October 1.
Leonard Jr. proclaimed, "Teresa is not talking about getting divorced, she is not thinking about getting divorced and she's not filing for divorce." He emphasized, "It's not happening, not just now, but never. I can't be any more clear about it."
Of course, this was all before the hearing in immigration court. This family has really been through so much. And unfortunately for Teresa, Joe, and their four daughters, they will still have to wait it out if Joe decides to appeal the deportation decision.