'Bachelor In Paradise' Fans Can't Get Enough Of Jordan & Joe's Bromance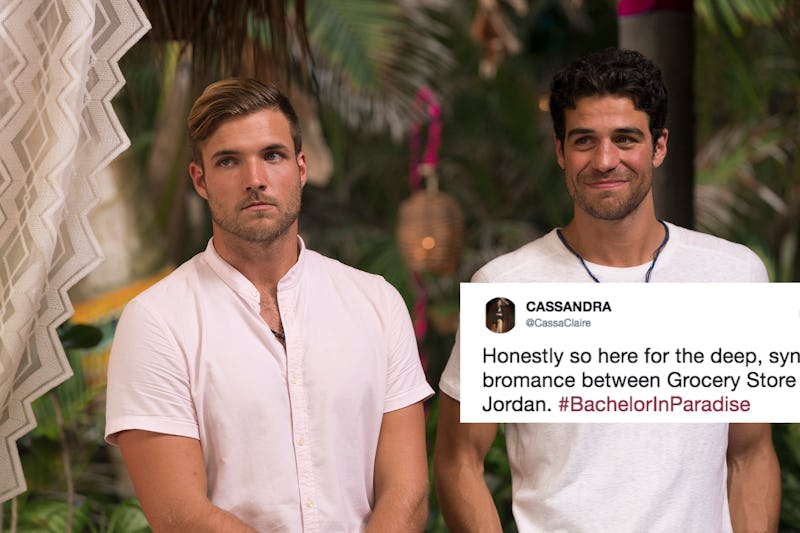 ABC/Paul Hebert; CassaClaire/Twitter
The premise of Bachelor In Paradise is to build strong relationships. At this point, there's a lot of indecision among the cast members, but there is one strong bond that fans love. On Tuesday night, viewers tweeted about Jordan and Joe's friendship on Bachelor In Paradise a ton. Their bond may actually be the most stable relationship on the show right now.
Who would've thought that nice guy grocer and the sassy male model would be best friends? These two are the yin to each other's yang. They have the most genuine connection by far. They're each other's biggest supporter during the stressful times. They make each other (and the viewers) laugh with their hilarity. Joedan is a friendship worth 'shipping, that's for sure.
During the most recent episode, they comforted each other while the women they were interested in went on dates with other guys. That's a tough position to be in, especially in such a public manner, but they really had each other's backs. The fans couldn't help being compelled by their laughing fits, sweet support, and true connection. This was the duo worth tweeting about (not that one "couple" who shall not be named, but has been dominating the show since episode one).
At this point, it's expected that the Bachelor franchise cast has a better shot at finding best friends than a future spouse. This Joedan pairing is one that seems like it's going to last. Jordan can even model in campaigns for Joe's grocery store. Just imagine him using produce as props or redesigning the employee uniforms. There's just so much potential, especially since so many people are on board with the Jordan and Joe bromance.