Jordan Compared 'Bachelor In Paradise' To Doing Laundry & He Wasn't Wrong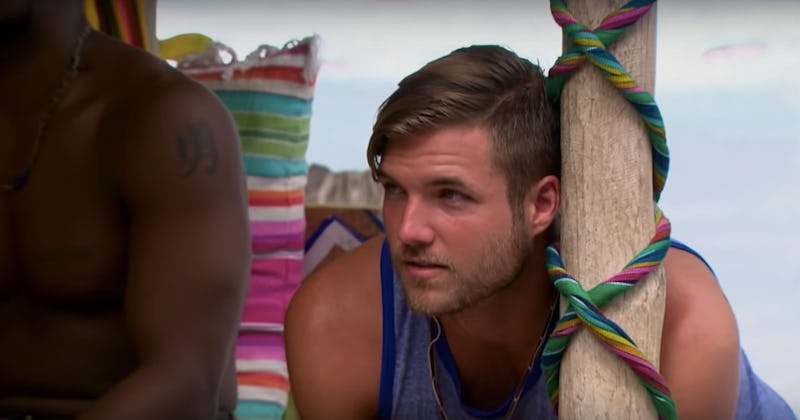 Bachelor Nation on ABC/YouTube
Models are typically stereotyped as dumb and shallow, and when Jordan hit the airwaves on Becca's season of The Bachelorette, he got that treatment. But maybe we all were wrong about the Florida-based model, because he's busted out some profound gems on Bachelor In Paradise. Is Jordan actually wise? Is he some kind of poolside philosopher? Because Jordan's laundry metaphors on Bachelor In Paradise really tickled Twitter something fierce. Spin cycle, please!
Things are changing in Paradise — Leo has taken his turn in Mexico, and it's throwing all kinds of relationships off-kilter, including Kendall and Joe. To make Joe feel better about the possibility of Kendall bailing on Joe for Leo, Jordan spoke in metaphors, explaining that everyone was just "doing their laundry" on the show, but just in different stages. He said:
"You know, sometimes, you go to the laundromat, and your dirty laundry is in front of other people. And right now, we're all in a big laundromat, and we're just washing our laundry. We're all just at different stages at washing our laundry... you just threw it in last night, and it's going to come out fresh."
Far be it from me to think Jordan makes any sense, but... he kind of... did? Twitter seemed to think so.
Some Were Surprised Of Jordan's Profundity
Me too. Me too.
And Others Couldn't Hate Jordan
Up is down, down is up.
And People Loved The Bromance, Too
You don't go on Bachelor In Paradise to fall in love. You go to make good friends.
And speaking of friends, the bromance between Jordan, Joe, and Chris is particularly entertaining to watch. Chris is kind of problematic, especially since he tried to gaslight Tia into thinking that he didn't kiss Krystal (reader, he did) or mislead Tia in any way (still did). But Grocery Joe is too good for this world, and his distress over Kendall going on a date with Leo is palpable. He's doesn't want to lose this girl, and if Jordan is good at anything, he's good at giving pep talks. He may not be smooth with the ladies all the time (he tries, though), and he may let David (ugh, David) get his goat, but Jordan really seems like he knows how to be a good friend. His trying to take Joe's mind off of Leo and Kendall's date was almost... sweet?
The romance portion of Bachelor In Paradise can be super hard to watch most times, but if anything, the friendships that come out of shows like The Bachelor and Bachelor In Paradise should be celebrated and revered. All of the contestants start out battling for the affection of one person, and then they all become friends somehow.
Maybe Jordan's not as shallow as we all thought. Bachelor In Paradise is the perfect showcase for his personality — he can really be himself, warts and all. He did have a temper tantrum and threw a giant stuffed toy into the ocean, but haven't we all had those moments? Jordan is a good friend to Joe and the other Bachelor In Paradise contestants, and his "interesting" analogies show that.