John Kelly Doesn't Know What Jared & Ivanka Do All Day & Twitter Is Like, Same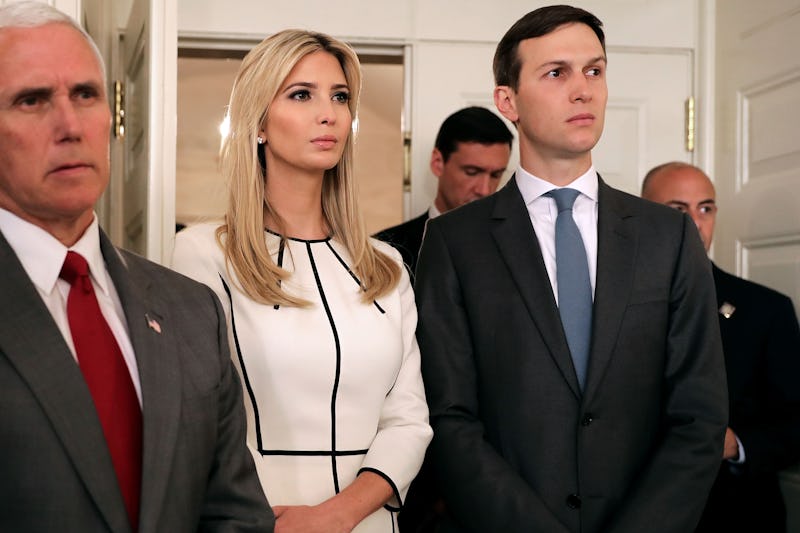 Chip Somodevilla/Getty Images News/Getty Images
According to an Associated Press report published Monday, White House Chief of Staff John Kelly has been wondering what Ivanka and Jared do all day. It's a question that has been thrown around by observers, and now it is reportedly making the rounds in the West Wing.
Donald Trump's daughter and son-in-law have come under fire because Kelly is reportedly unhappy about the couple's presence in the White House, according to the AP. The report arrives shortly after Trump's son-in-law's security clearance was downgraded in late February. The decision was made by Kelly. It could affect major aspects of Kushner's job as a senior adviser to the president.
The AP published the report on Monday, citing two political aides who remained shared information anonymously as they were not authorized to relay internal White House communication publicly.
The anonymous sources told the AP that Kelly wondered about Trump and Kushner "freelancing" at the White House and has since initiated an intense process of "creating formal lines of authority and decision-making." The Chief of Staff is reportedly doing so as the anonymous sources say he thinks Trump and Kushner use their personal relationship to influence Trump.
According to the sources, Kelly sees the couple as responsible for allegedly changing the president's mind "at the least minute." Neither Trump nor Kushner have responded to the report.
This isn't the first time that the couple's role in the White House has been questioned. As the AP details, previous director of communications for former president Barack Obama, Jennifer Palmieri said that the only reason why the couple got away with seeming transgressions was because of their direct family ties with Trump. "Only a son-in-law could withstand this sort of exposure and not be fired. Kushner's vulnerable and in an accelerated fall from grace. Even though his departure would leave Trump even more isolated, a decision could be made that it's just not worth it for him to stay."
The reports of the power couple getting scrutinized were already dotting the internet last month. In February, Kaitlan Collins, who covers White House affairs for CNN, shared a report on growing resentment against "Javanka" — as some call them — and tweeted, "John Kelly has grown increasingly frustrated with Trump, and often feels that she tries to have it both ways — acting as a senior adviser when it suits her and a daughter when it doesn't. He has remarked privately that she is just 'playing government.'"
Perhaps the least surprised were Twitter users who reacted to the report with amusement. One Twitter user joked, "I am John Kelly and my dog is Kushner/Ivanka while I'm at work all day." Other social media users offered their theories on what the couple might do in the White House. One Twitter user, Jim Fauzio, mused that the couple might "shop for clothes" all day long. In one instance, a Twitter user shared a funny gif of two actors, acting as job interviewers, asking the question, "What would you say you do here?"
Left slightly hidden in the report is the eyebrow-raising nugget about Donald Trump himself reportedly wondering aloud if he could send his daughter and son-in-law back to the Big Apple. Trump is reportedly unnerved by the criticism Kushner has received in media for unflattering news on his business among other reports.
For now, however, it's not clear whether the mounting pressure on Trump and Kushner will result in a dramatic change of events. According to the AP report, the couple has made no announcement to leave Pennsylvania Avenue and head back to chilly New York.