John Krasinski Didn't Let Filming 'Jack Ryan' Stop Him From Seeing His Family Every Weekend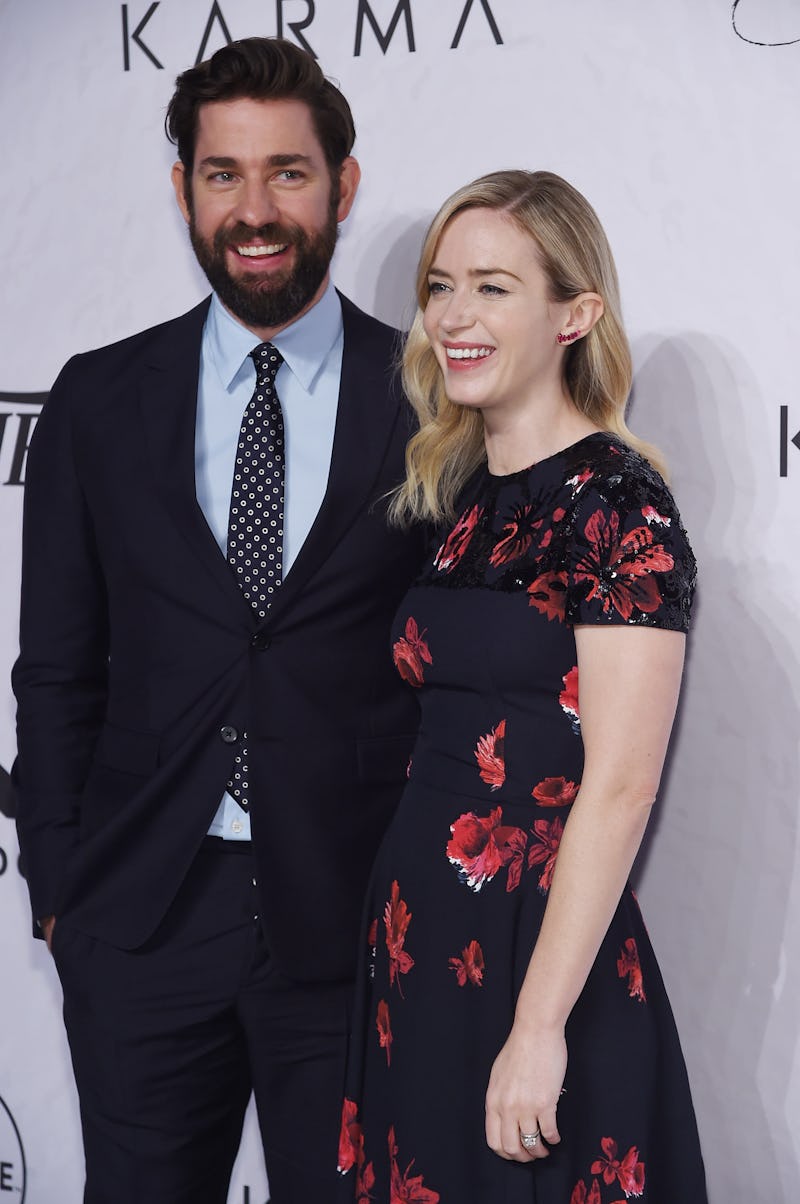 Jamie McCarthy/Getty Images Entertainment/Getty Images
If you're not already obsessed with John Krasinski and Emily Blunt's relationship, then honestly, where have you been? The husband-and-wife duo has always been endlessly supportive of each other's work while also making their home life a priority, and in a new interview with People magazine, it was even revealed that John Krasinski flew home every weekend during Jack Ryan filming to spend time with his family.
"Family for me, it's a non-negotiable thing. So if I'm honest, I was shooting 6,000 miles away from them, and I flew back every single weekend," Krasinski told the outlet. And, he revealed that the couple had a plan to keep up some consistency among their children, Violet and Hazel, while Blunt was filming a huge project of her own, even if that plan meant he needed to endure a little more travel time. "Emily was shooting a little indie movie called Mary Poppins," Krasinski joked in the same interview. "So they were with her, and we always set up a base, and I always want the base to be with their mom, and I'll do the flight time."
It's good to know the former Office star hasn't followed in Jim Halpert's footsteps of poor work-life balance — never forget the drama of Cece's dance recital.
And Krasinski's legwork to get to his family didn't go unnoticed by his co-stars on the Amazon revival of Tom Clancy's classic CIA spy stories. "He flew basically every weekend to London, where Emily was shooting Mary Poppins, to be with his kids," Dina Shihabi told People Now earlier this month. "He would wrap at like 5 a.m. on a Saturday morning, get on the next flight to London, and then come back Sunday night."
This is just the latest in the saga of Blunt and Krasinski being publicly adorable. Remember when he ran out onstage to unexpectedly congratulate her after she won an award, just before she gave a totally badass speech? Yes. Or when they tag-teamed an indie horror film and completely knocked it out of the park? Or when Krasinski admitted he'd watched Blunt in her iconic Devil Wears Prada role dozens upon dozens of times?
There's probably only tricky schedules to come for the famous couple — they're both already established actors who have boosted beloved roles to legendary statuses, and especially on the heels of A Quiet Place, they probably won't lack for work for a long time to come. Those kinds of schedules, and the travel they bring, has the potential to make things complicated for their family, but as Krasinski noted in the same People interview, if that's your worst struggle, you're probably doing OK.
"I think that there's nothing you can complain about in this business, you know what I mean?" he said. "We are all so lucky to be doing what we're doing. If there's one thing that's a bummer, it's that you spend time away from your kids. But guess what, a lot of people spend time away from their kids. So for me, I think we're all living in a fantasy camp. So I'm not going to be the first one to complain."
Krasinski and Blunt's dedication to one another and their children is obvious, and it's endearing them even more to the fans who watch their every move. The travel involved might be a bit of a headache, but it's definitely a good problem to have.