John Legend Just Posted A Super-Sweet Close-Up Of Baby Miles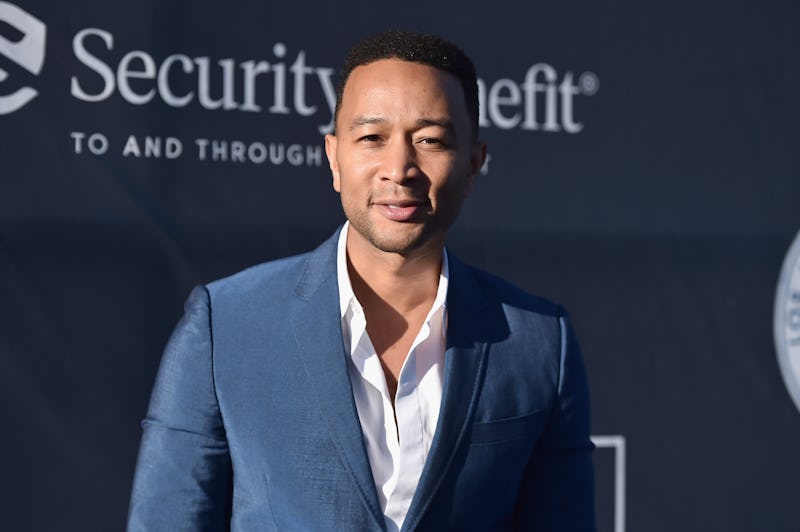 Alberto E. Rodriguez/Getty Images Entertainment/Getty Images
Chrissy Teigen and John Legend's family seems to have had a lovely Fourth of July, based on the adorable photo and videos they shared on Instagram. John Legend shared a new photo of baby Miles on Wednesday, and the newborn is too cute for words.
Legend's photo, which he simply captioned "My little Miles," shows him holding the baby in his lap. Miles has some mini neck rolls going on in the picture, and the whole thing is just too sweet.
Meanwhile, Teigen shared some videos in her Instagram story to show how the family celebrated Independence Day. In one clip, their daughter Luna carries some beach balls over to their pool and tosses them in, all while wearing a princess gown.
These aren't your typical floaties, either — one says "Hey liberals" and features Trump's face alongside two hands giving the middle finger. Another piece of the beach ball set features a bald eagle flanked by two middle fingers. Teigen shared a close up of the beach ball set on her Instagram story on Tuesday, saying, "Deplorables, I gotta say, you have some good decorations." It looks like someone might have given her the beach ball set as a joke, but she's reclaiming them for the holiday.
And in Teigen's last video, Legend is dancing while holding Luna. It looks like the parents got to spend plenty of time with their kids over the holiday, and Miles and Luna seem to have had a great time, too.
Miles was born on May 17. Since then, Teigen and Legend have shared several updates and details about their new son. It turns out, they chose Miles' name because of another musical legend (get it?), Miles Davis. Legend told E! News in May,
"Miles of course is the same name as the great Miles Davis and Chrissy really liked the name Theodore, so we put it all together and had Miles Theodore Stephens. When he came out and we hung out with him for a little while, we were like, 'He looks like a Miles.'"
Legend didn't share exactly what drew his wife to the middle name Theodore, but the two names fit together perfectly. It shouldn't be a surprise to fans of the couple that they chose to honor a great musician with their child's name, either. Luna's middle name, Simone, is in honor of the late Nina Simone, E! News noted.
On June 26, Teigen shared a photo of Miles in an animal-patterned outfit with the caption "hey dudes." The photo brought in almost 2 million likes, with plenty of fans gushing about how cute the baby is.
Teigen also shared a photo of Miles with his paternal grandma, and you can definitely see the family resemblance.
And while little Miles decided to enter the world three weeks early, Teigen also shared a photo to mark his official due date, June 7. She captioned the post,
"Today was your original due date but you heard how cool we are since that's all we talk about (how cool we are) and you wanted to see what all the fuss was about, 3 weeks early. Well we tricked u! We are boring AF but we love you!"
And if all the other pictures weren't cute enough, Teigen shared a photo of Luna looking into Miles' crib back in May. There doesn't seem to be any sibling rivalry here — but really, what's to fight about when you have the coolest celebrity parents out there? Teigen may say she and her husband are "boring AF," but the millions of followers who love seeing updates about their family would beg to differ.