Uh Oh, John Mayer Was Hospitalized For This Emergency Procedure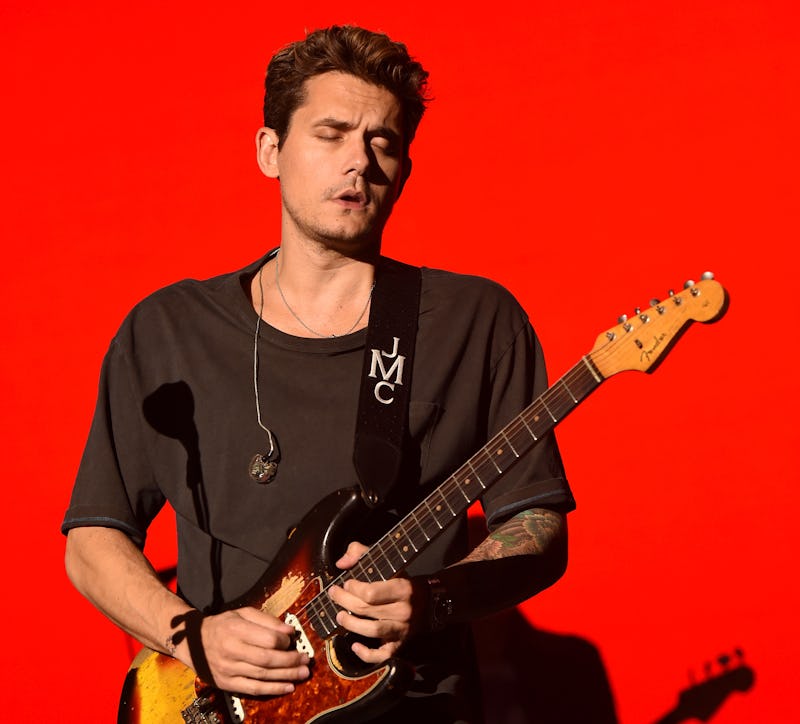 Kevin Winter/Getty Images Entertainment/Getty Images
A representative for the Grammy-winning musician has indicated that singer John Mayer was admitted to the hospital for an emergency appendectomy on Tuesday (Dec. 5) morning, according to People. While details surrounding the issue remain scarce, Mayer is said to reportedly be on the mend following the dire procedure, according to CNN. A statement from the 40-year-old entertainer's rep reveals that the surgical setback would affect the show he was scheduled to perform with his band Dead & Company in New Orleans that same evening. The announcement read:
"Early this morning, Tuesday, December 5th, John Mayer was admitted into the hospital for emergency appendectomy forcing the Dead & Company December 5th concert in New Orleans to be postponed."
In light of the news, a tweet from the band's Twitter account also shared word on Mayer's unfortunate hospitalization. The band, a spinoff of the iconic rock band Grateful Dead, has said that all previously purchased tickets will be honored at the rescheduled show although a new date has not yet been announced, according to Rolling Stone. Mayer's bandmate, Bob Weir posted a heartfelt get well message to his afflicted comrade on Twitter which read, "Wishing a speedy recovery for John... Get well soon my friend."
It's immediately unclear how the setback will affect the remainder of the ensemble's tour lineup which has two more stops scheduled for Dec 7 and 8 in Florida, according to Rolling Stone. Mayer last took the stage on Saturday Dec. 2 during Dead & Company's performance in Austin, Texas. Fellow band member, Mickey Hart spoke of the "energy" Mayer brought to the collective and shared his hope that the guitarist would be returning to their road tour sometime in the near future.
Mayer's Dead & Company bandmates weren't the only ones shaken up by the matter as news of Mayer's hospitalization sent shockwaves through the media. Legions of fans and well wishers took to social media to share an outpouring of emotions for the "Half of My Heart" crooner upon receiving word of his emergency surgery.
1. Rapid Recovery
One fan shared hopes that Mayer gets well soon.
2. Heart Emoji
Another fan shared their love with a heart emoji as they hoped that the singer feels better soon.
3. Major Concern
This Twitter user asked Mayer to share a tweet with fans to let them know that he's okay.
4. He Deserves Better
Sending out their prayers, one commenter shared sentiments on Mayer's emergency appendectomy.
5. Simply The Best
This social media user can't wait for Mayer to get back into the music game following his recovery.
6. Prayers For Everyone
Meanwhile this user sent out thoughts and prayers to both Mayer and his friends and family upon hearing the news.
7. So Emotional
One of Mayer's fans felt overwhelmed with emotion and decided to express their feelings through a meme.
8. The Waiting Game
Another enthusiast shared love and admiration for the talented singer while patiently awaiting an update on his recovery.
9. Everything's Going To Be Okay
This commenter is certain that Mayer is going to be just fine.
10. It Brings Tears To Your Eyes
Another fan couldn't hold back their emotions after learning that Mayer was admitted to the hospital on Tuesday morning.
11. "Take It Easy"
Hoping that Mayer gets better really soon, one admirer is sure that the entertainer will be back to business in "no time."
As details still remain unclear about the events which lead to Mayer's recent medical emergency, it goes without saying that both fans and fellow entertainers alike will continue to keep the talented musician in their thoughts and prayers.