John Mulaney Told Jerry Seinfeld How He REALLY Feels About His Failed Sitcom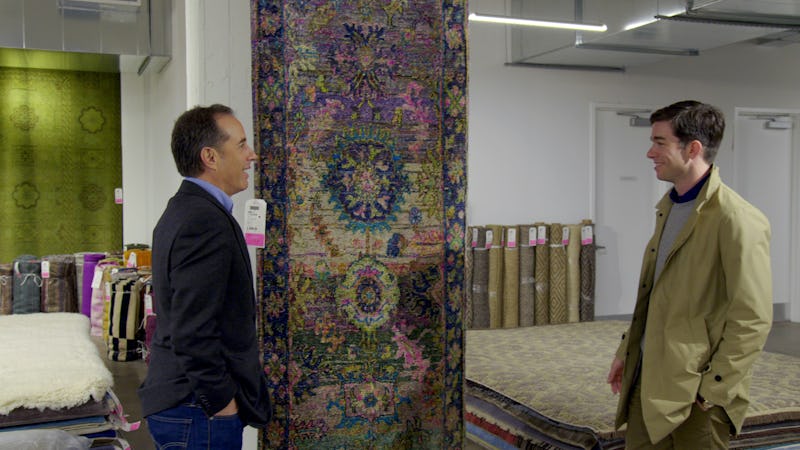 Netflix
In one of the new episodes of Comedians in Cars Getting Coffee, two seasoned comics discuss everything from having kids to haggling for vintage rugs, but it's clear that one topic hits closer to home than the others. As they grab a cup of joe and meander through New York City in a designer car in Comedians In Cars Getting Coffee, John Mulaney talks about his short-lived sitcom with host Jerry Seinfeld, and how it felt to be scrutinized for something that didn't quite work.
Mulaney ran on NBC for 13 episodes back in 2014 after a downgrade from its initial 16-episode order came just two weeks into the season, according to Deadline. It's well-known at this point that the show didn't really fly with viewers, and neither Seinfeld nor Mulaney himself shy away from that topic when on their jaunt through the city. As soon as Seinfeld introduces him, it's brought up almost immediately, but quickly dismissed as a rare dark spot on Mulaney's otherwise hilarious comedy career.
"John Mulaney's a great stand-up comic," Seinfeld says. "He was a writer on Saturday Night Live, he wrote a lot of those hilarious Stefon sketches with Bill Hader. He had his own sitcom, it didn't work — I don't care. This guy really knows his way around the comedy arts."
Mulaney is the first to actually bring up the experience with the sitcom that carried his name while cruising around with Seinfeld, who's obviously a sitcom legend in his own right. "The experience of doing a sitcom was such a slow process getting it on the air that once it was on the air I felt double confident that this was it," Mulaney explains. "And then... uh... and then you show it to people. And they say, 'nope.'"
He compares the rejection he felt with Mulaney to the same kind a kid might feel trying to talk to girls at school. "You walk into the lunchroom, and they look at you, and they go, 'NO.' And that's it!" he says. It's clear that he's removed enough from the situation to make jokes about the ill-fated endeavor, and it's good to see that he hasn't let it get to him too much. As Seinfeld said, Mulaney's career and talents span so much more than just a sitcom that didn't quite land.
The topic is brought up again later in the episode as the two gripe about how tedious dealing with network execs can be. "How fun are the run-throughs?" Mulaney sarcastically asks Seinfeld, referring to the sitcom rehearsals that network reps typically observe. Seinfeld claims that these run-throughs are part of "why TV sucks." "TV executives need to leave these people alone," he says. "They're struggling to swim in a rapid. Just let them do it. You're not going to make it better. Are you funny? No. Then get out."
Mulaney's show is just one of the many topics that the two comics discuss throughout the nearly 20-minute episode, but it's one that stands out the most. It can't exactly be fun talking to Seinfeld, someone whose name is synonymous with sitcom success, about how yours didn't make it to a Season 2. But Mulaney does it in good spirits, and as if he's fully reflected on the experience.
He had success prior to Mulaney — the sitcom came out after he had already released albums The Top Part and New In Town, not to mention enjoyed his success at Saturday Night Live. And post-Mulaney, the comic has two other specials and tours — Comeback Kid and Kid Gorgeous — under his belt, plus his Broadway show with Nick Kroll, Oh Hello, which has also hit Netflix. This episode of Comedians in Cars just drives home the fact that Mulaney is a hysterical writer and performer, even if the sitcom format wasn't quite suited to his humor.