This Video Of John Stamos Crying Over His Son Will Make *You* Just As Teary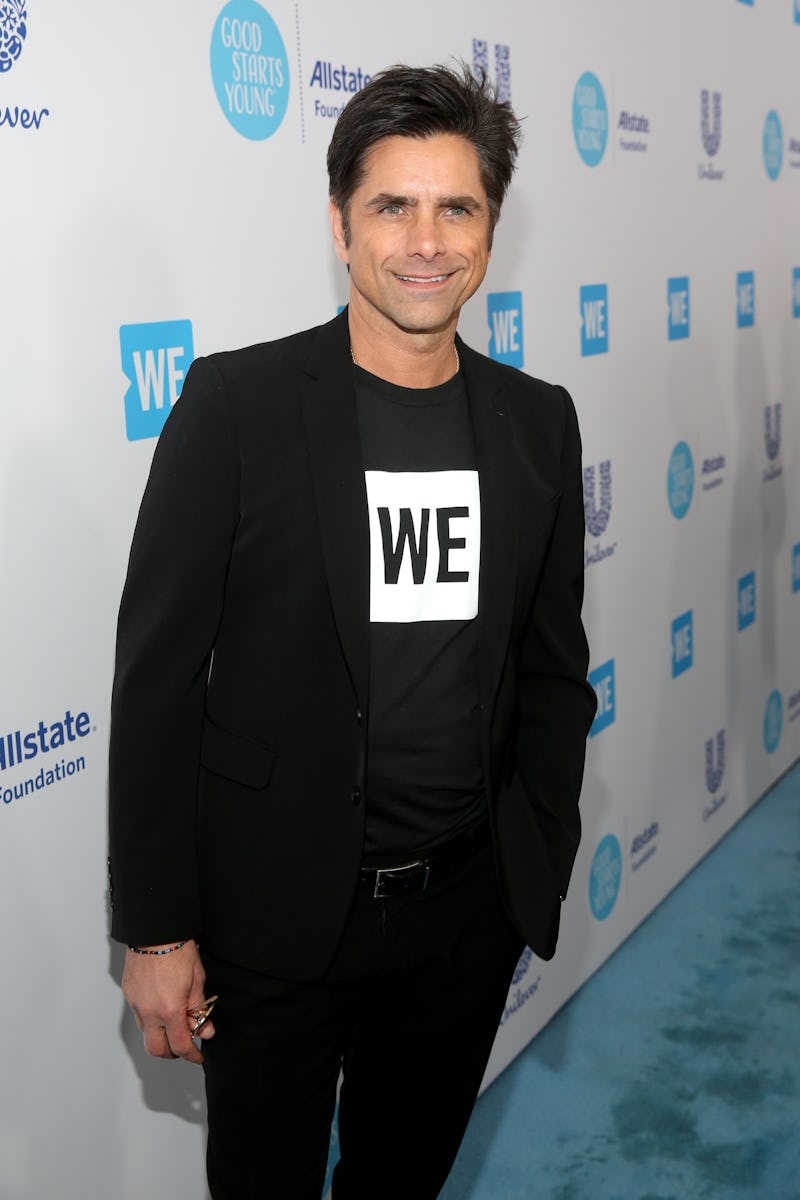 Jesse Grant/Getty Images Entertainment/Getty Images
You better grab a box of tissues, because you're going to need them. During a Thursday appearance on Live With Kelly and Ryan, John Stamos cried over missing his son. Seriously, the Fuller House star couldn't hold back tears when talking about how much he misses his 6-month-old baby boy, William "Billy" Stamos.
After host Kelly Ripa showed pictures of Stamos and Billy together to the audience, the actor who brought Uncle Jesse to life became overwhelmed.
"You have one of these electric smiles, John, but your smile holding your baby is even more," Ripa began to tell the actor, but she didn't even finish because Stamos started to cry. "Oh, look, now you're crying. Oh my gosh," Ripa said after noticing the actor becoming emotional.
Stamos then unashamedly admitted,
"I miss him. I miss him. This is the longest I've been away from him."
The 55-year-old then said about becoming a dad for the first time, "I've been waiting my whole life for [this]." After taking some tissues from Ripa, he added, "I'm so happy, I'm so happy."
In February 2018, Stamos married Caitlin McHugh. They also welcomed Billy in April. Stamos has made it clear since marrying McHugh and finally adding dad to his résumé, he's never been happier. When announcing Billy's birth on Instagram, Stamos wrote next to a sweet photo of him holding his son, "From now on, the best part of me will always be my wife and my son. Welcome Billy Stamos (named after my father) #NotJustanUncleAnymore #Overjoyed "
As you can probably imagine, celebrating his first Father's Day meant more than the world to Stamos. He captioned another sweet photo of himself with Billy,
"My first Father's Day means that I don't have to hand a kid back to the parents when someone yells cut. It means when people ask me if I'm a father, I don't have to use the goofy line, 'No, but I play one on TV' My first Father's Day means that from this day forward— I will start to look my age (and older) Most importantly, it means that for the rest of my life, I'll always be known as someone's dad. And that's all I ever wanted. Happy Father's day."
The Full House actor has always made it clear how much he wanted to be a parent. In December 2017, Stamos told People, "I always wanted to be a dad." He continued, "Clearly I had to do some work on myself first."
His friend and Full House co-star, Dave Coulier, said Stamos has talked about wanting children for a long time. "He's talked about it since I've known him, which is over 30 years," Coulier told People in April.
Soon, there could even be another baby Stamos running around. The You star also admitted to Ripa and Ryan Seacrest that he and McHugh are already trying for their second child. However, he said they've struggled finding the time to do so because of Billy, who always knows the right time to ruin an intimate moment. Stamos joked, "We're trying but the kid's, like, a C-block — can I say that?"
All jokes aside, being a dad might be Stamos' best job yet, and one he's the most proud of. It's beyond sweet to see the actor gush over his son and for him not to be afraid to become emotional on live TV. His tears are far from a sign of weakness, but are a beautiful sign of the strength and love he has for his child.