Jordan & Annaliese Had A Sneaky 'BIP' Date & Twitter Was Loving It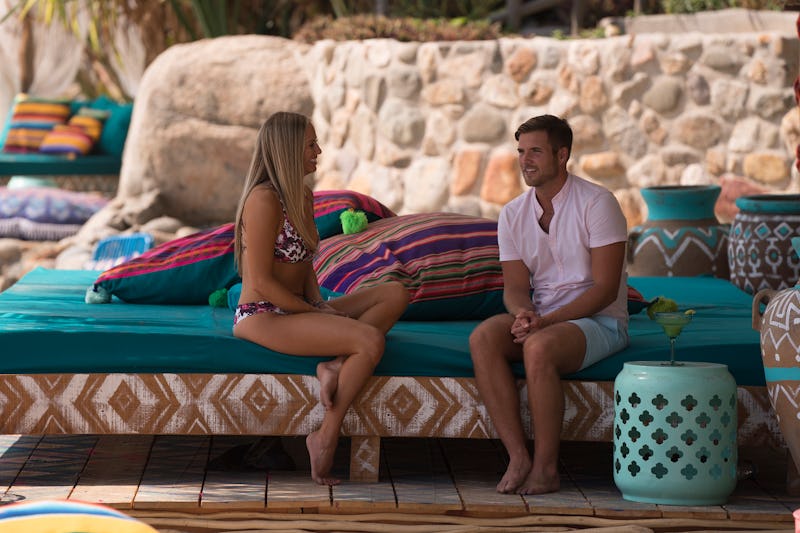 Paul Hebert/ABC
Bachelor In Paradise is a time for rebirth and redemption. After all, it's the show that made Nick Viall the Bachelor. This year's do-over is definitely going to Jordan, who was the "villain" on Becca's season of The Bachelorette. Jordan and Annaliese had a Bachelor In Paradise date, and Twitter is totally loving it.
Jordan was one of the villains of Becca's season of The Bachelorette, and it was probably because it was easy to stereotype him. He's a model, he's really self-confident, and he had a beef with David, a beef that's still continuing into Bachelor In Paradise (it's dumb and we shouldn't give it anymore time, because David just needs to go away). The Bachelorette is structured in such a way that it doesn't give a lot of room for a multi-faceted person, but Bachelor In Paradise does.
There's just more free time and you're free to mingle with more people than just the Bachelor or the Bachelorette. You're just sitting on a beach hanging out like you would with your pals. And a character (in the personality sense, not the fictional sense) like Jordan really benefits from this — his "date" with Annaliese was not only cute and romantic but also totally charming. And Twitter took note.
There Was Legit Squealing Over The Impromptu Date
Seriously, though? So cute.
Many Were Surprised On How Much They Suddenly Loved Jordan
Life comes at you fast...
Plenty Loved The Annaliese & Jordan Pairing
A new Bachelor OTP, perhaps?
I've said it once, and I'll say it again — people who get typecasted on shows like The Bachelor and The Bachelorette do well on Bachelor In Paradise because they are people that are actually cool and entertaining. Jordan is a great example, as is Venmo John. Once the contestants are allowed to expand out of their designated roles, they flourish, and it's so fun to watch. Jordan must be a real romantic, since it was he who pitched a date to Annaliese.
It wasn't official at all, but they shared laughs and nice conversation — when Jordan asked Annaliese what she did for a living, he actually listened to her! And then responded appropriately! I know that the bar is set low for Bachelor contestants, but it was seriously impressive how nice and calm this date was. Just two beautiful people getting to know each other.
David couldn't even ruin the date — he tried, intercepting Annaliese before she and Jordan went off to tell her that Jordan wasn't "there for the right reasons" and that he couldn't be trusted. But Annaliese brushed off David, and it's a good thing she did — she would have missed out on a great date, for better or worse. Jordan and Annaliese are a great pairing on Bachelor In Paradise, so let's hope these two quirky kids can stick it out.