Jordan Gave Blake Some Tough Love On 'Bachelor In Paradise' & Fans Are HERE For It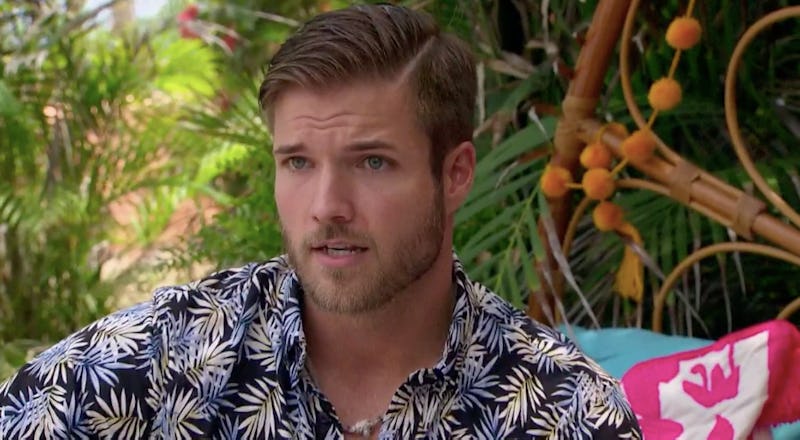 ABC
The "mayor of Paradise" is back, and he has a lot to say, especially about one guy in particular. Jordan's reaction to Blake's BiP drama is not only totally on brand for his over-the-top character, it's also really on point with how the rest of Bachelor Nation is feeling, and that's, well, frustrated. "Blake is the problem. Blake's out here making moves and making love to half the cast out here, and he's just walking all over trying to mark his territory," Jordan said. "He's puttin' his food in all the pudding!"
In an effort to catch up with what he'd missed so far in Paradise, Jordan pulled a couple of girls aside to chat. Hannah, Nicole, and Kristina all filled him in on Blake's love triangle and the fact that he slept with both Kristina and Caelynn earlier this year at Stagecoach Music Festival. "He one-nighted both of these gals," Jordan exclaimed in anger. He then said Blake treated them like "milk cartons" and mimed opening one and downing it in one drink.
Still, Jordan is in Paradise most importantly, to find love for himself. So despite the drama he walked into, he decided to ask Hannah on his first one-on-one. Both of them being blonde-haired, blue-eyed models, he thought they made a great couple: "a Barbie and Ken situation." Hannah agreed with him, but she ultimately said she had too much going on and was confused about her feelings for Dylan and Blake, so she turned him down. Jordan respected her honesty and said he understood, but he still wasn't happy about being rejected. That's when he pulled Blake aside to talk.
Both of them competed on Becca Kufrin's season of The Bachelorette, so they know each other fairly well. That's why Jordan was surprised to walk into Paradise to drama revolving around him. "I just walked into Paradise on my beach, this is my beach, and got turned down on a date," he told Blake. Blake went on to explain how it had been "a crazy three days" for him. "Just some advice, spend the rest of the day clearing it up," Jordan said. "I know you. You're better than this. Hammer it out one by one. It's gonna get real crazy if there's eight girls here saying they're seeing you ... it's a f*cking sh*t show." Jordan went on. "There's such a thing as putting your foot in your mouth, and then there's such a thing as just being a dumb*ss," he said. "And Blake, yeah, he's a dumb*ss right now."
After being rejected by Hannah, Jordan decided to ask Nicole on his date. Although she's quickly becoming an item with Clay, because it's still early, she agreed to go along. On the date, she gave Jordan more insight on the Blake situation, which upset him even further.
"This is like an onion," Jordan said. "And we're just peeling back the layers." He went on to call it "a whole garden" for which "Blake better get some clippers" to clear out. So far, there are no gardening tools in sight for Blake. Hopefully Jordan will help him sort it out some more.