Julia Louis-Dreyfus Opened Up About What It Was Like Battling Cancer While Filming 'Veep'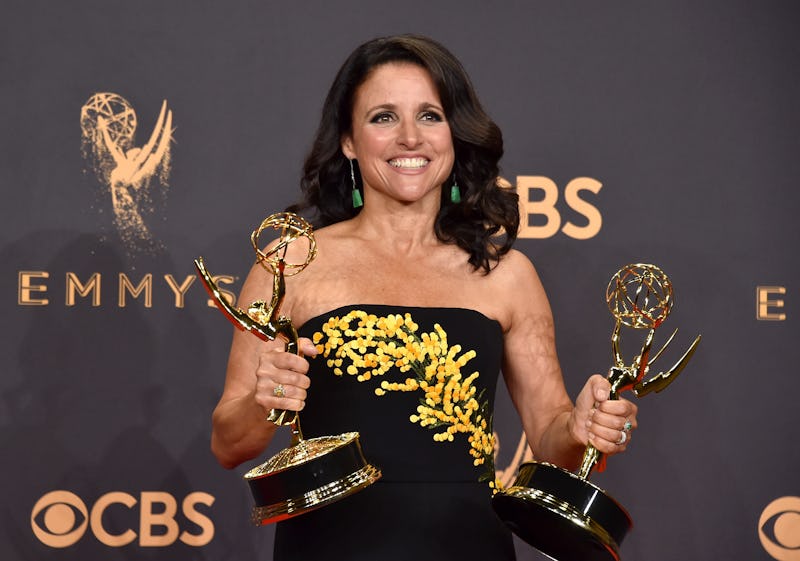 Alberto E. Rodriguez/Getty Images Entertainment/Getty Images
Good news for fans of scathing political satire Veep: Star Julia Louis-Dreyfus revealed she was never going to step away from the show's final season. Julia Louis-Dreyfus opened up about battling cancer while filming Veep Season 7, and that's the first thing she wanted fans to know. The show is filming its final seven episodes, which are set to air sometime in 2019. Louis-Dreyfus spoke to The Washington Post about her cancer diagnosis, her treatment, and how she never planned on leaving the HBO show.
Immediately after her September 2017 diagnosis, the award-winning actor was ready to get back to work. As she explained:
"Originally, I had this idea, well, we'll shoot in between my chemo treatments. We could do that. Chemotherapy. What? That's what sick people get. The whole thing was so astounding."
Unfortunately, the necessary treatments — including surgery and chemotherapy — made that more difficult than Louis-Dreyfus had anticipated. The actor continued:
"I thought I could muscle through it, and to a certain extent, I did, because we did have table reads of scripts every three weeks. But I got really ill, so I couldn't have ever shot anything during that period of time."
But she never considered not coming back to Veep.
When the Post asked the actor if "there was ever any thought of just stepping away [from the show]," or "just not coming back to Veep" at all, Louis-Dreyfus had two words: "Oh, no." It came from her love of her the series, and her coworkers, but also her genuine passion for performance. "I love making people laugh, and I love making people cry even," she explained, "I find the pursuit of a truthful performance to be deeply satisfying to my core".
Louis-Dreyfus was diagnosed with Stage 2 Breast Cancer in September 2017, and the Washington Post noted it was one day after winning her most recent Emmy award for playing Veep's Selina Meyer. Production on Veep Season 7 was delayed as a result. It was then delayed further by the toll the cancer treatments took on its lead. Still, the actor was determined to stay with the show, as long as it took. For these reasons, and likely a few more, HBO shortened the episode order to seven. It's the shortest yet for the series; Season 1 was eight episodes and Seasons 2-6 had 10 apiece.
Selina Meyer is just one in a long line of the actor's famous comedy roles. Prior to Veep, she starred in CBS sitcom The New Adventures of Old Christine as the titular Old Christine and oh, maybe you've heard of an NBC half-hour called Seinfeld? Even her legendary role as Elaine Benes — and all of the catch phrases, bad dates, hairstyles, and awkward dance moves that came long with it — wasn't her first big role. As she told the Washington Post, she bonded with Seinfeld creator Larry David when they were both struggling to make a name for themselves at Saturday Night Live. Louis-Dreyfus was cast at just 21, and though she's called her time on SNL "miserable," her career only went up after she left the show in 1985. In fact, she'll be awarded the Mark Twain Prize for Humor on October 21, one previously awarded to Tina Fey, Eddie Murphy, and more.
It's inspiring to hear how hard Louis-Dreyfus has been working, and an encouraging sign for fans looking forward to Veep Season 7. HBO has not announced a premiere date, but hopefully there will be one soon.