Julia Louis-Dreyfus Returned To 'Veep' With A Photo That Will DEFINITELY Make You Smile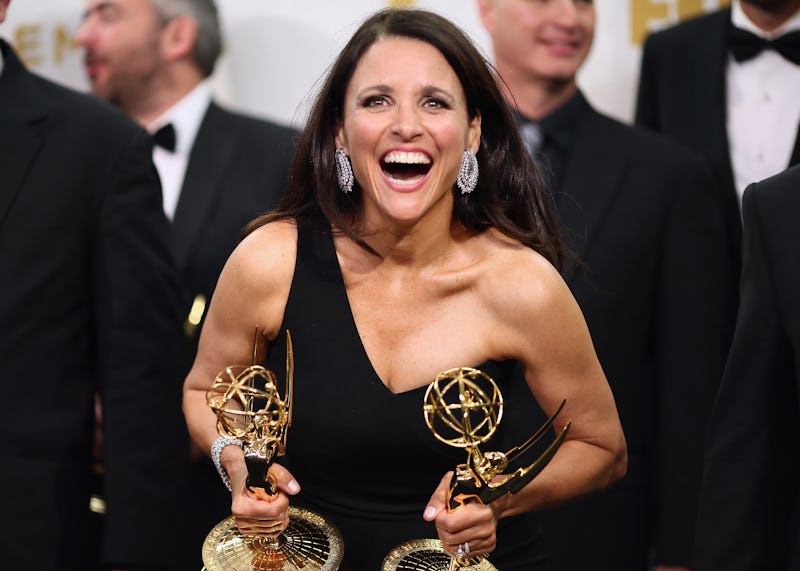 Mark Davis/Getty Images Entertainment/Getty Images
Selina Meyer is back in office. Julia Louis-Dreyfus' first Veep set photo since her cancer treatment was, what else, but a silly and fun cast selfie. On Thursday, August 9, the eight-time Emmy-winning actor shared a picture of herself with her costars as they attended a table read for the HBO political comedy's seventh and final season.
Before they'd even begun filming, Louis-Dreyfus gave a taste of her trademark comedic timing. "Guys, we just learned how to take a picture of ourselves on my phone!" she hilariously captioned the shot that included Tony Hale, Matt Walsh, Anna Chlumsky, and Gary Cole, among others. "How cool is this? @veephbo Table read episodes 2 & 3 Season 7, baby!"
Getting back to work for the show's final season — which will air in 2019 — was an inspirational triumph for Louis-Dreyfus. Last September, she was diagnosed with breast cancer — just days after winning her record-breaking sixth consecutive lead actress Emmy for her Veep performance.
"1 in 8 women get breast cancer. Today, I'm the one," she tweeted about her diagnosis on Sept. 28. "The good news is that I have the most glorious group of supportive and caring friends, and fantastic insurance through my union. The bad news is that not all women are so lucky, so let's fight all cancers and make universal health care a reality."
After completing her final round of chemotherapy in January — a milestone she celebrated by posting a video of her sons lip-syncing to Michael Jackson's "Beat It" — the Seinfeld alum underwent surgery the following month. By Feb. 14, she was ready to share her "first post-op photo" on Instagram, along with a promising health update: "Hoorah! Great doctors, great results, feeling happy and ready to rock after surgery. Hey cancer, 'F**k you!'"
Among her supporters through the brave fight: a real-life veep, former Vice President Joe Biden, as well as her Veep cast mates, of course. Louis-Dreyfus shared a video on social media of her two "darling Bozos," Walsh and Richardson, psyching her up for her third chemo treatment in November.
Breaking the news of Louis-Dreyfus' imminent return to Veep in a January interview with Entertainment Weekly, Walsh said the cast had known that filming would start in August "for about a month." He added: "We've seen [Julia], she's done some table reads, she's doing well, she's finished her last chemo, she's in recuperation. Her perspectives have remained excellent throughout. She's very well loved; she's a tremendous person."
The actor who plays Mike McClintock on the HBO series also praised Louis-Dreyfus' transparency in sharing health updates with her fans online. "I would hide if I had an illness like that, but she's very brave and also better for it because she's helped other women and other women have supported her," Walsh added to EW. "It's a really unique, brave thing she's doing just by being so out there with it."
True to form, Louis-Dreyfus' latest social media post celebrating her return to work is just another example of her taking fans along for her journey. Not only has she not lost her sense of humor, she's also continuing to make fans laugh, too.