Julianna Margulies Recalls Alleged Hotel Encounters With Steven Seagal & Harvey Weinstein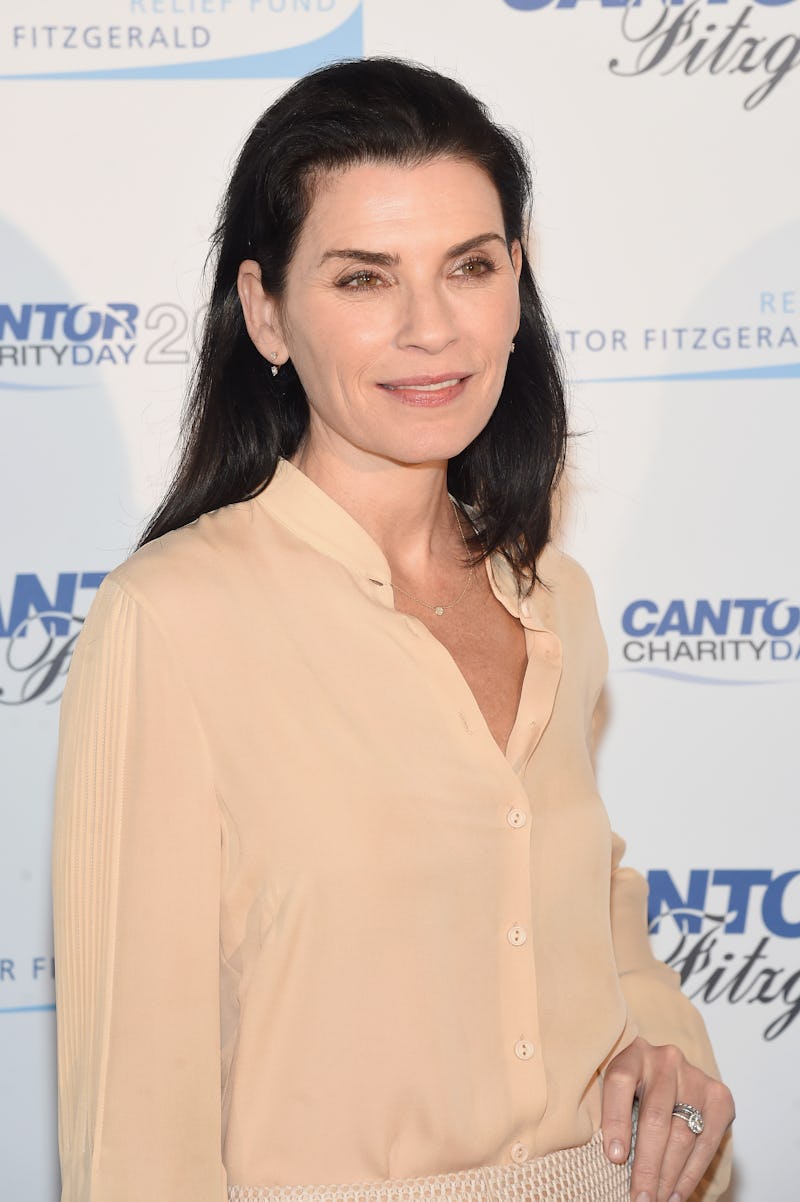 Jamie McCarthy/Getty Images Entertainment/Getty Images
Joining the list of celebrities speaking out against powerful men in Hollywood, Julianna Margulies came forward with allegations against Steven Seagal and Harvey Weinstein during an interview on SiriusXM on Friday, Nov. 3. During the conversation on Just Jenny with Jenny Hutt, Margulies claims to have found herself in uncomfortable hotel room situations with both men on separate occasions earlier in her career. (Bustle reached out to a rep for Weinstein for comment, as well as Seagal's team and attorney, but did not receive an immediate response.)
In the interview, Margulies claimed,
"When I was 23, a casting director, a woman, said, 'Steven Seagal wants to go over the scene with you in hotel room at 10 o'clock at night.' And I lived in Brooklyn and I said, 'Oh, I don't do that. I don't travel. I don't have money for a cab' ... She said, 'Don't worry, we'll reimburse you. And I'm here.'"
However, when she arrived around 10:40 p.m., the casting director wasn't at the hotel. Instead, she allegedly found Seagal alone and with a weapon. Margulies claimed, "He made sure that I saw his gun, which I'd never seen a gun in real life. And I got out of there unscathed, it's a long story." (Seagal has yet to comment on these accusations publicly.)
The actor clarified, "I never was raped. I was never harmed. I don't know how I got out of that hotel room." However, she points out that over the years, she shrugged off the potentially threatening situation, but then said, "It's not to be shrugged off." Speaking of these situations, Margulies also claimed, "It always starts with 'I'm a healer. I want to massage you,' and I sort of squirmed my way out."
Margulies then shifted the conversation to Harvey Weinstein. To date, more than 50 women have come forward with allegations of sexual misconduct against Weinstein, according to Entertainment Weekly. While Weinstein initially issued a statement to the New York Times, apologizing for his behavior, his then-attorney Charles Harder said they planned to sue the Times for publishing an article "saturated with false and defamatory statements." His spokesperson later told The New Yorker, "Any allegations of non-consensual sex are unequivocally denied by Mr. Weinstein. Mr. Weinstein has further confirmed that there were never any acts of retaliation against any women for refusing his advances." He's since been kicked out of the Academy of Motion Picture Arts and Sciences and fired from The Weinstein Company.
As for Margulies' alleged experience with Weinstein, she claims she was "lucky" that she knew not to go meet him alone, especially after her alleged encounter with Seagal. When she was invited to Weinstein's hotel room for a meeting in the '90s, Margulies already had been working on E.R. and wasn't entirely new to the business. After insisting the woman working for Weinstein went with her to his room for the screen test, Margulies claims the woman began to sweat. "He opened the door in a bathrobe," she claimed of Weinstein, saying it was similar to Ashley Judd's story, and that she could see a candlelit dinner behind him. He reportedly stared at the other woman with "daggers," and was "furious" when she didn't leave him alone with Margulies.
Speaking of what happened next, he supposedly slammed the door in their faces. "Of course, I didn't get the part," Margulies claimed. Weinstein has not commented publicly on this latest accusation from Margulies. According to TMZ, Weinstein is currently in Phoenix, after reportedly completing a one-week outpatient program.
If you or someone you know has been sexually assaulted, call the National Sexual Assault Telephone Hotline at 800-656-HOPE (4673) or visit online.rainn.org.