Julianne Hough Celebrates Her Role As An Extra In 'Harry Potter'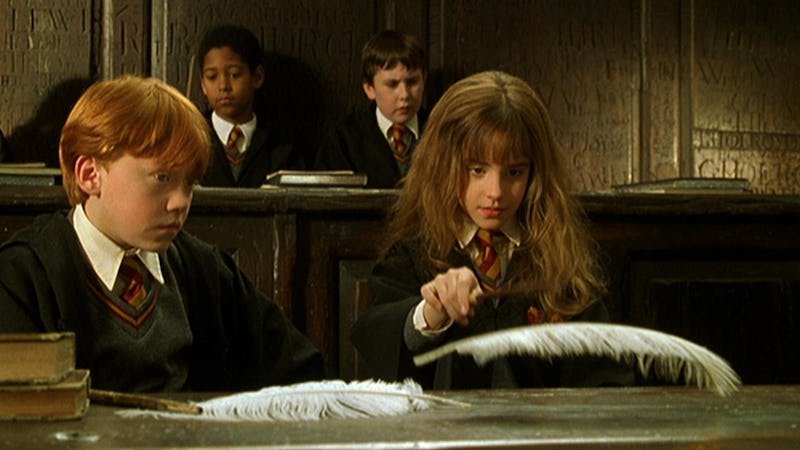 Warner Bros. Pictures
Fans all over the world are celebrating the 20th anniversary of the first Harry Potter book this week, and for good reason. It's hard for many to believe that Harry Potter and the Philosopher's Stone first came out in the U.K. on June 26, 1997. (It was released the following year in America under the new title, Harry Potter and the Sorcerer's Stone, for those not in the know.) To celebrate the success of the series, celebrities and fans alike have been sharing their Harry Potter related stories on social media, and the latest person to remind us of their unlikely connection to J.K. Rowling's creation is an actor, dancer, and singer. Julianne Hough was a Harry Potter extra — and, even better, her background role was basically the best.
On Instagram, Hough shared stills from the first Harry Potter movie, along with the caption,
"Happy 20th Anniversary Harry Potter! Remember that one time when I was 11 and a Gryffindor? Oh and apparently liked flirting with the Weasley twins? #ivealwayslovedredheads#gryffindor#harrypotter#firstfilm"
On top of selecting the most perfect hashtags to accompany the post, Hough's revelation that she was an extra in the 2001 movie version of Harry Potter and the Sorcerer's Stone is the perfect way to celebrate the 20th anniversary of the series. Considering how famous Hough is now, it's hard to believe that her role in the first Harry Potter movie was uncredited.
Perhaps it shouldn't come as a surprise that Hough was a Gryffindor, though. And not just that. As her hashtags and photos confirm, Hough's character appeared to be "flirting with the Weasley twins", and her post suggests that she's always been attracted to redheads. This just makes me jealously wish Hough had secured a bigger role in the movie series.
Hough's brother, Derek, was also in the 2001 movie, and told People, "I was in Ravenclaw — I stole the robe, the tie, the scarf, and I stole cutlery from the Great Hall!" Clearly, he had an inkling that the series was about to go stratospheric.
Rowling's series has proven it has longevity, and Harry Potter is showing no signs of disappearing any time soon. From theme parks, to spin-offs, the universe is only getting bigger, so it's not completely out of the question that Hough could turn up again, in the not too distant future.