Julian's Case On 'The Sinner' Took Another Devastating Turn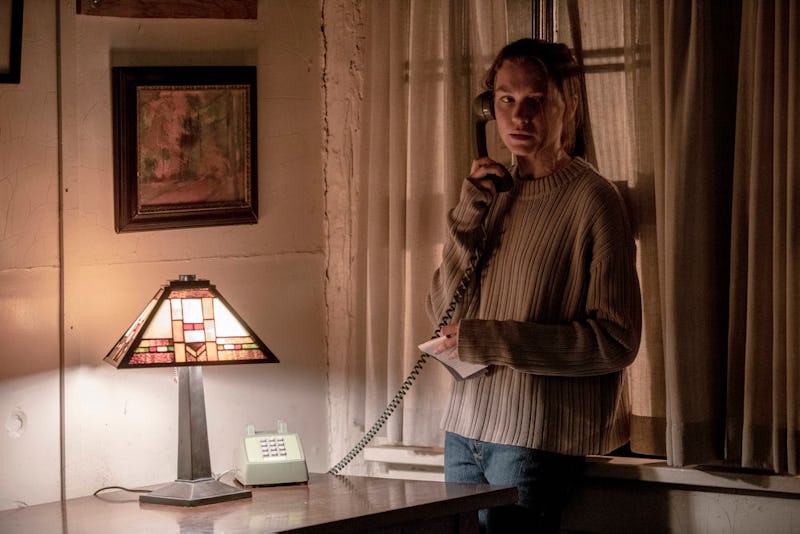 Zach Dilgard/USA Network
In the penultimate episode of The Sinner Season 2, Julian's situation becomes more clear, but also even more devastating. Spoilers follow for Season 2 of The Sinner. Marin was the person who kidnapped Julian and while on the run in "Part VII," she is shot and dies. While Julian could be the one who shot Marin on The Sinner, it seems more likely that the cult who caused this whole situation is behind her death. Members of Mosswood Grove knew Marin and Julian's location, so it's very possible that Vera killed Marin. And while the truth should be revealed in The Sinner Season 2 finale, that doesn't change the fact that death continues to surround Julian.
While the police initially suspect Vera of taking Julian, it turns out that it was his biological mother Marin. Vera had previously explained to Ambrose how she ended up raising Julian, but she neglected to tell the detectives that Marin was alive and seeking Julian.
Marin had returned to Mosswood just a few weeks before to take back her son. Vera ordered her to leave, but Marin tried to abduct Julian at night — which explains his visions of the hooded figure. Marin was escorted out of the compound, but Bess was sympathetic to her situation. So Bess and Adam agreed to take Julian from Mosswood and deliver him to Marin at the Niagara Falls storage unit that Heather discovered back in "Part IV."
Yet, the plan fell apart when Julian killed Bess and Adam. So when Julian was transferred from jail back to the foster home, Marin took that opportunity to capture her son. Julian is scared since Vera never told Julian about Marin. And when he flees her camper van, it takes Marin singing the folk song "Down In The Valley" (the same song Bess used to sing to him) to make Julian trust her.
Since there's an AMBER alert out for Julian, Marin's plan is to cross into Canada through the Five Nations reservation that spans the U.S.-Canadian border. She takes Julian to a motel on the reservation where she makes a phone call. Julian, who previously looked at Marin's gun in the camper van, eyes her gun for the second time. In this moment, Julian may be considering shooting his mother and if he really did go through with it, this killing would parallel how he also murdered Bess and Adam at a motel.
However, Julian doesn't seem capable of this murder. He becomes incredibly upset when he learns that he wrongfully killed Bess and Adam. And while Julian obviously has rage issues that the "work" hasn't helped, would he really want to take another person's life — especially his mother's? It doesn't seem likely that the 13-year-old would be able to pull the trigger and shoot Marin in the stomach. (Especially since he more passively killed Adam and Bess with poison.) Instead, the real suspects of Marin's death should be the members of Mosswood.
The man with the gray ponytail who tipped Heather off about Mosswood's involvement in the double homicide, Terry, does Vera's bidding again in "Part VII." Vera sends Terry to the Grey Daughters convent that Marin had recently been living at when she realizes Marin kidnapped Julian. Terry poses as Marin's father and he obtains her Bible. Within the Bible is a Five Nations bookmark, so both Vera and Terry know where Marin is taking Julian.
Although Terry could be the one who shot Marin, it would be much more significant to the story if Vera is the killer. Benji, the lawyer at Mosswood, tells Vera that the authorities will never let her keep Julian. So Vera absolutely has a motive to kill Marin if she believes Marin being in the picture will stop her from having custody of Julian. While Vera claims that everything she does is for the good of her community and her son, she is singularly fixated on keeping Julian — and would absolutely commit murder in the delusion that it would ensure he stays her son.
How Vera is involved in Marin's murder, and other unanswered questions (is the Beacon dead?), will surely come out in The Sinner Season 2 finale. But "Part VII" shows the utterly heartbreaking reality that there will be no happy ending for either Marin or Julian.