Julian's Worst Nightmare Came True On 'The Sinner'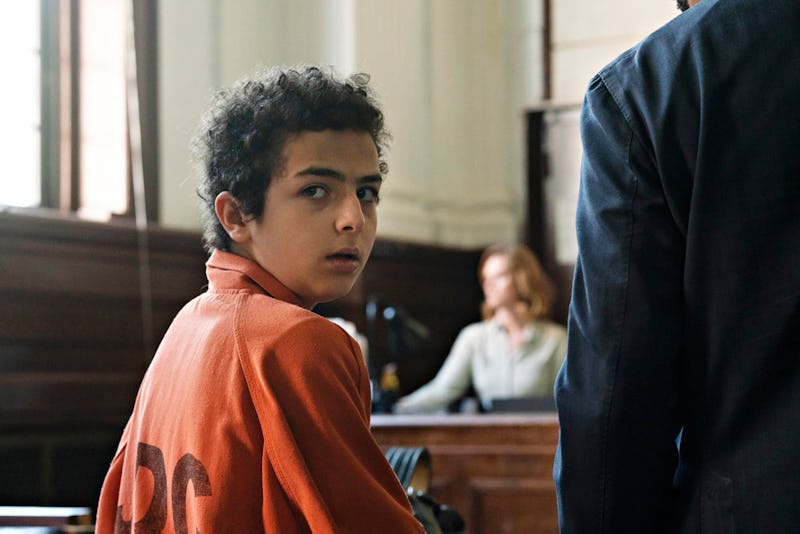 Peter Kramer/USA Network
Since the first episode of The Sinner Season 2, Julian has feared a figure in a hood approaching him at night. And that nightmare became a reality in "Part VI." Spoilers for the Sept. 5 episode follow. After he is moved from the detention center back to foster care, Julian is kidnapped on The Sinner. The 13-year-old had already told Detective Harry Ambrose that the person in the hood that he sees is not just a dream and is based on a real experience he had at Mosswood Grove. And through more of Vera's flashbacks at the commune run by Lionel Jeffries, viewers might be able to piece together who has taken Julian.
Ambrose's special connection to Julian is explained in "Part VI," as The Sinner reveals that a young Ambrose actually started the fire that led to the authorities placing his mom in the psychiatric institute. Although he isn't supposed to be working on the case anymore, Bill Pullman's character is able to pull some strings to get Julian's case moved back to family court. However, Ambrose will be dealing with guilt again when he discovers that Julian's relocation to the foster home — and his advice to stare down the figure — directly leads to the young murder suspect being taken from his bed.
In "Part V," Julian told Ambrose that the "hooded thing" that he sees in his sleep isn't a dream like Vera says. "They tried to take me," Julian said. "In the middle of the night, I was half-asleep, but I saw him coming. And then they dragged him out of the room." Julian uses the male pronoun when discussing the hooded figure, which could indicate that the person is Mosswood's disgraced Beacon Lionel Jeffries, since he is Julian's father. But "Part VI" makes it seem that Vera may have killed Jeffries back when Julian was an infant.
While it's not explicitly stated, it seems that Jeffries may have wanted to sacrifice his son. In a flashback during "Part V," Jeffries brings a calf to Mosswood to act as a "conductor" for the community's violence. "You should name him," Jeffries tells Vera. "We'll raise him, all of us together. We'll make him one of us and the more we love him, the more he'll embody all our human frailties, so when we offer him up, release." They sacrifice the innocent animal and when Jeffries finds out that Marin is pregnant, he uses almost the identical language to talk about his child as he did with the calf. Jeffries says to Vera, "We'll raise him, all of us together. The child will bind us. Has she picked a name?"
"Part VI" puts his plan into focus even more. Jeffries says, "It's only when Abraham was willing to sacrifice his son Isaac that God rewarded him." When the Beacon sees that Julian is too attached to Vera, who is the one breastfeeding Julian since Marin is unable to, he demands the baby be moved into his room. "It won't be much longer now," Jeffries says, which greatly concerns Vera. Shortly after, Vera gives the Beacon tea, which could very well contain the same jimsonweed that Julian used to kill Bess and Adam. After all, Vera tells Ambrose, "I have done everything I could do to protect him."
If Jeffries is dead, then he can't be the one who abducted Julian. Other male suspects could be Glen Fisher, who is far more involved in Mosswood Grove than he's confessing. Or even Heather's father if you really want to run with a conspiracy theory. However, Julian's kidnapper is pretty agile; they are able to get through his bedroom window on an upper floor. So despite Julian's pronoun use, the most likely suspect is his biological mom Marin.
A young female body is found at the "Purple Lake" in "Part VI" and Heather assumes that it's Marin. But there is no confirmation that the body is Marin's and it seems likely that Marin could have been the person renting the Niagara Falls storage unit under her son's name. Perhaps Marin broke into Mosswood weeks earlier and even though she was unable to take Julian, she communicated to Bess that she wanted Julian back. And maybe Bess was trying to take Julian to his mom before he poisoned her and Adam.
Vera noted to Ambrose that the person in the hood is the archetype of "the old hag" in "Part IV." And while she was lying that it was only in Julian's dreams, there could be something to the idea that this person is a woman. As for if Vera is the kidnapper, she is shown outside of the barn with the rock right before Julian is taken. So it's unlikely that she is a part of this abduction.
Even if Julian was taken by his mom, there is still a reason to be concerned since he never knew Marin as his mother and he often gives into his rage. Plus, Marin has her own issues with self-control. This kidnapping may also unite Vera and Ambrose even further (although they both may blame one another). And while Vera is definitely a more sympathetic character after "Part VI," she still shouldn't be trusted since it seems she has done everything within her power to keep control of Julian. But with only two episodes to go, The Sinner may finally be leading Heather and Ambrose to the real location of Marin. Unfortunately, this path might just put Julian in peril too.