There's No Word Yet Of A Justin Bieber Tour, But He Might Have An Album Coming Soon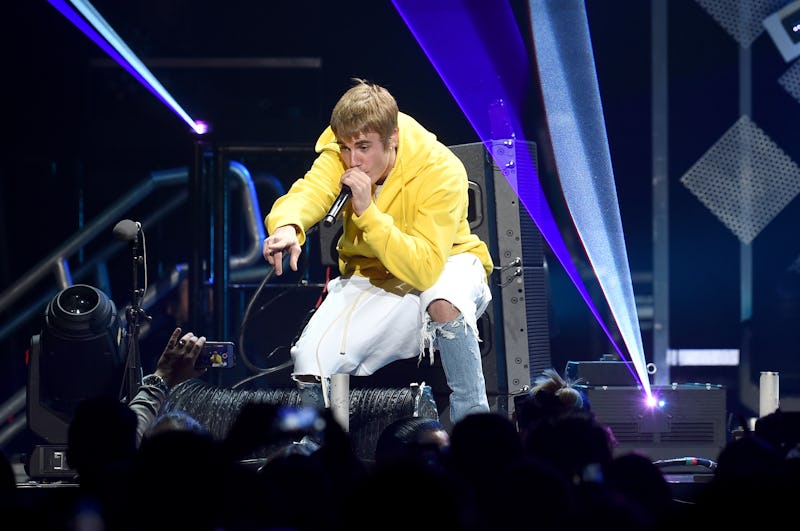 Kevin Winter/Getty Images Entertainment/Getty Images
Music aficionados, rejoice, because the Billboard Music Awards will air Sunday, May 20 on NBC. Pop idol Kelly Clarkson is hosting the show, and the nominees this year include Kendrick Lamar, Bruno Mars, and Ed Sheeran — all with 15 nominations a piece. Justin Bieber is also up for eight awards, all but one of which is tied to "Despacito," the remix of the Luis Fonsi and Daddy Yankee song that arguably became 2017's song of the summer. With so many eyes on the young pop artist on Sunday night, fans may be wondering if Justin Bieber will tour in 2018.
While no tour plans have been announced so far, there's still time for a 2018 tour. Luckily for Beliebers, he reportedly recently started recording a new album, according to The Sun, which is set to be more "Christian-appropriate." However, the story goes on to say that it probably won't come out until late this year or even early 2019. However, the star hasn't confirmed any of this news, so it may just be hearsay at this point.
However, this potential album is still great news for Beliebers, who have no doubt been salivating for more since 2015. The critically-acclaimed Purpose, which came out nearly two and a half years ago, felt like Bieber's first mature album, leaving the Justin of "Baby" and "Never Say Never" behind with soulful ballads like "Love Yourself" and the joyful, house-infused "Sorry." People who'd been whispering guiltily about liking the Biebs finally felt vilified in their fandom. It was finally O.K. to like Justin Bieber again.
And the young pop singer's star power continued to do wonders when he was featured on "Despacito" alongside Luis Fonsi and Daddy Yankee. The original version of the reggaeton song was released in January 2017, while the remix featuring Bieber came out in April, per Vox. In an interview for Forbes, Fonsi explained how the collaboration came about, saying that Bieber was in Bogotá, Columbia, when he heard the song in a club. "He contacted us and he wanted to jump on the song, so he did an English version at the beginning and he sang the hook with me in Spanish," Fonsi said. "The lyrics, which are not easy in this song — it's a very lyric-heavy chorus — and he did in Spanish, which I think it's really cool, and Latin people are really applauding that."
Despite these successes, Bieber became severely burned out while he was touring Purpose. He abruptly canceled the remainder of his venues last July with just 14 concerts left to go, per The New York Times. Bieber's manager, Scooter Braun, posted an Instagram after the news broke, saying, "a man's soul and well being I truly care about came first and We must all respect and honor that." Bieber explained to TMZ that he'd been on tour for two years and that he looked forward to "just resting, getting some relaxation." According to the same NYT report, Bieber had been on tour for the past 16 months and had done 150 concerts.
If that doesn't sound exhausting enough, one of Bieber's Purpose Tour back-up dancers described the demanding nature of the singer's public life in an interview for W Magazine. "The way people act around [Justin] isn't normal," David Shreibman said. "He's like a zoo animal." However, the dancer went on to praise Justin's talent and general attitude. "He's a good kid. And he's... a kid! He's 22 and he's still finding himself like we all are. His life is crazy. He was separated from the world at 10 years old. He's really generous."
Perhaps for that reason, Bieber has largely removed himself from public life since his tour's sudden end last summer. The 24-year-old has been in the spotlight for over a decade, and it's obvious that he's felt the weight of that fame. "Growing up is never easy for anyone and doing it in front of the world very few could ever imagine," Braun said in another Instagram post regarding Justin's tour decision.
However, Bieber has been far from idle, collaborating with producer BloodPop® on the single "Friends" — a fizzy song that many attributed to being about Selena Gomez, his off-again, on-again, and now-off-again paramour. He's also befriended the up-and-coming rapper Post Malone, who himself is up for 13 awards this Sunday, including Top Male Artist, per Billboard. "Proud of my brother @PostMalone on his new album," Bieber tweeted on May 2.
Indeed, Bieber's social media has been upbeat recently, with him tweeting support for the gun control movement #Marchforourlives and posting Instagrams about his faith in God. Hopefully this means the "What Do You Mean?" singer is in a better place than he was nearly a year ago. So whether Bieber wins any awards on Sunday (which, how could he not when "Despacito" is involved?), fans will be eagerly awaiting his next career move.