Well, Justin Bieber Just Got A Face Tattoo In Honor Of Hailey Baldwin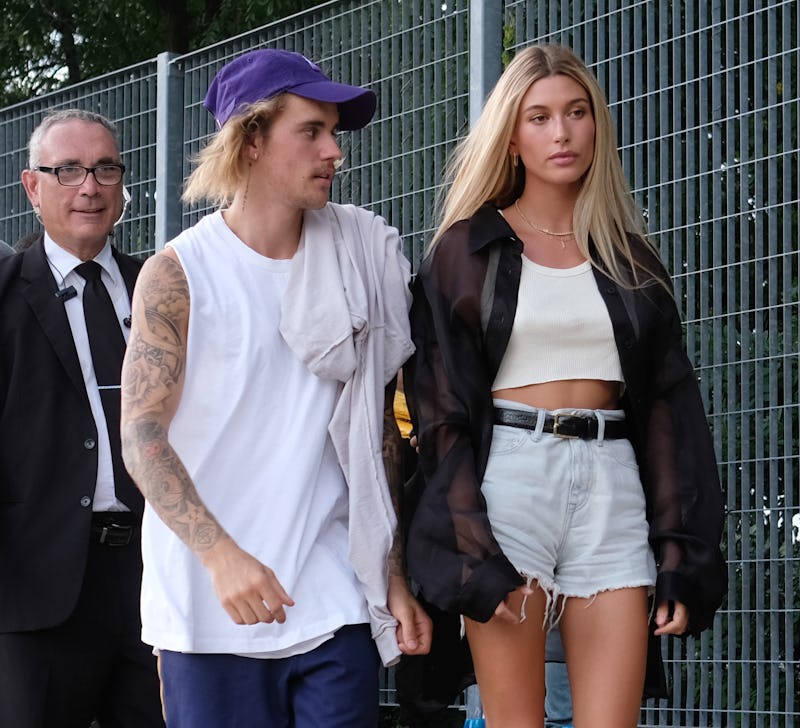 Nicholas Hunt/Getty Images Entertainment/Getty Images
Celebrity couple tattoos seem to be alive and well. The latest to take part in matching ink? Justin Bieber and Hailey Baldwin. However, one part of the couple took things further than you may have seen before because Justin Bieber's face tattoo is how he decided to pay tribute to his wife-to-be, and hey, to each their own, right?
According to Page Six, Bieber and Baldwin went to celebrity tattoo artist Bang Bang to get their soon-to-be marital ink done. Bang Bang, however, isn't saying much about the tattoos and what they're of, especially Baldwin's ink. He did, however, give a bit of information on Bieber's according to the publication.
The singer's tattoo is, actually, a face tattoo, and it's supposedly above his eyebrow in ultra-tiny script. As for what it says, Bang Bang didn't reveal that information, and in the photos of Bieber's face tattoo that have emerged, it's nearly impossible to read.
Honestly, though, as far as face tattoos go, it's definitely one of the most subtle options for Bieber. Plus, given that most of the rest of his body is covered in ink, he may have simply wanted a tattoo dedicated to Baldwin to have it's own space, and his face is, well, kind of some of the only real estate left on his body.
Of course, Baldwin and Bieber are far from the only couple who have decided to take the plunge into matching tattoos. Perhaps the couple most famous for their matching tattoos are Pete Davidson and Ariana Grande. While the pair has since separated, during their relationship, they seemed to be in and out tattoo parlors weekly. Whether it was directly matching ink or coordinated tattoos, the pair's visits to tattoo parlors both together and seperately made major headlines.
While Grande and Davidson weren't necessarily shy about their tattoos — the SNL actor did get a rather large image of their once shared pig, Piggy Smallz on his side — Bieber and Baldwin are being much more low key about what they've chosen to dedicate to one another. At this point, no one truly knows what the tattoos say, but it hasn't stopped people from being interested in them.
In fact, it's a point that Bang Bang made when he spoke to Page Six Style. He explained that he can't say for certain whether more and more couples are getting matching or coordinating tattoos. However, he did suggest that the media and people are more interested in what celebrities' tattoos mean.
Of course, Bieber and Baldwin and Grande and Davidson aren't the only couples that have tattoos for one another. Zayn Malik had a tattoo in honor of former fiancé Perrie Edwards (though he's since covered it), and Lea Michelle has a tattoo that reads "Finn" to honor the late Cory Monteith.
Clearly, the matching couple tattoo doesn't seem to be going anywhere any time soon, but Bieber's decision to get one on his face is pretty intense. Oh, young love.