Twitter Is Very Concerned About One Of Zayn's Tattoos After His Split From Gigi Hadid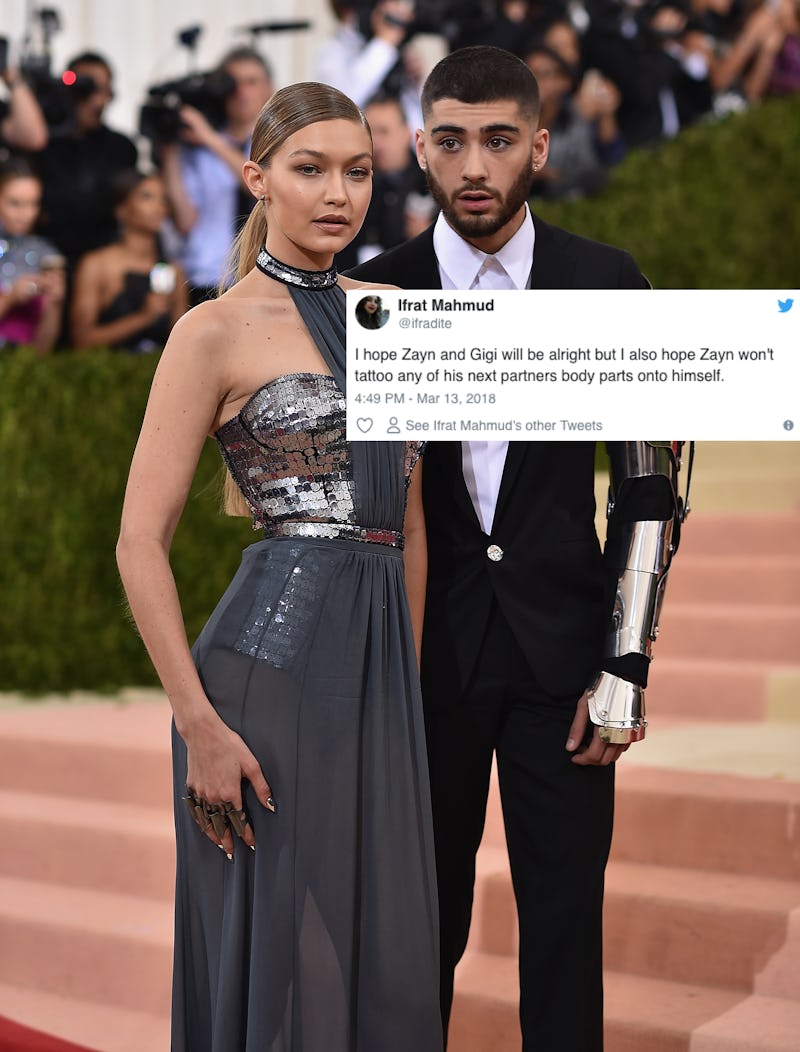 Dimitrios Kambouris/Getty Images Entertainment/Getty Images
If you haven't heard the news yet, Gigi Hadid and Zayn Malik have officially broken up after two years of dating. Of course, fans are reacting to Hadid and Malik's breakup. Many are heartbroken and sad — you know, the usual response when a beloved celebrity couple splits. There are also people expressing concern over Malik's eyes tattoo on his chest that many believe to be of Hadid's eyes.
It's never been confirmed that the eyes tattooed on the former One Direction singer are Hadid's, but as soon as fans spotted the ink, they couldn't help but speculate. In January, the 22-year-old model shared an Instagram video celebrating Malik's birthday. In the video, he's dancing shirtless, save for a jacket, and fans were quick to notice the tattoo seemed to resemble Hadid's eyes.
Again, it's unknown if Malik's tattoo really is in honor of Hadid. Either way, fans are pointing out the obvious on Twitter: the 25-year-old singer might be stuck with a permanent piece of art on his chest that will continuously remind him of Hadid. Granted, he might be OK with that, but it's still kind of uncomfortable.
Here are just a few tweets from fans who just can't get past the awkwardness.
Just Don't Do It
Yes, Malik also had a tattoo for his ex-fiancée Perrie Edwards that he may or may not have covered up.
When Will He Cover Up Gigi's Eyes?
It's a question many fans are wondering about.
He's Cursing Himself
When you look at it that way...
He Needs To Stop
Enough is enough, Zayn.
Live Footage Of Zayn
Now this is funny.
When Will He Learn?
He clearly didn't learn the first time around.
He's Stuck With It Now
This person is referring to reports that Malik unfollowed Hadid on Instagram.
Her Eyes Will Always Follow Him
Every time he looks in the mirror, they'll be there.
It's Karma
You know what they say about karma.
On Tuesday, The Sun was first to report their breakup. At the time, it remained unconfirmed until the former couple both took to Twitter to let everyone know the news was true.
And however Malik feels about the tattoo that may be of his ex-girlfriend's eyes, it appears he and Hadid are on good terms. As he said in the statement he posted on Twitter Tuesday, "Gigi and I had an incredibly meaningful, loving, and fun relationship and I have a huge amount of respect an adoration for Gigi as a woman and a friend." He continued, "She has such an incredible soul. I'm grateful to all of our fans for respecting this difficult decision and our privacy at this time, we wish this news could have come from us first. We love you all. xZ".
Hadid also took to Twitter to let her fans know that she and Malik are indeed no longer together, but that she still loves and respects him. "Breakup statements often seem impersonal because there is really no way to put into words what two people experience together over a few years .. not only in the relationship, but in life in general," she wrote. That said, she continued, "I'm forever grateful for the love, time, and life lessons that Z and I shared. I want nothing but the best for him and will continue to support him as a friend that I have immense respect and love for. As for the future, whatever's meant to be will aways be. xG".
It's understandable why fans are concerned about the tattoo, but all that matters is Hadid and Malik seem to be doing what is best for them.