Justin Bieber Has A Random, Yet Adorable New Nickname For Hailey Baldwin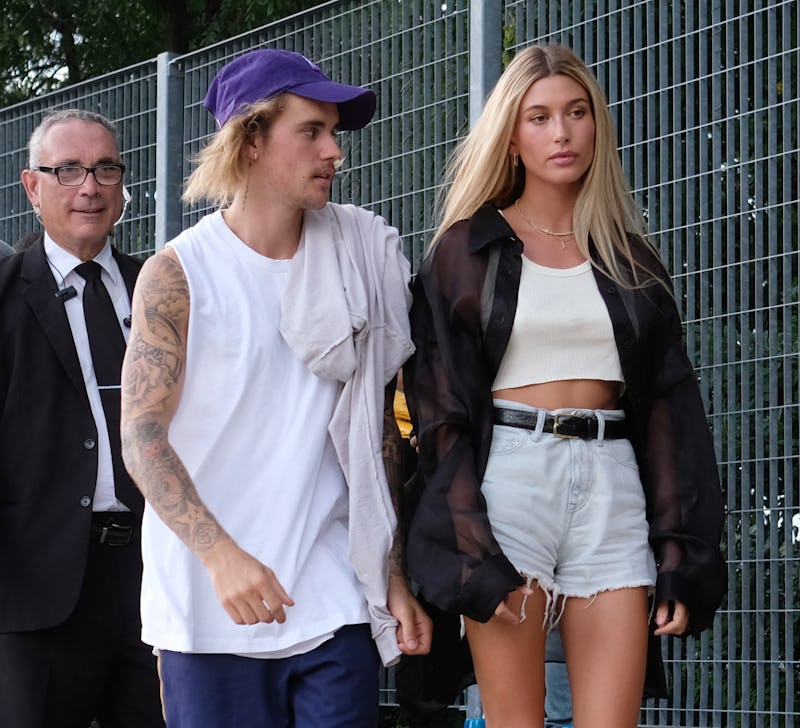 Nicholas Hunt/Getty Images Entertainment/Getty Images
These two lovebirds. If their latest social media posts are any indication, it appears as if they're totally still in the honeymoon period of their relationship. Justin Bieber revealed another nickname for Hailey Baldwin via Instagram on Nov. 13, and if you thought the couple had achieved cavity-inducing levels of sweetness before, well ... you might want to make an appointment with your dentist. They're even sweeter now. A little random, perhaps, but still sweet.
The photo Bieber posted of himself and his confirmed fiancé/rumored wife was quite romantic in all of its black-and-white glory. In the picture, the pair is all snuggled up in a horizontal embrace on some sort of dock or pier. Was anyone else's first thought upon viewing, "Watch out for splinters!"? No? Nobody? OK, moving on.
Anyway, in the caption of the post, Bieber wrote, "my little bean," assumedly in regard to Baldwin. Hmm, what could that mean, you wonder? Well, let's see here. Beans are ... small? Delicious? Good for you? Let's go with "good for you." Beans are good for you, and Baldwin — like a bean — is good for Bieber. Sure. That works.
Baldwin posted the same precious picture to her Instagram account as well, along with a second photo from what appears to be the same occasion. The second snap — in which Baldwin simply referred to Bieber as "my love" — was a close-up of the couple's faces as they're kissing, so yeah — if you haven't already called your dentist, go do that now.
This isn't the first time the PDA-heavy pair has publicly shared their nicknames for each other on social media, though. On Nov. 9, Bieber posted another black-and-white photo of himself with the model, wherein the stars were snapped smooching during a warm embrace. "Hunny buns punkin," the singer captioned the pic.
OK, so "bean" might not be quite as lovey-dovey as "hunny buns punkin," but it's still an interesting, intimate detail to share with fans. Speaking of sharing, both Bieber and Baldwin shared their engagement news with separate social media posts on July 9. The photo that Bieber posted on Instagram that day was also in black-and-white, by the way, so are we sensing a bit of a theme? To be fair, though, they post in-color photos of each other, too.
Shortly after they announced their intention to wed, "a source close to the couple" told People that "They went ahead and [got married] without listening to anyone" in early September. Baldwin denied that report in a Twitter post that has since been deleted, but there have been several tips from fans in recent months that appear to make it seem otherwise. (Bustle previously reached out to their reps about the marriage reports, but did not hear back.)
Regardless of whether or not they've already tied the knot, they've definitely got the just-married, end-of-ceremony kiss down pat. Seriously — Bieber and Baldwin stay kissing in paparazzi photos. Actually, they just straight-up stay kissing. Can you blame them?
She's his bean and his hunny bunny punkin. He's her love (and probably a ton of other nicknames Baldwin has yet to share). These guys. So, so cute.