Here's Yet Another Clue That Justin Bieber & Hailey Baldwin May Really Be Married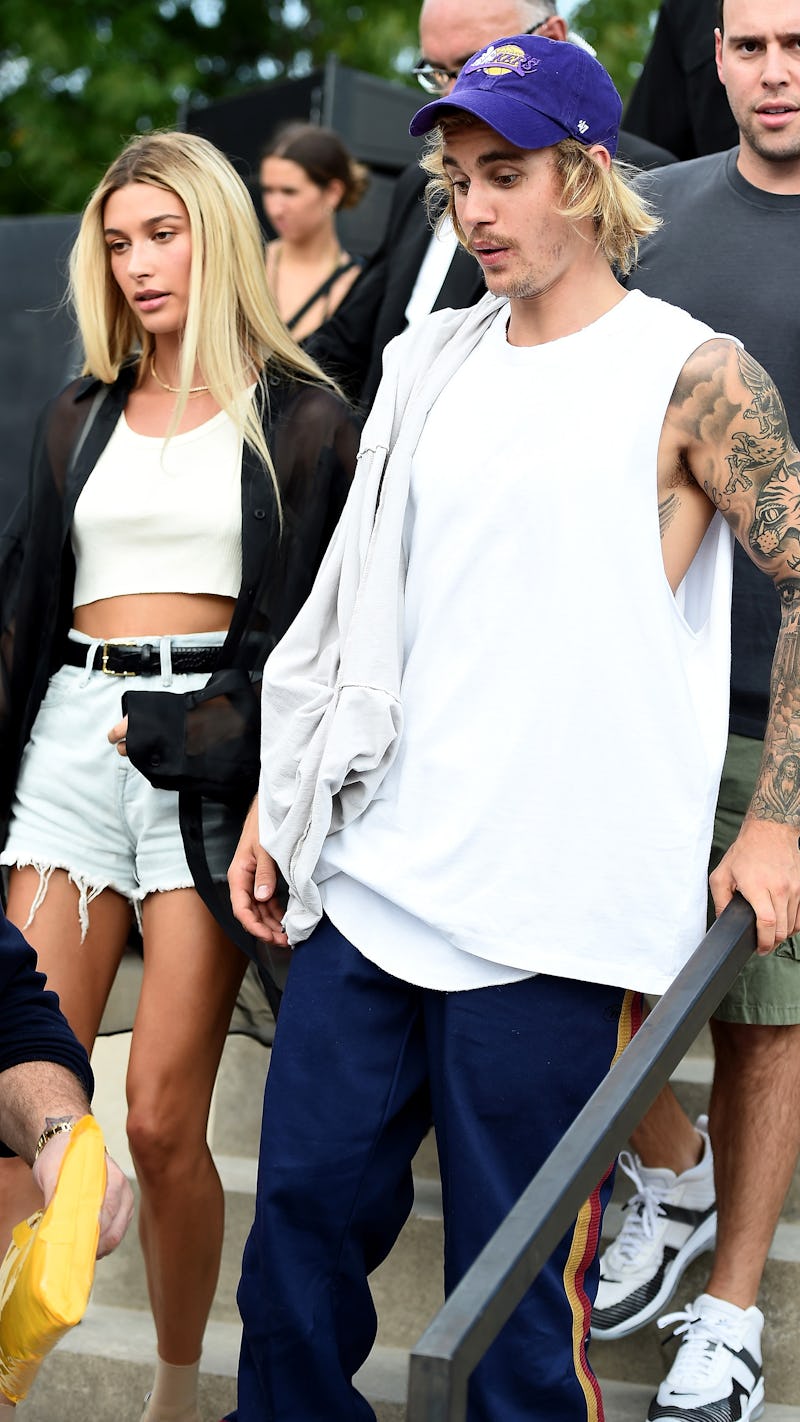 Theo Wargo/Getty Images Entertainment/Getty Images
Another day, another supposed confirmation that Justin Bieber and Hailey Baldwin actually got married. The focus here should be on the word "supposed," so maybe just take this all with a grain of salt, OK? On the other hand, there sure have been a lot of potential confirmations about Bieber and Baldwin in recent weeks, so ... honestly? Who knows.
This time around, the reported confirmation came from a fan named Nona Melkoni via Us Weekly, who claimed she was seated next to the couple while dining out in Burbank, California. She explained, "I asked [Bieber and Baldwin] if they were married and they simultaneously said yes!"
Melkoni told the publication, "They were both very happy and kind," adding, "He told me that she's his angel. They were super sweet!" (Bustle reached out to reps for the couple about these reports, but did not receive an immediate response.)
Rumors about Bieber and Baldwin's official relationship status have been swirling for months now, but the couple has remained sneakily tight-lipped. After dating on-and-off since around 2014, though, the pair shocked fans by announcing their engagement back in July.
Bieber confirmed the news first with a lengthy, heartfelt Instagram post on July 9, and Baldwin did the same via Twitter later that day. "Not sure what I did in life to deserve such happiness but I am so utterly grateful to God for giving me such an incredible person to share my life with!" she wrote. "No words could ever express my gratitude."
After that, things started to get a little wild on the marriage-rumor front. In August, a source "with direct knowledge" about Bieber and Baldwin told TMZ that they weren't in any rush to walk down the aisle. In fact, the source claimed, they were planning on waiting until 2019.
Flash-forward to barely a month later, and "a source close to the couple" told People on Sept. 14, "They went ahead and [got married] without listening to anyone." This news came in the wake of a photo snapped by TMZ on Sept. 13, which seemingly showed the two young stars entering "the courthouse where marriage licenses are issued" in New York City.
Get ready for whiplash, y'all, because this saga is far from over. Hours after People supposedly confirmed that Bieber and Baldwin had said their "I dos," Baldwin confronted the rumors with a straightforward message on Twitter (that has since been deleted ... hmm, curious): "I understand where the speculation is coming from," she wrote, "but I'm not married yet!"
That same day, though, Bieber's mom had shared a mysterious tweet that some assumed indicated that he and Baldwin had wed. Then, during an interview with Access on Sept. 17, Baldwin's famous uncle Alec blurted out that "[she and Bieber] just went off and got married."
Neither Bieber nor Baldwin confirmed nor denied Alec's comment about them being married, but the rumor mill finally started to slow down after that. Well, until October, at least.
The couple took a trip to Bieber's hometown of Stratford, Ontario, Canada to check out a museum exhibit dedicated to his career. According to a comment the museum made about a photo of the exhibit on their Instagram page, Baldwin referred to Bieber as her "husband" during their visit, and Bieber "very graciously introduced Hailey as his wife."
What ... is happening? What day is it? How much time has passed? Is the earth flat? Nothing makes sense anymore, and there's a good chance we're all living in an alternate reality right now. All of these conflicting statements are so, so dizzying. Set us straight, Justin and Hailey. Pretty please?