Justin Bieber Loves "Thank U, Next" As Much As You Do (Even If He Mixed Up The Words)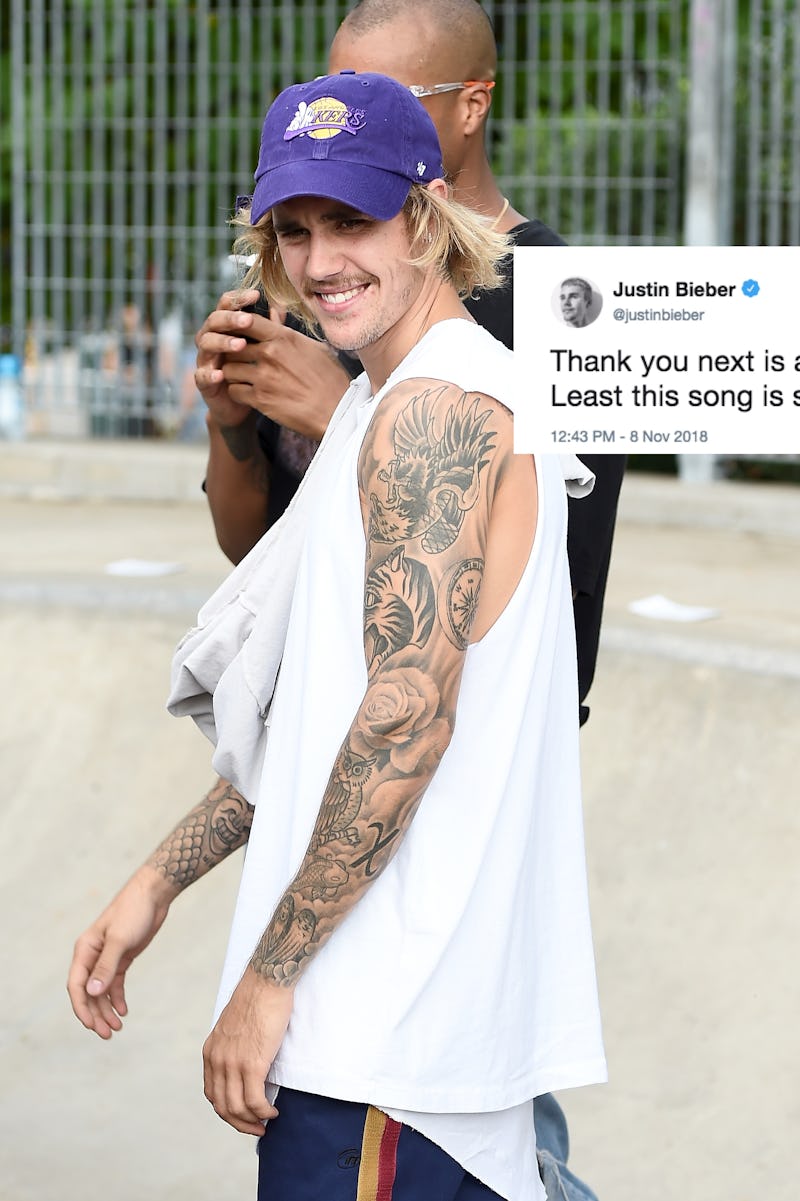 Theo Wargo/Getty Images Entertainment/Getty Images; Justin Bieber/Twitter
Biebs may be going through a bit of a tough time lately, if the amount of times he's cried in public lately (no judgment) is any indication. But maybe this week Justin Bieber is crying some happy tears to his new favorite empowering song, and yes, it's your new favorite empowering song too: "Thank U, Next." Bieber tweeted about Ariana Grande's powerhouse hit on Thursday, Nov. 9, calling it "a bop," And you'll be happy to know that Bieber loves "Thank U, Next" as much as you do, even if he didn't get the lyrics exactly right in his tweet.
Giving a brief review of the song, Bieber tweeted,
"Thank you next is a bop. My favorite song. Least this song is smash. Fire."
"Least this song is smash" should obviously be "At least this song is a smash," and even though that is a totally understandable typo, the missing article "a" makes Bieber's tweet sound like your mom tweeted it. And that's fine — I bet your mom would (or already does) love "Thank U, Next" too.
The Bieber stamp of approval came with some delightful replies to his tweet, including some great takes on the "Thank U, Next" meme with a Bieber twist, showing different stages of Biebs that taught love, patience and pain.
And of course, there were fans clamoring for Biebs to drop that elusive collab with Grande. If you're not an avid Jariana fan, you may not know that in 2014, Bieber and Grande were working on a duet — kind of.
In 2014, Bieber posted a picture on his Instagram of him and Grande in the studio, but the duet never surfaced. And later that year, according to MTV News, Grande told the Associated Press they never. even. finished it. She said life got busy for both of them, so their duet just never got done. But she and Biebs felt bad about leaving their fans hanging, as she explained,
"We feel like we owe it to our fans to do something one day. We will finish it and put it out one day, but it just wasn't the right time."
Well, that was four years ago, Miss Grande, and the fans still haven't forgotten.
These two have remixed and covered each other's music a good amount, though, and in fact, Bieber's mixing up "Thank U, Next" lyrics in his tweet is his second offense messing up Grande lyrics.
Back in 2015, Bieber came onstage for a surprise performance at Grande's show in Miami. The two sang "Love Me Harder," with Bieber performing The Weeknd's part, but he forgot the lyrics, even though he said he was seriously studying backstage for an hour before, and he felt really, really bad about it, even apologizing to the audience. Don't worry, they forgave him.
So while you're singing along to "Thank U, Next" and trying to feel grateful and amazing, know that Justin Bieber is out there with you. 'Cause that song "is smash," and it's absolutely a bop.