Justin Timberlake Just Announced The 'Man Of The Woods' Tour & Fans Can't Handle This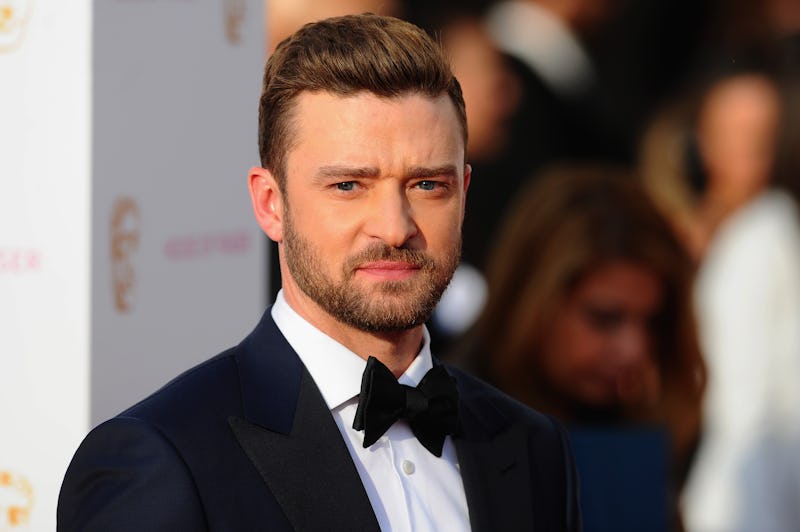 Stuart C. Wilson/Getty Images Entertainment/Getty Images
All of those tour rumors from just a few days ago proved to be more than just rumors after all. In a tweet from Jan 8., Justin Timberlake released a Man Of The Woods tour video, and watching the teaser video will make you rush to the nearest box office. It's certainly got his fans beyond hyped, even if his first single "Filthy" was a divisive one. So far, over 20 cities across North America have been officially announced, with the tickets for the first leg of the Man of the Woods Tour going on pre-sale Jan. 10.
Fans speculated that a tour from the "Can't Stop the Feeling!" singer would be coming sooner rather than later, considering that the artist will be performing at the 2018 Super Bowl on Feb. 4. The singer announced that he'll be releasing the Man of the Woods album two days prior, on Feb. 2, which also led fans to believe that his one man show could be going on the road again. Just recently, a fan reportedly discovered a Canadian concert listing for Timberlake on Ticketmaster, but it was deleted soon after going live. The mix-up also served as the ultimate clue to let fans know that their Timberlake tour was definitely on its way. And just as the Ticketmaster flub suggested, the tour will officially kick off on Mar. 13 in Toronto and will wrap up in the singer's hometown of Memphis on May 30.
Timberlake rarely disappoints when it comes to conceptualizing visuals for his projects, and his recent tour teaser is of no difference.
According to the singer, his newest project as heavily inspired by the outdoors, and the Man of the Woods tour will "bring the outside in." After listening to him talk about the tour details in the preview, it's safe to bet that the event will be mind blowing. And once the official tour news hit the airwaves Jan. 8, fans couldn't contain their excitement.
But with excitement also came a mix of anxiety for some. Those who chose not to pay attention to the many clues for a potential tour coming were a bit taken aback, and planning to attend one of his upcoming shows posed some problems — whether financial issues or just having no time to brace yourself for what you're about to witness.
As previously mentioned, all of the tour dates announced so far are taking place in North America, and because Timberlake has garnered an international fanbase over the duration of his career, this move could keep a lot of his diehards from attending.
But if you're one of the fans who didn't see a tour date near your hometown, don't fret, because loyal concertgoers can share that there's always a possibly for more tour stops to be added along the way. And hey, if all else fails, at least you'll have his 2018 Super Bowl halftime performance to look forward to.
The Memphis native will be helming the Super Bowl LII stage on Feb. 4, and it's bound to be an amazing event. There was a bit of controversy with the halftime show announcement, however, and it all dates back to Timberlake's 2004 performance with Janet Jackson — in which he tore a piece of her costume, exposing her right breast to households across the country. Most of the blame for the incident fell on the shoulders of Jackson over the years, while Timberlake's career blossomed and he has, obviously, been invited back to the Super Bowl while Jackson still has not. Though Timberlake has publicly apologized for the event before, he hasn't been forced to address it nearly as much as Jackson has, and that's been unsettling for a lot of people.
If 2018 has shown the public anything so far, it's that anything is possible. And with Timberlake's highly-anticipated Man of the Woods album on its way, plus the headlining of a North American tour to match, there's no telling what the talent may pull out of his sleeve. Either way, people will be waiting with bated breath to catch a glimpse.