Fans Actually, Finally Love This New Justin Timberlake Song "Say Something"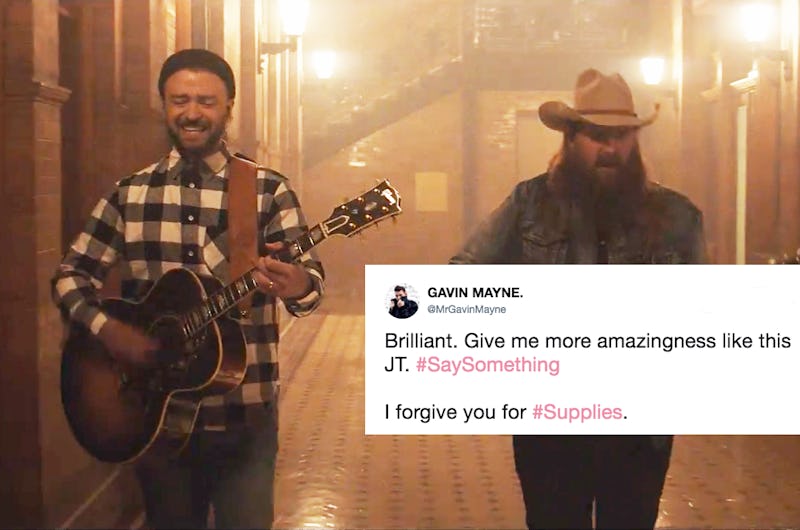 JustinTimberlakeVEVO/YouTube; MrGavinMayne/Twitter
The self-proclaimed man of the woods has dropped another music video, and there is nary a dancing robot to be found. On Thursday, Justin Timberlake released the video for "Say Something" featuring Chris Stapleton, and it is a stunner of a country-pop jam. Not to be confused with "Say Something" by A Great Big World featuring Christina Aguilera, this ditty is track number nine on the former *NSYNC member's upcoming album, Man of the Woods. And lots of fans sure are feeling this new JT tune's sound — finally.
While the response to Man of the Woods' previous singles "Filthy" and "Supplies" has been pretty mixed (to say the least), it seems like "Say Something" and its music video are getting a lot of love on Twitter. The clip, which was directed by Arturo Perez Jr., follows Timberlake and Stapleton as they make their way down a hall, walk down some stairs, ride an elevator, walk up some more stairs, and then end up in a cavernous room that sort of looks like something that'd be in the movie Synecdoche, New York. Timberlake and Stapleton perform the track together for an audience, and the video ends with a stirring singalong. Like the Timbaland and Danja-produced song, the clip is flat-out awesome.
And it sure looks like there are a lot of people on Twitter who would agree that the song and the video are quite lovely. Of course, there are some who aren't on board with "Say Something" — this is the internet, after all — but for the most part, the response appears to be pretty positive. Here are some of the many enthusiastic reactions to JT's latest offering.
People Want More Songs Like "Say Something" From Timberlake
'Tis the power of "Say Something."
It's Been Called His Best
It's an intriguing preview of the rest of the record.
It's Inspired At Least One Wedding Request
Hey, it can't hurt to put it out there in the Twitterverse.
The Game Has Been Changed
No kidding. The melodies going on in this song are the opposite of a joke.
The Emojis Are Worth A Thousand Words
"Yuppp," indeed.
People Are Really, Really Into This Jam
They're digging the duet, the production, the music video — all of it.
It's What Fans Have Been Crossing Their Fingers For
The patience sure paid off.
People Want To Say Something About "Say Something"
And that something is a good something.
You May Want To Bundle Up Before Watching The Video
Because gorgeousness-induced chills are inevitable.
This Collaboration Has Been Years In The Making
It looks like JT and Stapleton's performance at the 2015 Country Music Awards was only the beginning of a beautiful duet-ship.
Some Folks Want An Entire Album Of Timberlake & Stapleton Duets
A Round Of GIF-plause For "Say Something"
The first two songs off of Man of the Woods might've not worked for everyone, but "Say Something" seems to be treating many listeners right.
This Seems To Sum Up A Lot Of Fans' Feelings
A+ use of this Siggy Flicker GIF.
This Is The Sound Fans Expected From Man Of The Woods
And whew, is it a gorgeous sound.
For good measure, here's the incredible video for "Say Something." (You know, just in case you haven't watched it already. Or just in case you have watched it already but would like to experience it again. Live your truth.)
After hearing tracks "Filthy," "Supplies," and "Say Something," there's one thing Timberlake's fans can know for sure: When Man of the Woods comes out on Friday, Feb. 2, it's sure to be one heck of a dynamic record.