Kanye West Just Apologized For Being On His Phone At 'The Cher Show'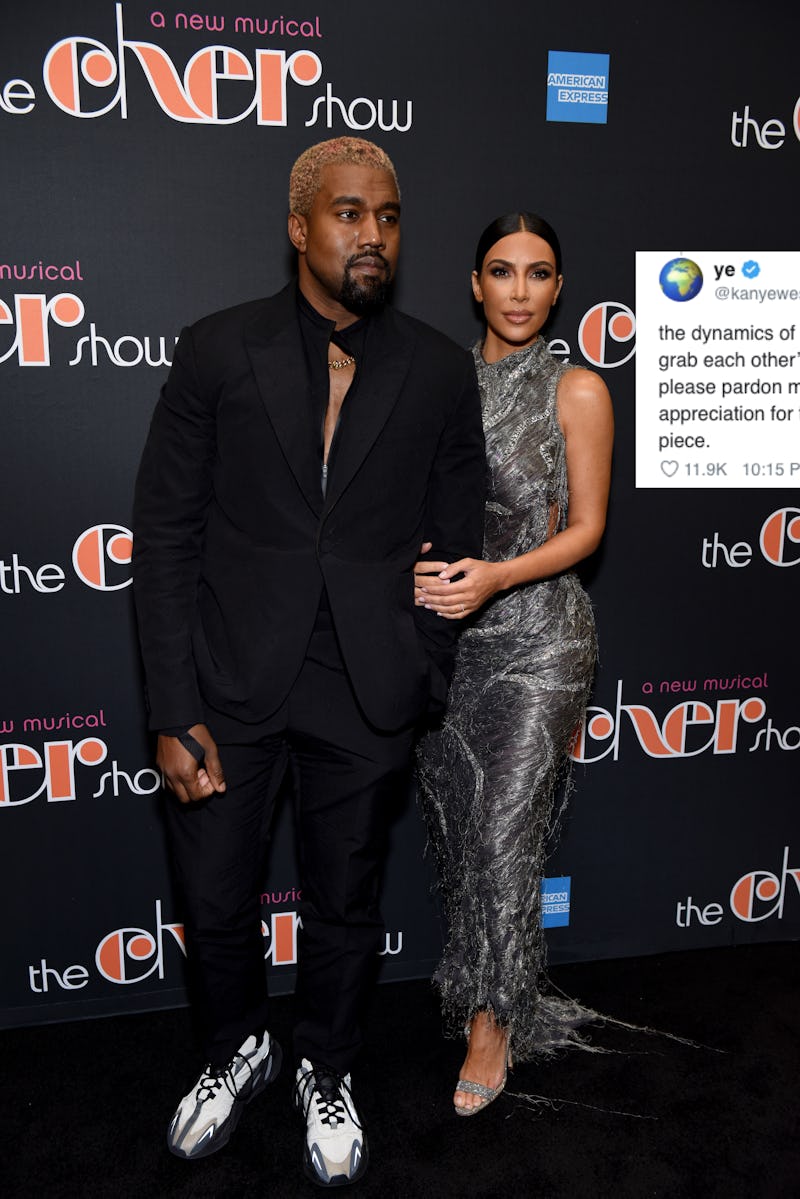 Jenny Anderson/Getty Images Entertainment/Getty Images; Kanye West/Twitter
On Dec. 3, Broadway actor Jarrod Spector, who plays Sonny in The Cher Show, made one the boldest moves possible: calling out Kanye West. But he did so for a valid reason, as the rapper committed a major theater faux pas. Luckily, things worked out for all involved, as Kanye West apologized on Twitter directly to the Broadway star, as E! News pointed out.
Spector first took to Twitter to thank West for coming to The Cher Show, alongside his wife and Cher superfan Kim Kardashian, before acknowledging that West was on his phone during the performance. He wrote:
"Hey @kanyewest so cool that you're here at @TheCherShow! If you look up from your cell phone you'll see we're doing a show up here. It's opening night. Kind of a big deal for us. Thanks so much."
Despite being publicly called out, the "Stronger" rapper took the high road and decided to send an apology Spector's way. And West's rather respectable apology put the spotlight back on his (and Kardashian's) appreciation for a certain Cher and Sonny Bono classic. He replied:
"the dynamics of Cher and Sonny's relationship made Kim and I grab each other's hand and sing 'I got you babe' please pardon my lack of etiquette. We have so much appreciation for the energy you guys put into making this master piece."
While West may have enjoyed the performance, as he clarified in his tweet, it's Kardashian who is the major fan of all things Cher. The Keeping Up With the Kardashians star even opened up about how much she loved the recent Cher Show performance in a tweet posted on Dec. 4. Interestingly enough, she made a point to highlight the amazing talent in the show (perhaps a way to subtly tie back to Spector and West's interaction?). She wrote:
"The Cher Show was sooooo good! I learned so much about her that I didn't know. She really opened up about her life and all of the actors were sooo good! You all have to check it when in NYC. We had the best time!"
As any Kardashian fan knows, the KKW Beauty mogul is the biggest fan of Cher. Recently, on an episode of KUWTK that aired Nov. 25, her love of the famous singer was put on full display. Kardashian, along with some of her best friends from her high school days, traveled to Las Vegas to check out the "Believe" singer's concert. But, that wasn't even the most exciting part about their excursion.
Following the concert, the gals got to meet up with Cher backstage, a moment that you could tell thrilled her #1 fan, Kardashian. After all, who wouldn't be that excited to meet Cher?
Kardashian even previously dressed up as the singer for Halloween with Jonathan Cheban as her Sonny.
It's great that West did release an apology for his breach of theater etiquette. And seeing as though he and Kardashian both conveyed in their Twitter statements that they were super into The Cher Show, it sounds like Kimye ultimately had a lovely evening living it up to some of their favorite songs.