Kanye West Deletes His Donald Trump Tweets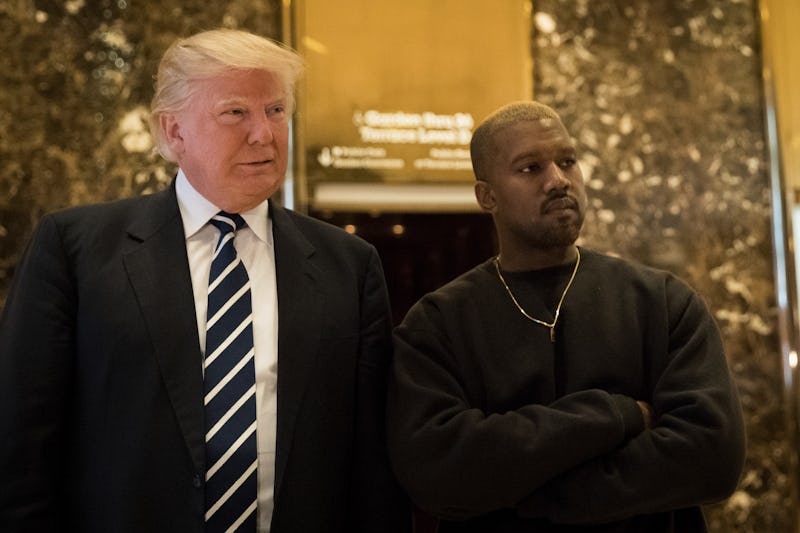 Drew Angerer/Getty Images News/Getty Images
Remember when Kanye West pretty much broke the internet with his December 2016 meeting with President-elect Donald Trump at Trump Tower in New York City? After their meeting, he took to Twitter to explain why they met up, and it seemed like the rapper was trying to remain open-minded about Trump as president. Well, that might not be the case anymore, because as first reported by TMZ, Kanye West deleted his Donald Trump tweets.
It's unclear when he deleted the tweets, but according to TMZ, the reason is reportedly him being "super unhappy with the president's performance over his first two weeks in office." (Bustle reached out to a rep for West, but did not receive a response at the time of publication.) Sources also reportedly told the outlet that the Life of Pablo artist's "decision to remove the tweets were all his." Apparently, Trump's decision to order a temporary ban on immigrants and refugees from seven Muslim-majority countries, in addition to several of his other actions, is something West doesn't support. As for Trump's order, West's wife, Kim Kardashian, has already spoken out against it on Twitter.
The deleted tweets in question were posted after West and Trump's meeting in what appeared to be an attempt by the Yeezy designer to explain what exactly was happening. "I wanted to meet with Trump today to discuss multicultural issues," his first tweet read. "These issues included bullying, supporting teachers, modernizing curriculums, and violence in Chicago." He then added, "I feel it is important to have a direct line of communication with our future President if we truly want change."
West's Twitter explanation didn't end there, but he concluded with a mysterious hashtag reading "#2024," which has now also been deleted. At the time, it seemed like he was hinting once again that he would run for president in the future.
Trump's spokeswoman, Hope Hicks, emailed the New York Times in December about West and Trump's meeting and said, "The meeting was requested by Kanye and we were delighted to host him. They had a very positive and productive conversation."
Is anyone else wondering if West would still have voted for Trump in the 2016 presidential election, if he had actually taken the time to vote? It's seeming less likely now. As anyone who uses Twitter knows, you usually don't delete a tweet just because.
Now all West's fans can do is to wait and see if he'll take the time to explain what is going on and how he currently feels about Trump.