Kanye Makes His Kardashian Christmas Card Debut & It's A Bigger Deal Than You Think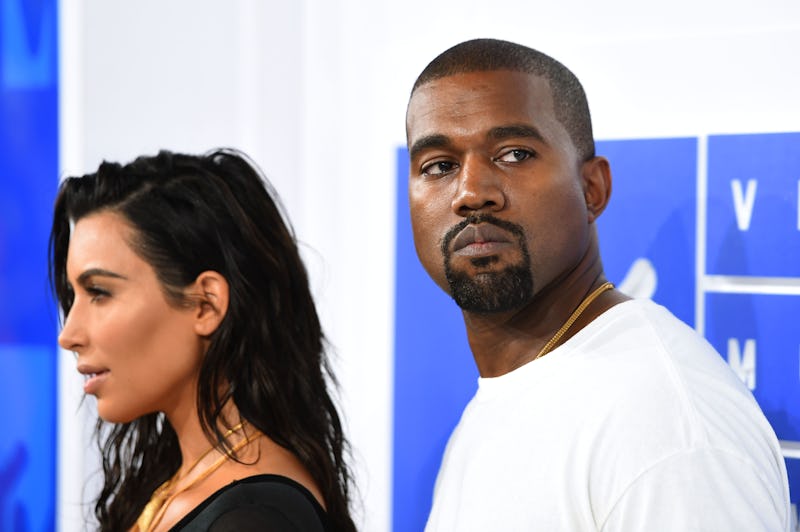 Larry Busacca/Getty Images Entertainment/Getty Images
It's not the holiday season until Kris Jenner has corralled her family into one room for the annual photoshoot. In mid-November, Kim Kardashian told The Late Late Show With James Corden this year's card would just be the moms and their kids, but it appears that this year actually marks Kanye West's 2017 Kardashian Christmas card debut. Is it because he may not be the only expectant father in the family?
West's cameo is a big deal, especially since Kimye have been together since at least 2012. They're married with two children, and expecting a third via a surrogate. Plus, as even a casual Keeping Up With The Kardashians fan would know, the Kardashian girls take Christmas seriously. West doesn't often associate his brand with his wife's, but it's still odd that he was absent from the 2013 Kardashian Christmas card, which was the last time the whole family posed for one. As Kim K hinted on Twitter and Instagram, though, the 2017 Kardashian Christmas card will change that.
So, what's the truth? Is the Kardashian-Jenner-West-Sometimes-Disick holiday card more than just moms and kids, or was West just on set for the outtakes? It's not like Kim K to mislead her fans — younger sister Khloé would have more fun with it, and big sister Kourtney seems straight-up devious — but it's possible she was just going for some old-fashioned misdirection. After all, the word around the gated community is that the 2017 Kardashian Christmas card will be the official reveal of Kylie Jenner and Khloé's rumored pregnancies, so maybe Kimye wants to throw us off the scent. Or maybe the card will spotlight each individual family, including the other siblings reportedly expecting children in 2018.
After dropping hints — and potentially, legit screen grabs — about West's appearance in the annual holiday extravaganza, Kim K finally revealed a family shot on her Twitter account. Kind of. As one can see, it's shot from far away, at an angle, potentially cut-and-pasted, and so brightly lit that the family appears to glow. It's hard to see exactly what's happening in the photo of KimYe's immediate family. Plus, daughter North and son Saint are obscured from the camera. North's face is covered by her arm, and Saint is curiously facing away from the camera. If anything, it looks like Mr. and Mrs. West are trying to wrangle unruly children, not pose for a highly-anticipated holiday card. But hey, North and Saint are kids; how old were you before you started to behave during fancy holiday pictures? Right.
Adding West to the 2017 Kardashian Christmas card is significant, though. It could be that the rapper-designer-genius doesn't have anything of his own to promote this season, as he spent most of the year out of the public eye and reportedly tending to his mental health. It might be the first time he's been able to appear in the card as just his famous wife's husband and the father of her children. He doesn't have a "Kanye West" brand to maintain. He has the luxury of tying his identity to his family this year, which is cute. Or is it part of a larger Kardashian konspiracy?
Mariah Smith, a writer and Kardashian scholar who first identified Kylie Jenner's potential pregnancy timeline, suspects that the 2017 Kardashian Christmas card will be a major reveal for the family. Smith's prediction on Twitter makes sense. Anyone who keeps up with the Kardashians would know the family loves being "extra," and what would be more extra than using the annual family photoshoot to announce a dual pregnancy? This is where Kim K's "just the moms and kids" rumor comes back into play. She and Kourtney are the only Kardashian-Jenner girls with children; brother Rob has a child with ex-fiancée Blac Chyna, but her relationship to the family is currently unclear.
West's 2017 Kardashian Christmas card debut makes sense when you assume the card will serve as a double Kardashian-Jenner pregnancy announcement. Perhaps Kim K wasn't outright lying when she suggested this year's card is just moms and kids. Maybe it's moms, kids, moms-to-be, and their partners? Including Kardashian-Jenner beaus Tristan Thompson and Travis Scott would be a wholesome look for the family, and if the boyfriends are in it, then of course Kim's husband should be too. Whatever the reason, the holiday card can't be too far away — fans will find out soon.