Kanye West's New Lyrics About Kim K Prove She Stays By His Side Through It All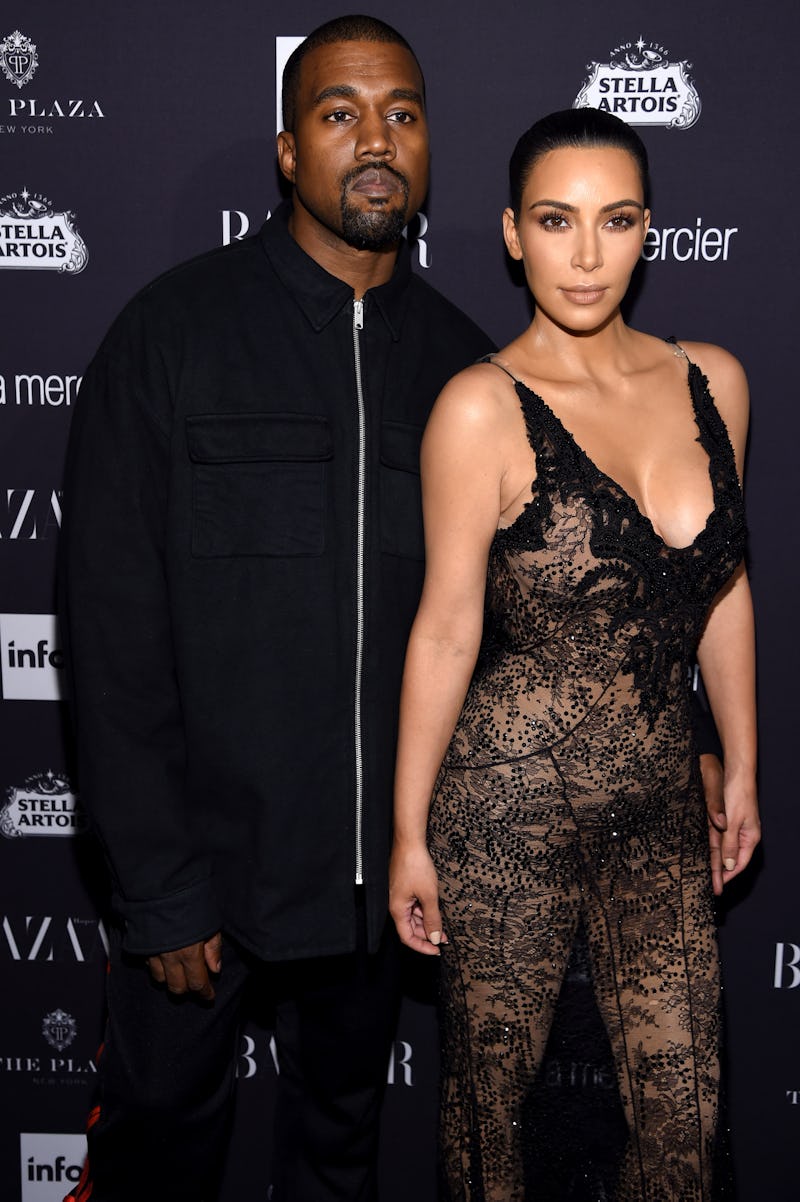 Dimitrios Kambouris/Getty Images Entertainment/Getty Images
It's been awhile since headlines about the rapper had anything to do with music, but Kanye West's lyrics about Kim Kardashian on his new album are a reminder of how he became famous in the first place — his music. The rapper repeatedly references his wife of four years, and it's clear from his words that the couple's love and commitment is powerful behind the scenes, apparently only strengthened by West's recent outbursts on social media.
The controversial artist's latest work, ye, was released on Friday, and it's chock-full of references to the 40-year-old's personal life. He touches on mental health, drug addiction, and infidelity, in the seven-track album even rapping about Tristan Thompson allegedly cheating on Khloé Kardashian, with the lyric, "All these thots on Christian Mingle / That's what almost got Tristan single." So it's clear he's not holding back with this most recent offering. (Bustle reached out to Thompson's agent about the lyric, but did not receive an immediate response. Thompson and Khloé have not addressed the allegations publicly.)
But the topic West goes most in-depth on is himself, inner demons and all. Many fans of the famous family have wondered what's been going on behind the scenes, as the Yeezy designer flooded Twitter with polarizing opinions on everything from politics to the black experience. The spiral culminated in a statement to TMZ that "slavery was a choice," that lost West a string of celebrity followers, and had many wondering what was running through his wife's head.
But now, because of lyrics in "Wouldn't Leave," fans are getting some answers. First, West provides his listeners with some context for the situation, reminding them of the mess he got himself into with the lines:
"They say, 'build your own,' I said, 'How, Sway?'
I said, 'Slavery a choice.' They say, 'How, Ye?'
Just imagine if they caught me on a wild day"
That part matches up with the version of West that's been visible lately, but when he opens up about how Kardashian reacted to the controversy, it's a bit more revealing. He continues:
"Now I'm on 50 blogs gettin' 50 calls
My wife callin', screamin', say, 'we 'bout to lose it all!'
Had to calm her down 'cause she couldn't breathe
Told her she could leave me now
But she wouldn't leave"
It's not quite an apology, but it is an admission from West that he can be a lot to take. He describes giving Kardashian an out, seeming almost surprised when she doesn't take it. But as he expresses later in the song, the person he is behind closed doors is different than the image he presents publicly, and fans shouldn't expect those two personas to overlap. "Even if, publicly, I lack the empathy," he raps, "I ain't finna talk about it, 'nother four centuries."
The one person he's clear who does see both is Kardashian, as he emphasizes with the line — "One and one is two but me and you, that's infinity." With her, he is so much more than the rest of the world sees, and it's in the lines of "Wouldn't Leave" that he appears to realize how incredible it is that she accepts both versions of her husband. It's a fact West thanks Kardashian for in the outro, dedicating the song to her and to any woman who stands by her relationship long term, for better or for worse. He asks for the attention of "any guy that ever f*cked up" or "embarrassed they wife," who's ever tested the loyalty of a partner with their behavior, and continues:
"This what they mean when they say
'For better or for worse,' huh?
For every damn female that stuck with they dude
Through the best times, through the worst times
This for you"
It's a lovely, seemingly-heartfelt nod to Kardashian, who winds up with her own questions to answer every time West opens his mouth. It doesn't necessarily mean the rapper has any intention of changing, but it shows he's aware of the effort that go into standing by his side, and it's a meaningful tribute to the woman who does it the most.