Kanye West Performed On 'SNL' Dressed As A Water Bottle — Yes, Really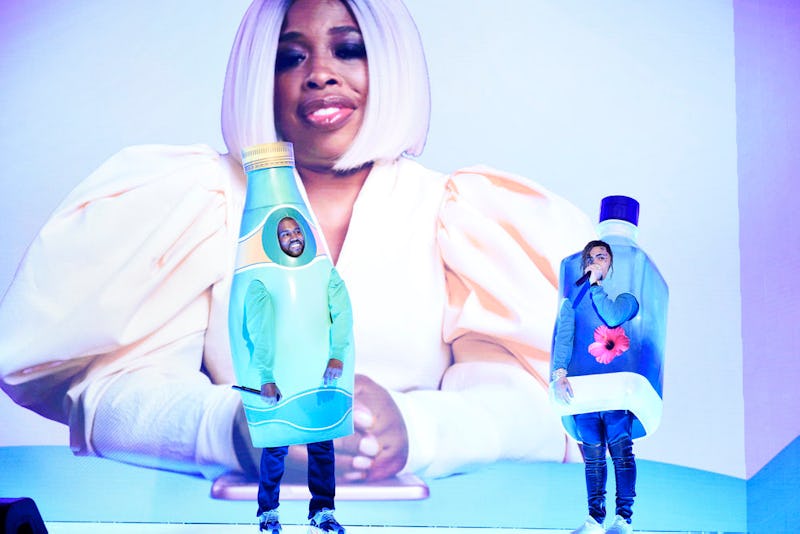 Will Heath/NBC
While the artist has a long history of unexpected actions, Kanye West's Saturday Night Live performance of "I Love It" may have been the single strangest moment in the rapper's year. Ditching the blocky costumes from the instantly iconic video, Kanye West and Lil Pump donned outfits resembling bottles of Perrier and Fiji Water, respectively, and let a few words slip that may upset some censors.
Kanye West has a long history with SNL, having appeared on the shows' 40th anniversary special, previously announcing the release of his 2016 album The Life Of Pablo following an SNL performance, and even mocking the show on his 2010 song "Power". As a frequent collaborator of the show, it's no surprise that Kanye West's appearance on SNL was something of a last-minute arrangement, and possibly an example of someone calling in a favor. Executive producer Lorne Michaels told the podcast Origins that "We had Ariana [Grande] drop out for emotional reasons two days ago," per US Weekly. When Grande, whose boyfriend Pete Davidson is a cast member on the show, dropped out, "Kanye stepped up," as Michaels says. Kanye West did, in fact, step up, but it's hard to imagine that Michaels had any idea what West would plan for this SNL performance.
The performance of "I Love It" begins with Adele Givens delivering the opening lines of the song, censored for television. However, while some of the lyrics are censored — mainly the chorus, which was changed to "You're such a freaky girl, I love it," in lieu of the more profane original version — Lil Pump and Kanye West still let a few curse words, including the f-word, slip out over the course of their performance. They are also dressed as water bottles for the entire performance.
Yup, Water Bottles
The choice to dress himself and Lil Pump as water bottles is the kind of unique flourish that one expects from a Kanye West project, but the outfits actually do have a connection to the song. One of Kanye's most memorable lines in the song is "When the first time they ask you if you want sparklin' or still? Why you tryna act like you was drinkin' sparklin' water 'fore you came out here?" Kanye has chosen to represent sparkling water in the form of Perrier, while Lil Pump is dressed as a bottle of Fiji, which is still water.
Kanye seemed to let all his most cartoonish impulses out during his earliest performance, as his second performance of the evening was much more subdued. Kanye leaves the Perrier outfit backstage, dons street clothes, and is joined by Teyana Taylor for a performance of her song "We Got Love" from her 2018 album K.T.S.E., produced by West.
His second performance of the evening may have been less flashy, but it was a welcome opportunity for West to bring the spotlight to his longtime collaborator. In an unusual move for the show, Kanye also closed out the episode with a performance of the song "Ghost Town" off his album alongside Kid Cudi and 070 Shake from his album 2018 ye while donning a Make America Great Again hat. While Kanye managed to provide an appetizer sampler's worth of songs during the episode, the performance of "I Love It" will go down as one of the most profoundly bizarre moments in the show's long history.