Ariana Grande Reportedly Canceled A 'SNL' Performance Because Of "Emotional Reasons"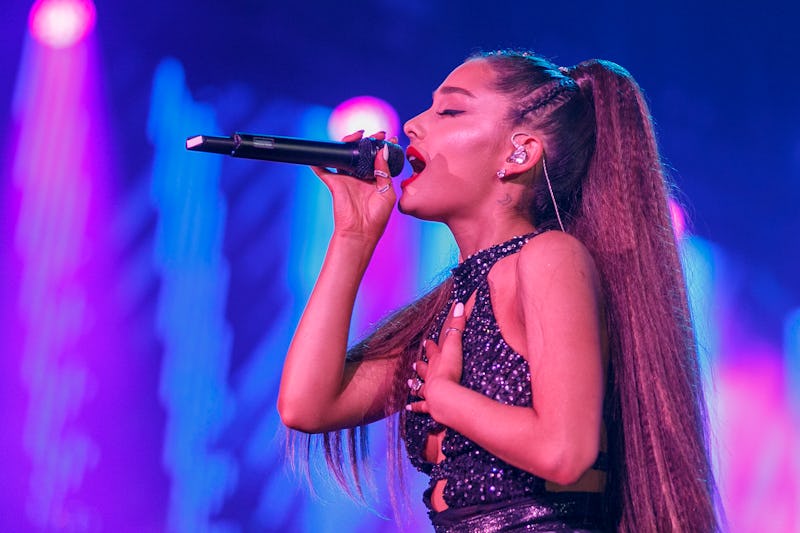 Rich Polk/Getty Images Entertainment/Getty Images
The singer was supposedly all set to perform this weekend, but new reports suggest that Ariana Grande cancelled on Saturday Night Live for what are being described as "emotional reasons." The iconic series announced on Sep. 17 that Kanye West would be the musical guest for its Sept. 29 Season 44 premiere. But SNL's creator and executive producer Lorne Michaels claimed on a recent podcast that it was actually Grande who was originally slated to perform, claiming that West was offered the slot only after the 25-year-old allegedly pulled out.
This reveal came via Michaels' appearance on the podcast Origins, where he spoke about the upcoming premiere with host James Andrew Miller for the show's Sep. 28 episode. According to reporting from Us Weekly, Michaels told Miller that he was impressed with the "reach of the show" which he thinks is currently peaking. As an example, the 73-year-old told the podcast host:
"We had Ariana [Grande] drop out for emotional reasons two days ago. That's our premiere, and then Kanye West stepped up, and he'll be there. So, the reach of the show and the number of people who will step forward is now, somehow now, I think, probably at its peak."
Even though the podcast was released on Thursday, its unclear exactly when it was recorded. Especially because neither Grande nor her team has made a statement about this alleged cancellation, or even announced her participation in the first place. In fact, Us Weekly reported that they have a source alleging that while there were certainly conversations about Grande coming on the show at some point during Season 44, Grande "was never booked to perform during this weekend's premiere."
But whether she was or wasn't supposed to take the stage on Saturday, there's no denying that the Sweetener singer deserves time off if she wants it. She's still in the early stages of her whirlwind relationship with fiancé Pete Davidson, including all the media attention and pressure that that entails; she dropped a full album in mid-August; and less than a month ago, she was rocked by the death of rapper Mac Miller, whom she'd dated for two years.
As if that wasn't enough to grapple with, Grande has also been inappropriately blamed for Miller's Sept. 7 overdose, and it hasn't even been a year and a half since the May 2017 bombing at her Manchester concert that claimed 22 lives. The singer told British Vogue in July that she has suffered from PTSD since the attacks, and it's been clear from her social media that the loss of a former partner has devastated her even further.
In the caption of a throwback video of Miller that Grande posted to Instagram on Sep. 14, she wrote:
"i adored you from the day i met you when i was nineteen and i always will. i can't believe you aren't here anymore. i really can't wrap my head around it. we talked about this. so many times. i'm so mad, i'm so sad i don't know what to do. you were my dearest friend. for so long. above anything else. i'm so sorry i couldn't fix or take your pain away. i really wanted to. the kindest, sweetest soul with demons he never deserved. i hope you're okay now. rest."
A quick look at the rest of the star's social media proves that her pain hasn't limited to Instagram. As recently as Sep. 28, the clearly tired artist tweeted, "can i pls have one okay day. just one. pls."
So whether she was the first choice for the premiere or not, it can only be a good thing that Grande isn't performing alongside host Adam Driver this weekend. She deserves to take her time to process, heal, and rest, and that's something all Grande fans can agree on.