Kat Von D Just Revealed Details About Her New Vegan Shoe Line & It Includes Sky-High Heels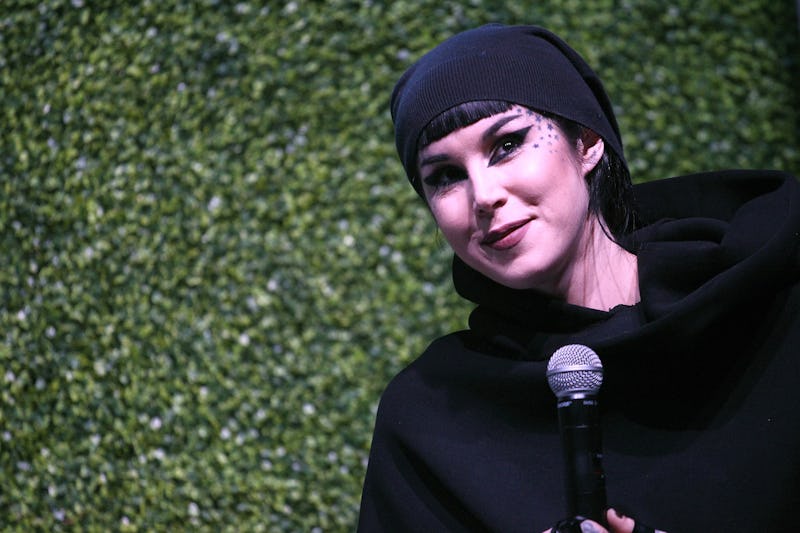 Tommaso Boddi/Getty Images Entertainment/Getty Images
Kat Von D is debuting another one of her many talents. The artist, beauty brand creator, and animal activist has a new project heading fans' way, and the news sure to have them scrambling for details. Kat Von D's vegan shoe line is coming soon, and not only is it perfect for both her vegan and non-vegan fans, but it's set to be super inclusive as well. Basically, it's a win for Von D fans everywhere.
According to Von D's personal Instagram account, she has been working on the shoe line for quite some time, and now, she's getting ready to introduce her hard work to the world. Two days ago, she announced that the line would be coming this year, and on Tuesday, she took time to answer some of her fans burning questions on the same social media platform.
What's the low down on the shoes? First of all, they'll be completely vegan and cruelty-free. Von D has long made her support of animal rights known (she even created a collection to benefit Farm Sanctuary), and considering that her successful makeup range is also vegan and cruelty-free, it makes sense that her shoe range would be as well.
As for the sizes, Von D is making sure that everyone is included. The post explains that if you have trouble finding a small size such as a five or larger sizes like 11 or 12, she's making these shoes to fit you as well. Then, of course, there's the fact that Von D is also crafting unisex options that everyone can wear — but really, no matter what, wear whichever of her shoes you know because there are no rule.
In terms of pricing, there's not a tone of information. However, Von D is easing her fans concerns that because of the high quality, vegan nature of the shoe, they'd be expensive. The designer, however, is reassuring people that while they won't be the most inexpensive shoes you can purchase, they will, at least, be affordable and accessible.
While the teaser images from Von D have all featured towering heels and platforms, they certainly won't be her only offering. The line will feature 28 designs (none of which are limited edition) ranging from platforms to flats to boots and sneakers. Again, if you want a Kat Von D shoe, she's probably got one that's up your style alley.
As for the fan reaction, it's certainly positive. It seems as though the artist's most loyal followers have been waiting for this line for quite some time, and they can't wait to see it come to be.
The sheer number of styles has people heavy breathing in anticipation. Why choose a single style any way? Von D's selection will be seriously major according to her post.
People are seriously already shook.
There's got to be shoe wish lists going as you read.
While fans have certainly been waiting a long time and the pressure was presumably on Von D to produce killer styles, she didn't disappoint those who have been waiting for the footwear.
Others have their fingers crossed for certain designs from Von D, but so far, she hasn't revealed anything more two pairs of pumps and a serious platform. However, there is certainly more to come.
If you can't wait to get your hands on Kat Von D's new vegan shoe line, their debut is coming. While she has yet to officially announce the date, with teasers popping up on her Instagram and an Von D Shoes account already ready to go, these size-inclusive, ultra diverse designs are coming your way.