These Pics Of Kate Hudson's Son Bonding With His New Sister Are Too Cute For Words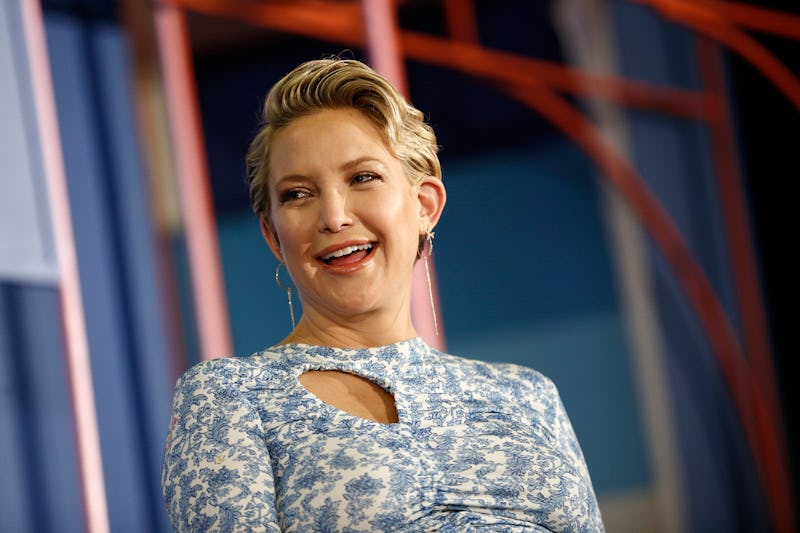 Brian Ach/Getty Images Entertainment/Getty Images
There's no sibling rivalry here. Kate Hudson gave birth to her daughter, Rani Rose Hudson Fujikawa, earlier this month. And it looks like 14-year-old Ryder is thrilled to be a big brother. According to E! News, Kate Hudson's son bonded with his new baby sister in an Instagram post. The pictures are too sweet — and might just inspire you to call your own siblings.
Ryder posted an Instagram slideshow holding the newborn, writing "Rani," along with the baby face emoji. The photos include several of him smiling down at Rani, along with one of him making a silly face at her. The slideshow is Ryder's first post about the baby since Rani was born on Oct. 2.
Hudson shared the first photo of Rani in an Instagram post on Oct. 6. The Marshall actor shared a photo of the sleeping newborn, captioning it, "Our little rosebud." On Oct. 3, Hudson also shared an Instagram post announcing Rani's birth, but the post didn't include an image of the baby. In that post, Hudson explained the meaning behind her daughter's name. The baby is named for her grandpa, Ron Fujikawa. "Ron was the most special man who we all miss dearly," Hudson wrote. "To name her after him is an honor."
Rani is Hudson's first child with her boyfriend, Danny Fujikawa. Fujikawa is a veteran of the music industry, so he, like Hudson, is a part of the entertainment business. A musician who was a member of the band Chief, Fujikawa co-founded Lightwave Records in 2013.
In an Instagram post in December, Hudson shared that she's known Fujikawa since she was 23, when she was pregnant with Ryder, whose dad is her ex-husband Chris Robinson. But it wasn't until late 2016 that the two of them started dating, with their first date being a romantic hike. "On our 15th year of knowing each other we were able to open our hearts to each other to feel so much pure love and it's been truly incredible," Hudson wrote.
Hudson announced her pregnancy with a sweet Instagram in April. "We have been trying to keep this pregnancy under the radar for as long as possible but I'm a poppin now," the actor wrote. "My kids, Danny, myself and the entire family are crazy excited! A little girl on the way."
The video showed the couple, along with Ryder, Hudson's second son Bingham, and other loved ones, popping balloons to reveal pink confetti.
During a 2016 interview on the Today show, Hudson shared how proud she is of her sons. "Ryder's turning out to be — I'm really super proud of him," the actor said at the time. "And I had something to do with that, so I think parenting is where I feel probably my strongest."
Based on what she and Ryder have shared on Instagram, it looks like adding a third child into the mix will only strengthen the family's bonds. Some siblings might be jealous when a new baby comes into the picture. But it looks like for Hudson and her children, there's more than enough love to go around.