Kate Middleton Made Sales Of This $1 Secret Accessory Spike & She'll Turn You Into A Believer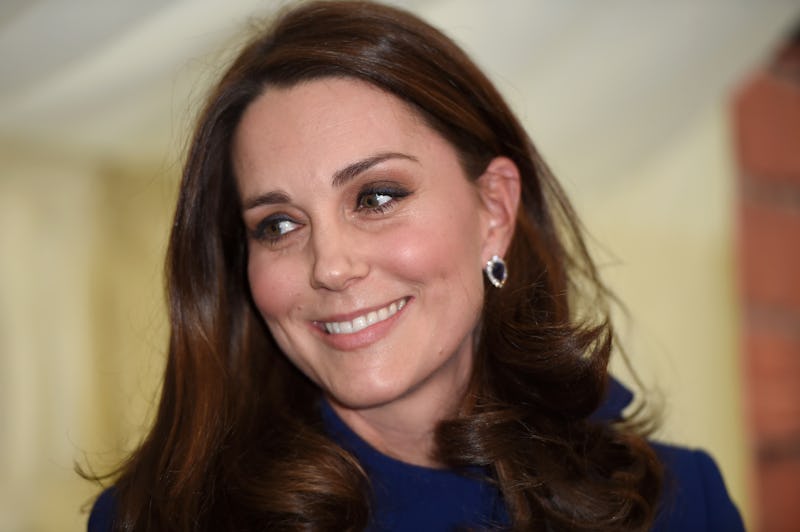 WPA Pool/Getty Images Entertainment/Getty Images
There's a royal epidemic going on, people. It's one that causes any and everyone to obsess over the royal family's wardrobe and beauty routines, even if it means breaking the bank to look like them. So a frenzy was expected when Kate Middleton reportedly wore a $1 hair accessory, considering it's one of the most affordable beauty items the Duchess has worn.
If you aren't familiar with the Kate Middleton and Meghan Markle effects, you've probably been living under a rock. The Duchess and the soon-to-be royal crash designers' websites, cause spikes in sales, and put nearly everyone in a trance no matter what they wear— and we're not talking budget-friendly threads, here. These royal ladies are usually dressed in the best of the best, accessorized to the nines, in some pretty pricey pieces.
So, if a royal can make a $700 accessory sell out within minutes, then something that costs a lone George Washington (and maybe some spare change) can surely get British royalty fans talking.
That's exactly what Middleton did when she kept a gorgeous updo in tact with a hairnet. That's right, a hairnet has the internet freaking out, not to mention reportedly driving sales of the inexpensive beauty aid.
As noticed by Hello Magazine, the secret to the immaculate updos Kate Middleton wears is a hairnet. The Duchess of Cambridge is often photographed rocking the sleekest buns, without a single hair out of place, and it all makes sense why, now.
Reporting that hairnets cost less than one British pound in the UK's Superdrug stores (or even available for purchase in a two-pack for £1.09), the hack is super thrifty. It's even a little hard to believe, considering this doesn't involve pricey tools, advanced hair care, or major styling skills. Literally anyone can afford to keep an elegant updo in place via Middleton's savy beauty reveal.
As anyone well versed in the Middleton effect would guess, hairnets are now a hot buy, reportedly selling like crazy in beauty stores. According to a Daily Mail interview with Superdrug's Head of Beauty, Meg Potter, hairnet sales have increased by nearly 40 percent.
"Sometimes the classics are the best and the hairnet is a great example of a simple idea which can achieve the best results—without the need for fancy technology or expensive ingredients," Potter said. "To hear a humble hairnet is the secret to keeping The Duchess' up dos in place and looking sleek is a far cry from all the usual high end gadgets and beauty lovers have rushed out to pick up hairnets in a bid to recreate these fabulous looks."
Leave it to Kate Middleton to make wearing such an old-fashioned accessory cool again.
Even if wearing a hairnet isn't your cup of tea, you've got to give it up to Middleton for keeping her 'do neat in such a clever and stealth manner. From afar, it's barely noticeable that anything is even covering her bun.
It wouldn't be acceptable to give the Duchess all of the credit for this genius beauty solution, though.
As it turns out the Queen has an affinity for hairnets, too. Having been spotted wearing a hairnet atop her head, Queen Elizabeth II has made quite the fashion statement with the now trending accessory. Once, adorning her hairnet with bows, the Queen proved a hairnet doesn't have to be used in a barely there way when styling.
When you really think about it, all of this hairnet hoopla makes sense. Regardless of how you choose to rock the latest victim of the Middleton/Markle effect, achieving a royal 'do for practically no money is a fairytale IRL.